The baby likes motion in a parent's arms- bouncing up and down, side-to-side.  This movement provides stimulation, comfort and even security for a baby.  4moms, an online company that offers inventive baby and child products, has created the MamaRoo 2-in1 Bouncy Swing.  It features a motion that makes it possible to console crying infants automatically.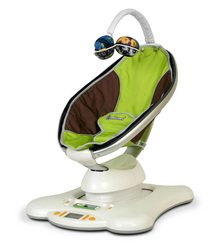 You have the option to select any one of five motions and adjust their speed, thanks to a large LCD.  Motions include Car Ride, Kangaroo, Tree Swing, Rock-A-Bye and Ocean Wave.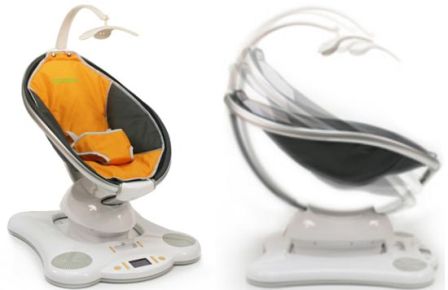 Use one of the five built-in nature sounds or connect your own MP3 player (ipod compatable) for your baby's listening pleasure. The seat of the MamaRoo fully reclines and the fabric is removable and machine washable, available in 6 colors.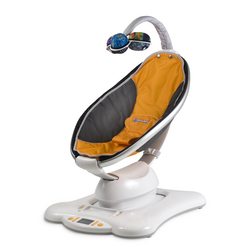 The mamaRoo also comes with a toy bar, and 4moms offers 3 designs of toy balls for the toy bar. Plush toy balls decorated in the style of Van Gogh, Monet, and Seurat. Black and white on one side for infants. Color on the other side for older babies. They easily pop in and out.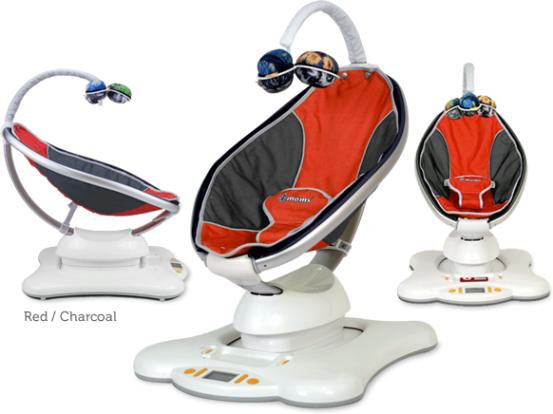 The mamaRoo provides the best of both worlds in the bouncy seat and swing categories. It's a true hybrid, offering five unique motions that mimic the bouncing and swaying movements mothers make when soothing their babies.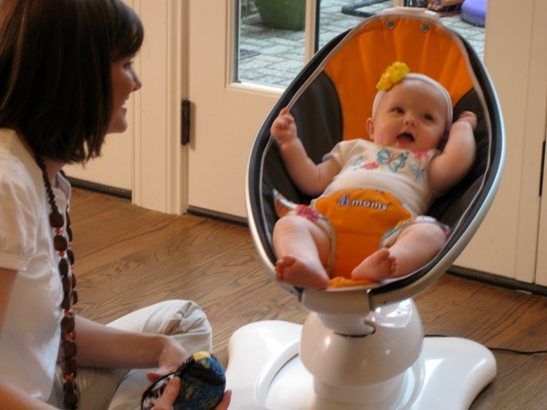 "We've never seen a parent vibrate their child like a bouncy seat, and hardly seen one swing a baby around like swing," says Rob Daley, co-founder and CEO of 4moms. "But we've seen thousands of parents scoop their little ones up in their arms and bounce and sway. And that's what the mamaRoo does. It moves like you do."
An easy-to-use LCD display allows parents to alter the speed and type of each movement depending on whether it's time for sleep or play. Not only are several soothing nature sounds included, but there's also a MP3 dock so parents can personalize the audio experience for their baby.
I put the MamaRoo to the test with a recently born baby, a friend's new little daughter.  While I can't say that she was fussy to begin with, we did conduct several experiments with her and the 5 different motions.  While each set of motions is not incredibly different, they did provide the baby with a small variety of movement, and the result was a soothing experience.  I could tell by her silence and her eventual slumber.  I think the Kangaroo motion was the entertainment for the day.  It almost looked like this 1 month old was smiling and enjoying it.
Another noteable feature of the MamaRoo is its construction-  heavy duty and feels strong for support.  Finally, adding my own mix of music to the experiement with my MP3 player is a nice addition to the product.  It allows you to really get baby in-tune with music and its emotional benefits.
The MamaRoo 2-in-1 Bouncing Swing, winner of the 2008 JPMA innovation Award, is available now online from select retailers including Amazon for around $180. (www.4momsonline.com/mamaRoo)