Designed by the award-winning Swedish company that specializes in innovative, user-friendly consumer electronics for seniors, the Doro 345gsm bar-style mobile phone for Consumer Cellular is ideal for anyone who might find a standard cell phone difficult to use. The exclusive wireless provider for AARP members, Consumer Cellular is also the exclusive provider of Doro phones in the United States.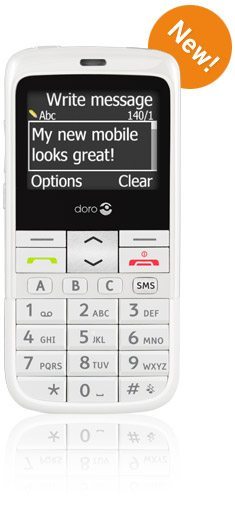 Cell phone and services provider, Consumer Cellular, has released a senior-friendly cell phones with bigger, raised buttons and easy-to-read display text. The Doro PhoneEasy 345 cell phone accommodates reduced dexterity, hearing loss and decreased vision. The Doro PhoneEasy models feature a loud and vibrating ringer, soft-touch surfaces for better grip and Bluetooth technology to connect with wireless headsets and neck loops, as well as some advanced hearing aids.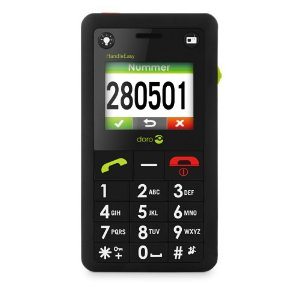 Consumer Cellular says its Doro PhoneEasy 345 is more contemporary and stylish than other models on the market and offers an alarm clock, FM radio, calculator, flashlight and games, which can be turned off from a simplified menu.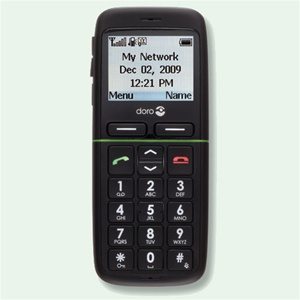 "Doro phones are well-liked with senior citizens and are among the most successful phones with Europe's mature individuals," said Doro's CEO Jérôme Arnaud. "I am confident that these models will be equally popular in the U.S."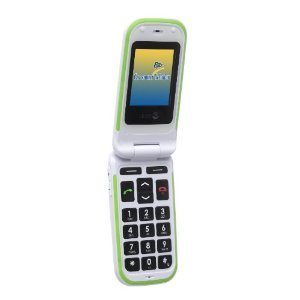 Here are other features of the Doro PhoneEasy 345gsm:
Two-way speakerphone
Phonebook with up to 300 entries
SMS text messaging
Emergency text-message alerts and call list
Option to hide unwanted functions
Finally, the PhoneEasy 345gsm is hearing aid compatible.  Many cell phones on the market today are designed to work with (or at least not interfere with) hearing aids. The FCC regulates the classification of hearing aid compatible phones. Those that are compatible with hearing aids are identified with a rating of M3/T3 (good) or M4/T4 (excellent). The "M" stands for microphone and the "T" stands for telecoil coupling, or t-coil. The DoroPhoneEasy 345gsm has an M3/T4 rating.
Everything Doro promises is delivered with the 345gsm.  With super-easy dialing, outstanding reception and great sound, even for the hardest of hearing limitations, the 345gsm is a lifesaver for those that need amplified audio-visual in a phone. Additionally, the 345gsm feels solid and ergonomic in the hand.  And with most of the features offered in traditional phones on the market today, the Doro PhoneEasy 345gsm does not skimp when it comes to a fully functional device.
And a little about Consumer Cellular…….
Consumer Cellular Services
Consumer Cellular puts you in control of your cell phone usage with multiple plans, all designed to fit specific needs and budgets–from unique lower use rate plans that start at only $10.00 per month up to plans offering thousands of minutes. Consumer Cellular also offers discounts to AARP members. When you go through the sign-up process, you'll find out more about these special benefits.
Once you pick a plan, you can share your minutes with loved ones through our Family Share plan. It's a flexible and low-cost way to keep in touch. And you can add family members to your plan for only $10 a month per line.
You can also change your plan at any time–no hassles, no penalties, no ifs-ands-or-buts, or surprises. Plus, automated Usage Alerts help you avoid unnecessary overage charges.
Starting your service is simple and immediate. Either call Consumer Cellular at its toll-free line or activate your cell phone at your own convenience online.
Consumer Cellular service advantages include:
No Contracts, No Penalties. Nearly all cellular companies require you to sign a one or two year contract just to start your cell phone service. Not Consumer Cellular.
Risk Free Guarantee. We stand behind our service. Try us. If you're not satisfied for any reason, you can cancel your service anytime within the free trial period and pay nothing.
No Surprises. Consumer Cellular account statements are easy to read, and you may review and manage your account from the Web at any time. Best of all, the free automated Usage Alerts service monitors your usage for you–so you don't have to. You'll be notified whenever you approach your plan's included minutes, so you can upgrade in time to avoid overage charges.
It's Your Phone Number, Go ahead and Keep it. If you have an active cellular number in an area where we provide service, you can keep that same phone number when you sign up with us.
Consumer Cellular Plans
Anywhere Casual ($10 monthly fee): If you rarely use a cell phone but want the comfort and safety of owning one, then the Anywhere Casual plan is the one for you. Most customers on this plan use 20 cell phone minutes or less per month, and sometimes none at all. No minutes are included with this plan, with each minute charged at 25¢.
Anywhere 250 ($20 monthly fee): If you think you'll use the phone more often than 20 minutes, then the Anywhere 250 might be right for you. It includes 250 call time minutes (about 4 hours) at any time, on any day of the week. Additional minutes cost 25¢ per minute or you can upgrade to the next plan. Depending on how much you want to use your phone, you can choose this plan or another Consumer Cellular with more minutes. And you can always upgrade in time to avoid overage charges as well as share free minutes with loved ones for only $10.00 more per month per line.
Anywhere 500 ($30 monthly fee): This plan provides 500 call time minutes (over 8 hours) and additional minutes cost 25¢ per minute.
Anywhere 1000 ($40 monthly fee): This plan provides 1000 call time minutes (nearly 17 hours) and additional minutes cost 25¢ per minute.
Anywhere 1500 ($50 monthly fee): This plan provides 1500 call time minutes (about 25 hours) and additional minutes cost 25¢ per minute.
Anywhere 2000 ($60 monthly fee): This plan provides 2000 call time minutes (over 33 hours) and additional minutes cost 25¢ per minute.
Text Messaging
Messaging is a quick and efficient way to keep in touch with loved ones, especially your children. Consumer Cellular's messaging service lets you send and receive both text messages. You can use your cellular phone to send and receive text messages of up to 160 characters, exchange text messages with another cell phone or "message" via email.
The Standard text messaging option requires no monthly charge, but provides no pre-set number of messages–charging you 10¢ per message. You can select messaging package ranging from 100 messages a month (for $2.50) to 2000 messages (for $20)–all with additional messages beyond the package limited charged at 10¢ per message.