For $599 at your local Walmart, you can pick up what I consider the best valued treadmill for your money on the market today.  It's called the Gold's Gym CrossWalk 570, and it's basically a rebranded ProForm model sold exclusively at Walmart stores.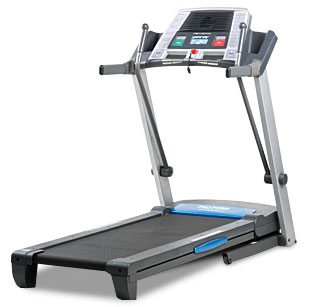 With the CrossWalk 570, you can literally burn up to 50% more calories, thanks to revolutionary upper-body arms that work much like elliptical machines. The 570 is actually the first treadmill I've seen that incorporates arm motion in your workout, giving you the benefit of an entire full-body workout.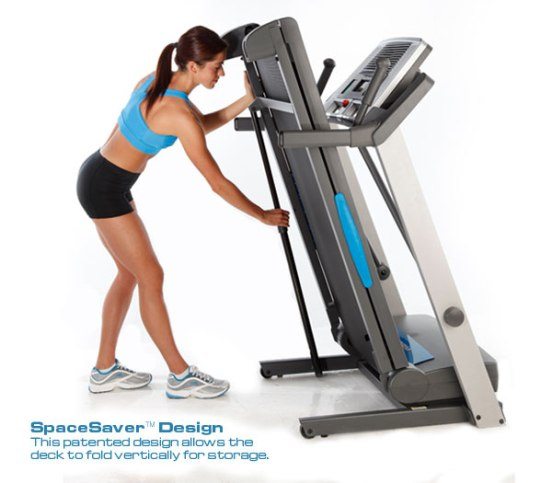 The CrossWalk 570 also has 3 built-in Interactive CrossWalk® Workouts and 12 Personal Trainer Workouts, the CrossWalk 570 takes total-body training up a notch. And, because each of its built-in workouts are designed by Certified Personal Trainers, you'll get a professional-grade workout no matter how in-shape you are . Other features include a powerful 2.8 HP drive motor, the joint protection of ProSoft Plus™ Cushioning, QuickSpeed™ and QuickSelect™ Workout Control, a 300 Lb. Weight Capacity and a 25-Year Motor Warranty.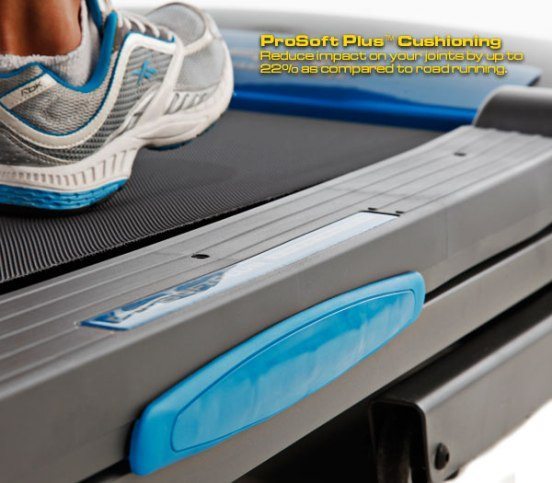 If you want a machine that will give you a balanced upper and lower body workout, get the Gold's Gym CrossWalk 570.  The ClearView™ backlit console on the 570 CrossWalk treadmill shows your progress when you choose the Manual setting, or from the 12 Personal Trainer workouts, or the 3 CrossWalk workouts. It also has a built-in fan, a fold-up design, and a large user weight allowance.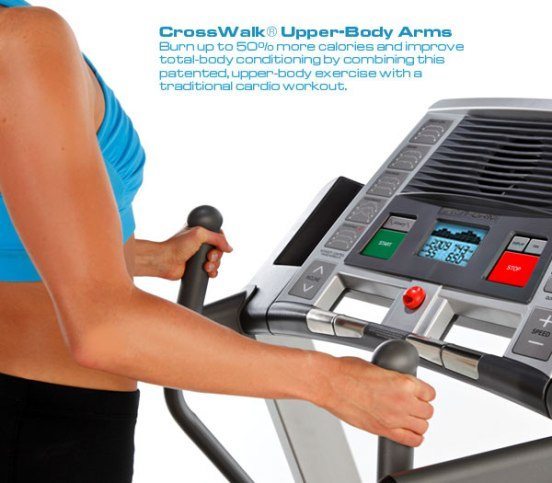 The $599 Gold's Gym CrossWalk 570 performs well in areas of power, reliability, quality, noise, and parts/labor warranty. The roomy walking area is sufficient for the price.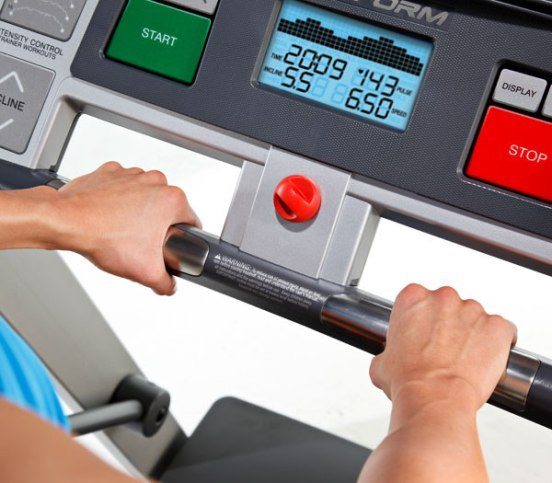 Here are some other specs of the Gold's Gym 570 CrossWalk…
Mach Z™ 2.8 HP Drive Motor –Experience expanded power with this quiet, self-cooling Mach Z™ 2.8 HP drive system. Employing an axial fan, this motor reduces noise as it cools internal components—enhancing your workout environment and extending the motor's life.
Dual-Grip EKG™ Heart Rate Monitor – Make the most out of every workout by monitoring your heart rate with these sensors that are built into the handlebars, ensuring you're always in the right training zone for your goals.
SpaceSaver™ Design – To give you more room to stretch, or stretch the room you have, this patented design allows the deck folds vertically for storage.
ClearView™ Backlit Display – Perfectly clear and easy-to-read, the ClearView™ Display has a wide viewing angle so no matter how tall or short you are, you can always keep track of your workout progress. Also includes a 7×30 workout matrix that displays your workout graphically. And, with the ability to choose which reading appears in the main display, you'll always have the information you want, when you want.
CrossWalk® Upper-Body Arms – Burn up to 50% more calories and improve total-body conditioning by combining this patented, upper-body exercise with a traditional cardio workout.
ProSoft Plus™ Cushioning – Reduce impact on your joints by up to 22% as compared to road running with this superior absorption system, delivering the perfect balance of comfort and joint protection.
QuickSelect™ Workouts – Instantly select your desired program with the single touch of a button, instead of having to scroll through multiple menus or options.
Workout Intensity Control – Easily add or reduce the intensity of your workout with this easy-to-use control feature. Simply raise or lower your workout intensity and the program will automatically adjust to your desired performance level.
CoolAire™ Workout Fan – To help you work out longer and more comfortably, this treadmill has a workout fan built right into the console.
25-Year Motor, 90 Days Parts and Labor – Buy with confidence! This treadmill features a 25 year frame and motor warranty and a 90 day parts and labor warranty.
20″ x 55″ Quiet Treadbelt – A vital component of the drive system, this roomy treadmill belt is designed to operate more smoothly and quietly than the average treadmill belt.
0-10 MPH QuickSpeed™ Control – QuickSpeed™ allows you to instantly change the speed of the treadmill between 0-10 MPH with the single touch of a button.
3 Interactive CrossWalk® Workouts – Tone your upper body and burn more calories with 3 interactive CrossWalk® workouts that prompt you to use the CrossWalk® arms during your workout.
12 Personal Trainer Workouts – 12 Personal Trainer Workouts automatically adjust the incline and speed of your treadmill, each focusing on an aerobic, weight loss or performance goals.
300-lb. Weight Capacity – Able to accommodate weights up to 300 lbs., this sturdy deck withstands heavy use.
Footprint – 59.5″-L X 70.0″-W X 34.0″-H
You can purchase the Gold's Gym CrossWalk 570 at Walmart stores for $599.