Plextor has introduced an ultra-affordable, external Blu-ray drive at a $99 price point.  The USB powered Plextor PX-B120U supports multiple media formats, including DVD+ /- R, DVD +/-RW, DVD +/- R DL, DVD-RAM and CD-R.  It's packaged with Cyberlink Blu-ray and DVD playback software that offers a full Blu-ray experience in 3D, including the ability to upscale standard videos to HD and 3D-like visual quality.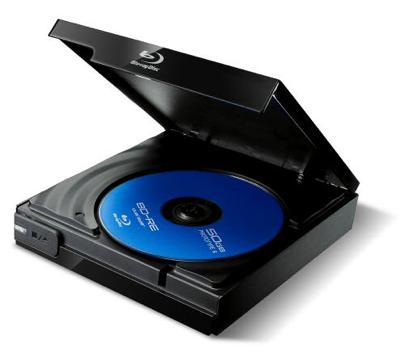 "Blu-ray has become the media player of choice…and we wanted to provide a versatile [drive] with the PX-B120U," explained Plextor spokesperson Christine Hsing.  "It is great for on-the-go viewing, as the device does not require an additional AC adapter or other cables. 
Additionally, when the PX-B120U is connected to Plextor's soon-to-be-released media player, PlexMedia, it can also function as a living room Blu-ray player."
Playback is gorgeous, particularly for a USB powered external device, and its processing speed is fast as well. The Cyberlink Blue-Ray software is definitely an added bonus.  It will allow you to rendor 3D and upscale videos to HD…..awesome.  If you have been looking for a cheap USB external Blu-ray player, the Plextor PX-B120U goes beyond your expectations, and is as affordable as they come. The drive uses USB for data and power so you don't have to plug it into the wall for AC power. Usually when drives are powered by USB there are some limitations, however this drive still reads Blu-ray media at 4x.
The Plextor PX-B120U uses a top-load mechanism, and is perfect for first-time Blu-ray adopters and expert users looking to pick up a super-affordable external drive for their laptop or netbook.  Highly recommended at $99.  Pick it up through Plextor.