With the iLane 7100 Series In-Car device, you can enjoy hands-free access to on-demand content and smartphone applications like e-mail, SMS messaging, calendar and calling. It's portable, and is really the first of its kind to do what it does. The iLane reads e-mails out loud and on command, and it allows for access and control of other smartphone applications by voice command, including managing phone calls, SMS messages, and calendars. iLane also provides on-demand access to news and weather content from The Associated Press and The Weather Network.
iLane is intelligent as well. It lets you open, listen to, and respond to email and SMS messages entirely hands-free. iLane connects wirelessly to your BlackBerry services and is the smart way to get things done while you are on the road in your vehicle. Both BIS (webmail/POP3) and BES (corporate) BlackBerry services are supported with iLane. Configuration is a quick and easy, and a one time process and power is provided by a simple cigarette lighter adapter. It also includes AES-256 bit encryption and Smartphone-to-iLane Secure Data exchange.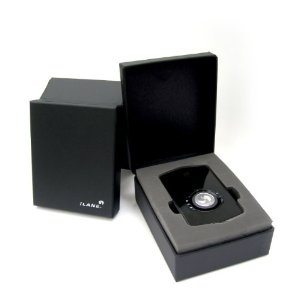 Unlike server-based applications, iLane keeps private information localized in your vehicle. The capacity includes 500+ messages browsed, 4000+ contacts stored, and supports multiple users and e-mail addresses. The operating requirements include: BlackBerry 8000+ Series (BOS 4.1+), iLane Mobile Gateway Application, iLane Certified Bluetooth Headset, Vehicle, or Hands-free system and 12-volt car adapter.
This easy-to-use, in-vehicle accessory has a compact design for easy mounting and storage (fits in cup holder) and offers plug-and-play set-up and installation with simple, voice-guided pairing. The device measures 4.6 x 2.8 x 0.94-inches and weighs 4.1 ounces.  The iLane 7100 Series In-Car Hands-Free Solution is a must for the road warrior, and really does what it says it does by performing a smattering of functions without ever touching anything.
Here's a list of voice commands that the iLane 7100 will perform…..
Calls
Call By Name Call a contact by saying their name
Call By Number Call someone by saying their number
Call Back Call the sender of current message
E-mail Commands
Browse: Find all e-mail messages
Check Messages Find new messages
Read Message Read the message
Read Again: Repeat the message
Mark As Unread Change message status to "unopened"
Next Message Go to the next e-mail message
Previous Message Go to previous e-mail message
Reply Respond with a voice note .mp3, or a text template
Forward Redirect this message to different contact
Cancel Stop, do not complete this action
Compose Message Initiate / record an e-mail message (voice note .mp3)
Review Listen to outgoing message before sending
Record Again Start over and record again
Send Message Deliver this message
Delete Delete this message (confirmation required)
Modes
Quiet iLane stops speaking but still listens to voice commands
Good-Bye iLane is silent and will ignore voice commands until a new e-mail arrives, or until you press the "select" button on the iLane unit or click the button on your wireless headset.
Do Not Disturb iLane is silent and will ignore voice commands until you press the "select" button on the iLane unit or click the button on your wireless headset.
Other
Yes Affirm a request (for example, "Should I call John Smith?")
No Reject a request (for example, "Do you want to accept the call?")
Check Calendar Find today's upcoming calendar events
Check News Listen to news articles
Check Weather Listen to weather forecasts for a specific city
Provide Feedback Send a voice note to the iLane support team
Options Spoken help and reminders for your current task
Next Article Go to the next news article / headline
Previous Article Go to the previous news article / headline
*You can interrupt iLane with a voice command at any time.
The iLane 7100 Series In-Car Hands-Free Solution sells for around $399.
(vid code)