Google Docs iPad desktop editor
-Google re-did its mobile Google Docs offering, providing more robust editing capabilities on several smartphone platforms.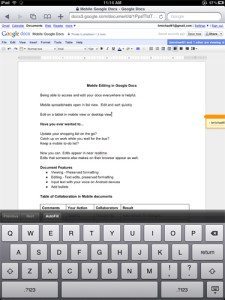 While the revised sites are quite useful on mobile devices like the iPhone and Android handsets, they're hardly optimized for larger devices such as the iPad. But Friday, the full desktop Google Docs is now available on Apple's iPad tablet, pushing third-party productivity suites one step further toward extinction. Users need only visit docs.google.com from the mobile Safari browser on their iPads to start using the Google Docs desktop editors for documents, spreadsheets and more. Google points out that because mobile browsers still aren't as powerful as desktop browsers, iPad users can easily switch to the mobile-optimized editor if they so choose.
Posted 12/11/10