Casio developing Bluetooth® Low Energy Link Watch
—Ever wish you had wristwatch like Dick Tracy (the detective), that could transmit information and make calls? Or what about the utility wristwatch from Inspector Gadget that monitored activities and had two-way communication functions?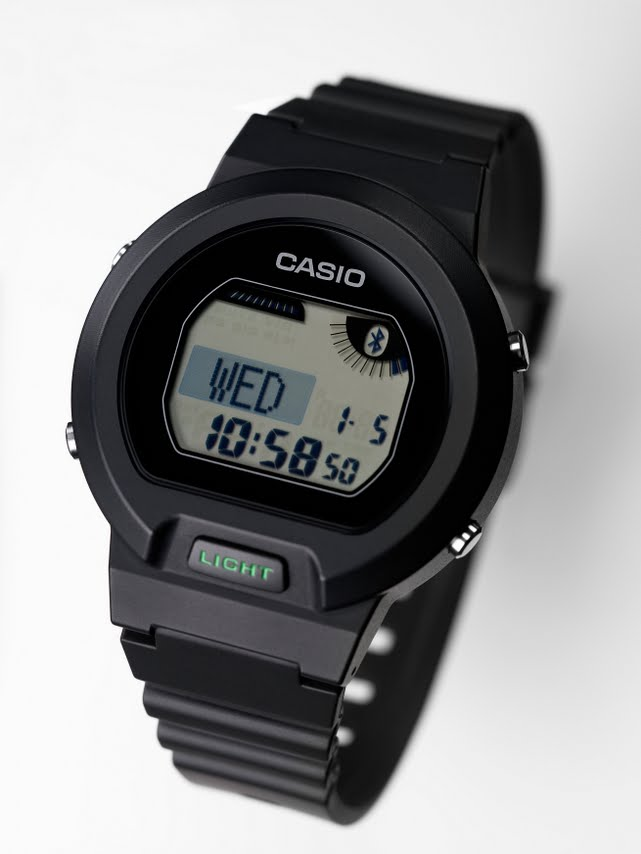 Wish no more! This year at CES, Casio is unveiling a prototype Bluetooth-enabled watch that speaks to Smartphones or other mobile devices. Through Casio's Bluetooth Low Energy (BLE) technology, the Bluetooth watch will be able to perform a variety of functions on a single coin cell battery.
 
Watch Capabilities:
·         Call and e-mail alert – notifies wearer of incoming e-mails and calls while also allowing wearer to silence Smartphone sounds through the watch (great for meetings or dinner dates)
·         Phone finder – for all those times you misplace your phone and need someone else to call it in order to find it (you need this)
·         Global Time Sync – self-adjusts to local time (think of jet setting and never having to set your watch ever again, no really!)
·         Can sync with a variety of applications:
                – Sports and fitness/Outdoors – track your distance, speed, direction and altitude
                – Security: alert emergency services via call/e-mail through your watch
                – Entertainment – use your watch as a motion sensing, remote control
Here's the release….
Casio develops Watch that Communicates with SmartPhones VIA Bluetooth® Low Energy Link
 
Prototype Features the Latest Wireless Technology with Very Low Power Consumption
 
LAS VEGAS, JANUARY 5, 2011 — Casio Computer Co., Ltd., announced today that it has developed a watch using Bluetooth® Low Energy (BLE) technology, the new low-power-consumption version of the short-range wireless networking standard*. A prototype of the watch, sharing a two-way data link with a smartphone, will be exhibited at Casio's booth (#11006) at the International Consumer Electronics Show to be held at the Las Vegas Convention Center from January 6-9, 2011.
Casio has been redefining the wristwatch for years by applying the latest technologies. Now, Casio's application of BLE positions the company to create new possibilities for the way people use their watches. Taking advantage of the low power consumption of BLE, the new watch powers wireless communication functions with a single, ordinary button-cell battery, and without consuming any more battery life than a conventional wristwatch. Users can wear it every day just like they normally do, without the hassle of recharging which is required by typical mobile devices. Battery life is estimated at approximately two years based on the prototype model, assuming that the Bluetooth wireless communication function is used for 12 hours per day.
Casio's new prototype communicates with BLE-equipped smartphones, which will be available in the near future and will connect to networks of various kinds of devices. As the wireless link between smartphones and watches gains in adoption, and as the universe of smartphone applications continues to grow, Casio expects to see new possibilities for watches in everyday life.
Casio aims to produce its first Bluetooth Low Energy Watch in 2011. Meanwhile, Casio will call for partner companies to develop applications compatible with smartphones and other household devices in such areas as sports, health, home entertainment, security, and communication with family and friends.
 
Overview of Casio's Prototype Bluetooth Low Energy Watch


Main features:

Wireless communication is powered by the button-cell battery used in small devices and watches
Battery life with the communication functions is the same as previously released watches
The watch case measures a comfortable 53.4 (D) x 44.4 (W) x 12.8 (T) millimeters

Main functions:

The alert signal notifies the wearer of calls and e-mail messages arriving on the networked smartphone
Alarm and vibration functions of a smartphone can be activated using a watch button
A smartphone's ring and vibration alerts can be stopped by tapping the watch
§  Accurate time information can be transmitted from a smartphone to the watch to ensure correct time
 

Casio's demonstration of the Bluetooth Low Energy Watch uses a prototype of a Bluetooth Low Energy smartphone. The demonstration will be conducted at Casio's Booth (#11006) at 2011 International CES, in cooperation with NEC Casio Mobile Communications.
 
 
About Casio Computer Co., Ltd.Casio Computer Co., Ltd. is one of the world's leading manufacturers of consumer electronics products and business equipment solutions. Since its establishment in 1957, Casio has strived to realize its corporate creed of "creativity and contribution" through the introduction of innovative and imaginative products. Today, Casio's offerings include timepieces, digital cameras, electronic dictionaries, calculators, musical instruments, system equipment, and electronic components such as LCDs. The Casio Group employs more than 12,000 people worldwide, shipping over 100 million products per year, with net sales of 427 billion yen (approx US$4,601 million) in the fiscal year ended March 2010. News and product information from Casio is available at http://world.casio.com/
 
About NEC CASIO Mobile Communications, Ltd.NEC CASIO Mobile Communications provides innovative mobile handsets for major wireless providers in Japan and the U.S.A. The company was established in 2010 after spinning off from NEC Corporation's mobile handset business. Later that year, it merged with Casio Hitachi Mobile Communications Co., Ltd. a joint venture between Casio Computer Co., Ltd., and Hitachi, Ltd. NEC CASIO Mobile Communications aims to build an enriched communication linked society utilizing mobile handset solutions crafted from imagination and creativity. For more information, go to http://www.nec-casio-mobile.com/
 

Bluetooth is a registered trademark of the Bluetooth SIG, Inc., U.S.A. Other company and product names are generally trademarks or registered trademarks of their respective companies.
Posted 1/5/11