BlackBerry 4G PlayBook coming to Sprint by summer
—RIM is releasing a 4G version of their BlackBerry PlayBook tablet that pairs with your BlackBerry smartphone, and it's ready to go on Sprint's 4G network.  It's set to launch this summer, and it will provide a high performance platform that will enable a mobile services revolution for both application developers and customers.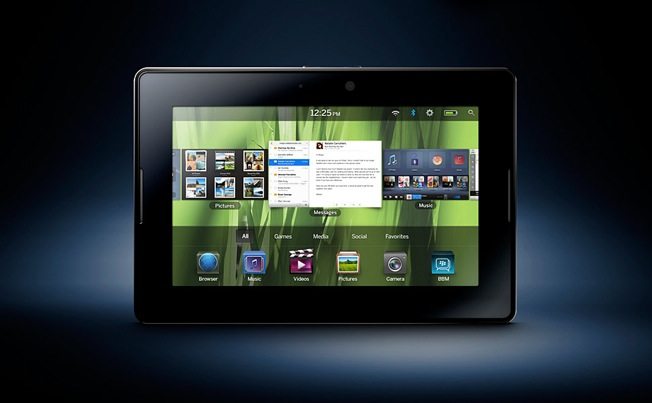 Here's the release…..
BlackBerry 4G PlayBook Coming to the Sprint 4G Network

New 4G Tablet to Deliver Unmatched Power and Web Performance ‐ Available Exclusively from Sprint this Summer

January 6, 2011 – CES 2011, Las Vegas, NV – Research In Motion (RIM) (NASDAQ: RIMM; TSX: RIM) and Sprint (NYSE: S) today announced plans to launch a new BlackBerry® PlayBookTM tablet model featuring connectivity to the blazingly fast Sprint 4G network. The BlackBerry 4G PlayBookTM will be the first BlackBerry PlayBook model to include wide area wireless connectivity, featuring Sprint 4G to give customers download speeds up to 10 times faster than 3G1. This new 4G model is expected to be available from Sprint in the summer.

The BlackBerry 4G PlayBook is a professional‐grade tablet that's set to redefine the possibilities of mobile computing, giving users an ultra‐portable design with industry leading performance, uncompromised web browsing, true multitasking and HD multimedia, as well as advanced security features and out‐of‐the‐box enterprise support. Together, the BlackBerry 4G PlayBook and the Sprint 4G network will provide a high performance platform that will enable a mobile services revolution for both application developers and customers.

"RIM believes a significant portion of the tablet market will want a higher performing, multitasking, professional‐grade tablet and that is why we chose to design the BlackBerry PlayBook for premium performance with a powerful dual‐core processor and multitasking OS. Together with Sprint, we are now building on that performance advantage with 4G and providing an unparalleled mobile experience for users," said Mike Lazaridis, President and Co‐CEO at Research In Motion.

"We are excited to bring this powerful new product to our business customers and consumers who rely on Sprint for industry‐leading devices as well as one of the best values in wireless," said Steve Elfman, president of network operations and wholesale for Sprint. "This tablet is a great example of Sprint's strong partnership with RIM in continuing to bring customers powerful devices to enhance their mobility. We are confident the BlackBerry 4G Playbook from Sprint will be one of the most anticipated tablets in 2011."

In addition to Wi‐Fi® support, the BlackBerry 4G PlayBook features a 1 GHz dual‐core processor, 1 GB of RAM and the new BlackBerry® Tablet OS. The ultra portable, ultra thin tablet will offer an uncompromised, high‐fidelity web experience with support for Adobe® Flash® Player 10.1, Adobe® Mobile AIR® and HTML‐5 enabling customers toenjoy all of the sites, games, media and richness of the full Internet, delivered at 4G speeds. Additional details and pricing will be released closer to launch.

Sprint 4G is currently available in 71 markets2 across the country, including Atlanta, San Francisco, Boston, Chicago, Dallas, Los Angeles and New York City. Sprint first launched 4G in Baltimore in September 2008 and continues to build it's 4G service for consumers and business users across the country. For more information, visit www.sprint.com/4G.

For more information about the BlackBerry 4G PlayBook, visit www.blackberry.com/playbook or www.sprint.com/4Gplaybook.

About Research In Motion

Research In Motion (RIM), a global leader in wireless innovation, revolutionized the mobile industry with the introduction of the BlackBerry® solution in 1999. Today, BlackBerry products and services are used by millions of customers around the world to stay connected to the people and content that matter most throughout their day. Founded in 1984 and based in Waterloo, Ontario, RIM operates offices in North America, Europe, Asia Pacific and Latin America. RIM is listed on the NASDAQ Stock Market (NASDAQ: RIMM) and the Toronto Stock Exchange (TSX: RIM). For more information, visit www.rim.com or www.blackberry.com.

About Sprint Nextel

Sprint Nextel offers a comprehensive range of wireless and wireline communications services bringing the freedom of mobility to consumers, businesses and government users. Sprint Nextel served more than 48.8 million customers at the end of the third quarter of 2010 and is widely recognized for developing, engineering and deploying innovative technologies, including the first wireless 4G service from a national carrier in the United States; offering industry‐leading mobile data services, leading prepaid brands including Virgin Mobile USA, Boost Mobile, Common Cents Mobile and Assurance Wireless; instant national and international push‐to‐talk capabilities; and a global Tier 1 Internet backbone. Newsweek ranked Sprint No. 6 in its 2010 Green Rankings, listing

it as one of the nation's greenest companies, the highest of any telecommunications company. You can learn more and visit Sprint at www.sprint.com or www.facebook.com/sprint and www.twitter.com/sprint.
Posted 1/6/11