Balanzza TRUCO Bag Reshapes itself
—Balanzza's TRUCO (Travel Utility Carry On) baggage system is a carry-on bag that can reshape itself by offering 2 modular parts that can be removed or added using Balanzza's click-on system.  The main bag is designed to hold your clothing and other larger items, while a laptop bag/brief case snaps onto the front of it to house your nerve center.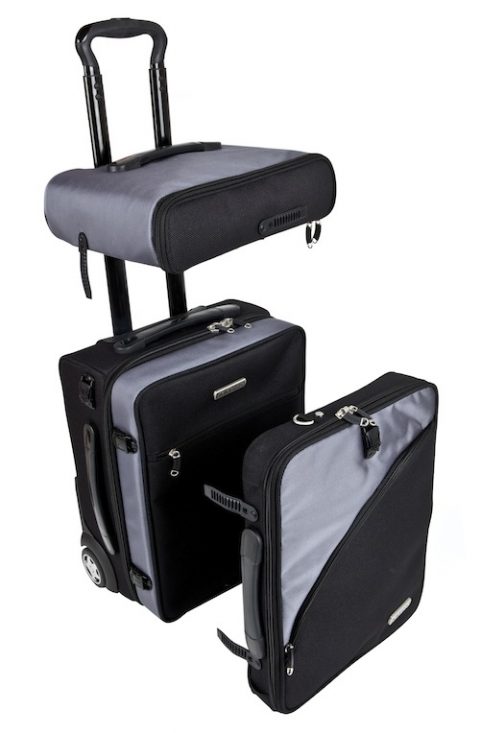 The third piece, which clips to the top of the main bag, is designed to hold smaller, more valuable items.  In the event that you board the plane and discover that the overhead compartment is too small, you simply remove any of the two smaller bags and slip them under the seat or next to the bag in the over head compartment.
The Balanzza Truco has a Worldwide Limited 5-year Lifetime Warranty and is available now for $199
Here's the release……
MIAMI, FL- December 22, 2010 – Balanzza, makers of the first digital luggage scale for travelers, introduces the Balanzza Truco, a strategically designed 3 in 1 carry-on that eliminates the worry and hassle of not having enough cabin storage space. Using a click-on system, the Balanzza Truco adjusts to the available space by easily removing its components and reshaping itself.

As travelers' switch to carry-ons to avoid luggage fees, overcrowded cabin storage space can create unexpected headaches. According to the Transportation Department, baggage fees collected by airlines rose from $464 million in 2007 to nearly $2 billion in just the first nine months of 2009, despite the drop in the number of passengers.

The Truco, short for Travel Utility Carry On, unites a small carry-on which can be used for shorter trips, a laptop and a personal valuables bag to form a full size 20 inch carry-on, giving you the flexibility of storing the different modules in separate spaces such as underneath your seat, or to keep your valuables separated from the main piece in case it will need to be stored away or checked because of lack of space.

"With the Truco, frequent fliers will gain peace of mind knowing that you won't have to push, squeeze or walk down the aisle trying to find a large enough space," stated Ronald Kritzler, president of Balanzza. "We are focused on making the travel experience more enjoyable, from the minute you start packing to when you board the plane."

The Balanzza Truco has a Worldwide Limited 5-year Lifetime Warranty and is available at www.balanzza.com for $199.
Posted 1/13/11