Logitech Couch Mouse 515M can be used anywhere
—The Logitech Couch Mouse M515 works on any surface, and is geared towards the couch dweller as it sports a completely sealed bottom to prevent lint (think blankets) and other debris from building up, which is further complimented by its easy glide base.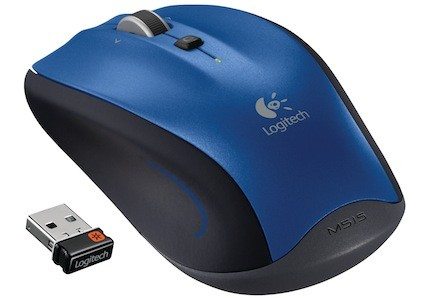 The 515 has a stellar battery life, up to 2-years to be exact, thanks to the hand detection technology that turns the mouse off when no human touch is present.  There is no mention of a release date, but according to the US press release it will sell for $49.99.
Here's the release…
Logitech® Couch Mouse M515
Designed for better browsing on your couch, bed, or carpet

Announcement Date: January 21, 2011
Shipping: January 2011
Price: $49.99

Available at: www.logitech.com

Product Overview
Logitech® Couch Mouse M515 is the mouse that's made for surfing the Internet on your couch, bed or carpet. Its sealed bottom won't collect fabric fuzz in the sensor opening, and its easy-gliding base means your mouse tracks smoothly on blankets, cushions or carpets. With up to two years of battery life and the tiny Logitech Unifying receiver, your mouse is always ready when you are.

Key Features
Hand Detection: Your mouse is active only when you're gripping it. So your cursor moves only when you want it to. And it stays asleep when you're not using it.
Keep On Tracking: The bottom of the mouse is sealed, so fabric fuzz won't collect in the sensor opening, which improves cursor control regardless of what surface you're using your mouse on.
Effortless Hyper-Fast Scrolling: So you can coast smoothly through the longest blogs, Twitter™ updates and Facebook® feeds. Switch to click-to-click mode to step through photo albums, e-mails or friends lists.
Easy-gliding Base: The easy-gliding base lets you work and play where you feel comfortable. Your mouse tracks smoothly on blankets, cushions or carpets.
Ready When You Are: Up to two years of battery life helps you save time, money, and the planet by eliminating the need to change batteries frequently.
Plug and Forget: The tiny Logitech Unifying receiver stays in your laptop—so it's less likely to be lost—and gives you a reliable connection with virtually no delays or dropouts. Plus, you can easily add compatible wireless devices to the same receiver.