Vogel iPad Wall Mount
—The Vogel Wall Mount is meant to hold an iPad securely on a flat vertical surface. Any iPad with a Vogel's Holder then clicks on securely and can be set horizontally, vertically, or at any angle in between.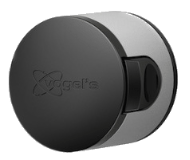 Vogel's also wants to assure you that when deprived of the iPad companionship, their Wall Mount doesn't look half bad, as it's quite a discreetly handsome piece of plastic even unto itself.