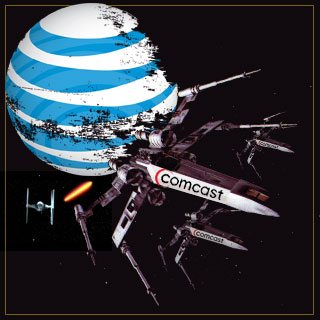 Comcast joined forces with AT&T to sell local ads for the AT&T's U-verse TV service in 21 U.S. markets starting as early as June.
NCC Media, the ad sales, marketing and technology organization that represents cable, satellite and telco operators in every U.S. market, will manage multimarket buys on both the Comcast and AT&T U-verse services for national advertisers.
"This is another significant step in simplifying the process of planning and buying media in spot cable throughout our footprint," Comcast Spotlight president Charlie Thurston said in announcing the agreement. "Local, regional and national spot advertisers alike will benefit from the convenience of having a single media source for local spot advertising that enables them to reach the largest possible audience."
Comcast Spotlight, the advertising arm of Comcast Cable, also sells ads for Verizon's FiOS TV and Dish Network. The agreement between Comcast Spotlight and AT&T "will add qualitative and quantitative value to the local advertising offerings put forth by the Comcast Spotlight sales team and make life easier for media buyers in terms of seamless planning and buying," AT&T Advanced Ad Solutions senior vice president Greg McCastle said in a statement.
Comcast Spotlight, based in New York, has a presence in nearly 90 markets with approximately 30 million owned and represented subscribers. The company has built interconnects across the country enabling advertisers to place their messages in all or part of a market or across multiple markets.
The U-verse TV markets covered under the deal area: Atlanta; Hartford, Conn.; Memphis, Tenn.; Champaign, Ill.; Houston; Miami; Chicago; Indianapolis; Detroit; Jackson, Miss.; Nashville, Tenn.; Lansing, Grand Rapids and Flint, Mich.; West Palm Beach and Jacksonville, Fla.; Fresno, Monterey and Sacramento, Calif.; San Francisco; and Little Rock, Ark.
For additional information on AT&T's U-verse TV service, visit AT&T U-verse Coupon Code.