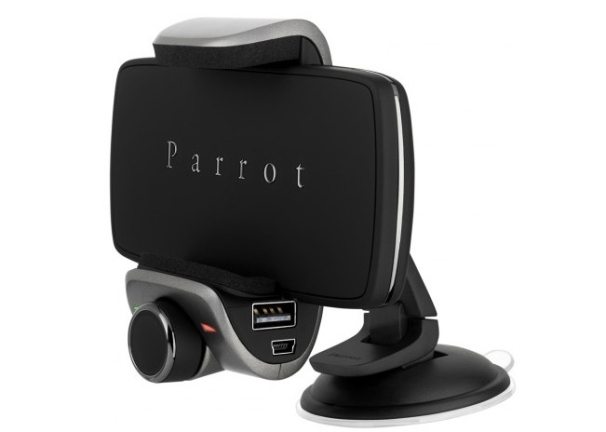 The Parrot MINIKIT Smart is a Bluetooth® hands-free kit for the vehicle with a docking bay designed for all Smartphones, whatever their size (from 56mm to 70mm width). The connection between the two devices is done via Bluetooth® and the MINIKIT Smart can simultaneously manage hands-free conversations and navigation applications available on Smartphones.
The Parrot Minikit Smart wears a couple of 'hats'.  The cradlelike design lets you attach your phone (horizontally) to the Minikit, which acts as a charging holder and serves as a GPS unit and Bluetooth speakerphone.  With a couple of included mounting accessories, you can stick the Minikit to the dash, and believe me when I tell you that it keeps the phone in place with a vengence. It doesn't move, even on the bumpiest of roads. You can also take the Minikit's microphone from the unit by pulling on the mic's cord and attaching it to the visor using the clips.
At the bottom of the unit is a big scrollwheel with two recessed button areas to press on either side, all very one-handed accessible and ergonomic.  Additionally, the Minikit automatically syncs with your phone contacts after pairing, assuming your phone supports this feature, so you can use the voice-recognition function to initiate calls.  Alternatively, you can call manually by pushing the scrollwheel, select the Phonebook voice prompt, cycle through the wheel's menu to find the first letter of the person's name, and subsequently scroll down to the contact you want to reach.
To receive a call, you press the green-lighted area to the left of the wheel.  To end a call, you push the red-lighted area on the right. The Minikit will announce your caller if recognized by the phonebook.  Call quality is pretty darn good with the MINIKIT, and the speaker puts out some amps so you can hear while driving in rough weather or while you've got the radio up.
The Parrot MINIKIT Smart is available at $129.99 MSRP through BestBuy.com, Crutchfield.com, 6th Avenue Electronics, Car Toys Al & Ed's, ABT Electronics, Car Toys, 6th Avenue Electronics, Fry's Electronics, Bell Canada and ParrotShopping.com.  For the money and the features, this is a pretty nifty gadget that Parrot came up with.  Of course, Parrot is the king of cell accessories, and wireless car kits, so I'm not surprised that the Parrot MINIKIT Smart scores another 'win' for Parrot.