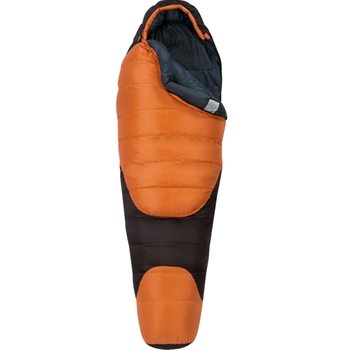 The goose down Sierra Designs Pyro +15deg, 3-season sleeping bag could literally help you survive an arctic blast, and its a measley 2-pounds in weight.  How does it do it?  Well, this sucker has a lot of technology and design built-in to really achieve almost revolutionary warmth in a physics-defying wieght.
The premium 600-fill-power goose down is extremely warm, lightweight and compressible, and will keep you toasty in the worst conditions.  It has an added layer of insulation directly over the torso.  What this does is add a serious heat retention factor in the most crucial areas of the body.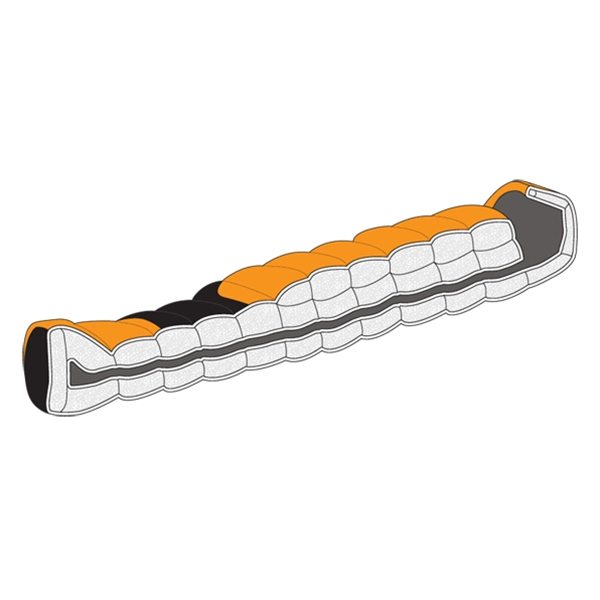 It's also completely waterproof, and has a breathable 30-denier micro-ripstop polyester shell fabric that protects the bag's fill from moisture to help keep you comfortable during inclement weather. Sewn from the inside, the tucked seams prevent snags and reduce wear and tear. There's also a full-length 2-way zipper with a locking slider, which is backed by wide, anti-snag binding tape.
The Sierra Designs Pyro 15 sleeping bag also features baffle construction that keeps the internal down material from shifting and migrating, eliminating cold spots.  The snag-free zipper tracks prevent stuck zipper syndrome by creating a barrier between the lining and the zipper track. The fully insulated draft tube, backing the zipper, keeps body heat in and cold air out.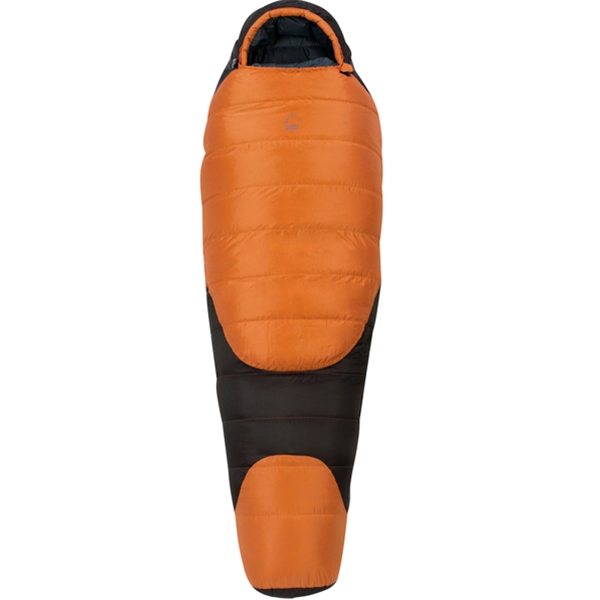 This baby is also very ergonomic. There's a non-restrictive hood that cradles your head in warmth.  This hood features differentiated drawcords that make fit adjustments easy, even in the dark when you can't see the hand in front of your face.  You can stuff extra clothes into the hood's pocket to create a pillow so you don't have to pack one.  A roomy, ergonomically shapped footbox enhances the comfort and warmth of your feet as well. Pad Locks(TM) at the shoulders and hips keep the Pyro bag and sleeping pad together no matter how much you roll around, however, the pad is not included in the package.
The Sierra Designs Pyro 15 comes with a stuff sack and a storage bag, and as I mentioned weighs 2 lbs 13 oz.  Not bad for a premium sleeping bag.  I spent 2 nights in the Pyro in the deep canyons of Turkey Run Indiana.  OK, so it's not the Swiss Alps.  For the first time in my camping life, I was fairly comfortable.  I appreciated the little extras the Pyro employs, particularly the warmth and the area where you can create a pillow for yourself.  And when it was time for packing it, the sleeping bag compacts down in your backpack, leaving you plenty of cubic room for your other gear.  The 'down' material is super comfy, and the zipper design really traps the heat so your body warmth adds extra 'pyro' to your Pyro.
The Sierra Design Pro 15 Sleeping bag sells for around $250 for the regular length, and $270 for the long length.  You can find it online at Amazon [amazon_link id="B004KQDMPU" target="_blank" ]HERE[/amazon_link].
[amazon_my_favorites design="2″ width="250″ title="Sierra Designs Pyro 15″ market_place="US" ASIN="B004KQDMPU" color_theme="Orange" columns="1″ rows="3″ outer_background_color="" inner_background_color="" background_color="" border_color="" header_text_color="#FFFFFF" linked_text_color="" body_text_color="" shuffle_products="True" show_image="True" show_price="True" show_rating="True" rounded_corners="False"/]
The Pyro also achieved the 2011 Camping Life Editors' Choice award.  Here's the release, and also check out the video below….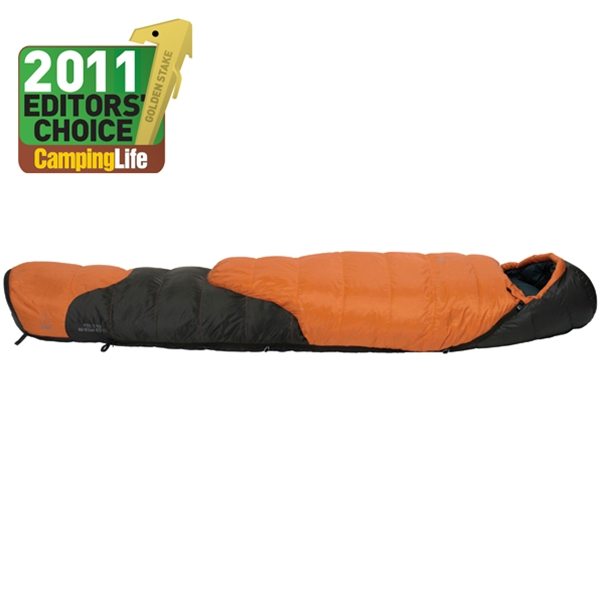 Sierra Designs Pyro 15 sleeping bag honored
with 2011 Camping Life Editors' Choice award

 

Featuring Core Comfort Technology, the Pyro 15 rises above the rest
providing a warm, comfortable night's sleep


BOULDER, COLO. (April 12, 2011) – The Sierra Designs Pyro 15 sleeping bag, the first sleeping bag to employ Sierra Designs' Core Comfort Technology™ (CCT), has been selected by the editors of Camping Life Magazine as a 2011 Editors' Choice Award winner.

The down-insulated Pyro 15's performance is based on two additional sets of insulated baffles placed over the foot box and torso, where the body generates most of its heat.  The result is improved warmth retention with less insulation than similarly rated bags, allowing campers to stay warmer and more comfortable while carrying less weight.

"This recognition from Camping Life is fantastic, especially since Camping Life is a well respected source of information for campers everywhere," said Becky Larsen, product developer for Sierra Designs sleeping bags.  "Inspired by our line of CCT apparel introduced in Fall 2010, we're particularly proud of the Pyro since it represents the next step in the evolution of this technology.  Look for more Sierra Designs Core Comfort sleeping bags in Spring 2012."

Here's what Camping Life had to say about the Pyro 15:

"Sierra Design's new Pyro sleeping bag features a trend in sleeping bag design that we appreciated for its efficient use of insulation. The company calls it Core Comfort body mapping, but we'll call it putting warmth where you need it the most. The Pyro offers extra 600-fill down directly over your torso to maximize heat retention in this critical area. Other top-notch sleeping bag features such as a draft tube and draft collar for keeping cold air out and warm air in, an ergonomic foot box and hood for greater comfort, and a pillow pocket for convenience make this a darn good 15-degree sleeping bag for the price.  With such a wide variety of camping products available to today's family camper, Camping Life strives to provide detailed, valuable information so their readers can make informed buying decisions."

Camping Life Magazine was started in 1998 and began the Editors' Choice Awards in 2002 as a way to help focus their readership's (family campers) purchasing power and attention on products that were best suited for the family camping lifestyle.

More about the Pyro 15:

Utilizing Sierra Designs' Core Comfort Technology body mapping to place insulation where it's needed most, the Pyro 15 is a comfortable and thermally efficient sleeping bag designed for cool weather overnights in the backcountry.  With it's advanced double-baffle system, the Pyro adds extra 600-fill down insulation directly over the torso to maximize heat retention in this most crucial area.  Weighing in at 2 lbs, 13 oz in regular, the Pyro features an ergonomic foot box and hood for comfort, a pillow pocket for convenience, and a zipper draft tube and draft collar for keeping cold air out.  $249.

About Sierra Designs
Founded in 1965, at the beginning of the golden age of backpacking and climbing, Sierra Designs is one of the original brands for the eco-conscious outdoor enthusiast. We have always had a passion to protect where we play, and our tents, sleeping bags, and apparel have been to every corner of the world, from the highest peaks in Tibet to your local greenway around the corner. We model and design our products for high performance adventurers, but make it attainable for you. Sierra Designs' gear and apparel fits in with your daily life, no matter where it takes you. Visit us online at SierraDesigns.com or see us on Facebook.