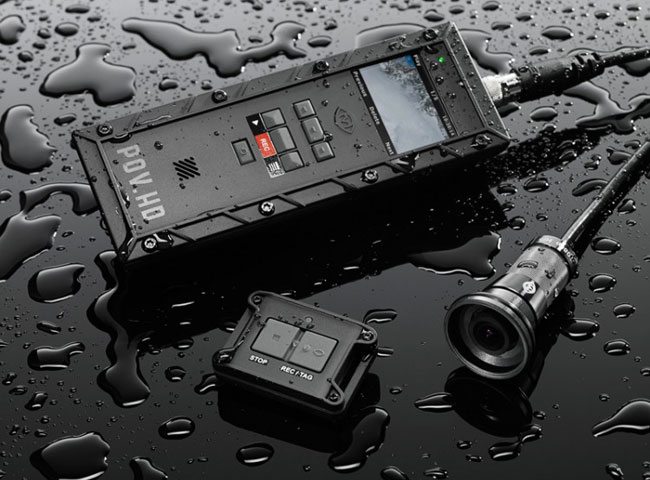 While gadget news is chuck-full of camera gadgets and video cam gizmos, the video head cam has become somewhat of a newcomer to the world of the latest gadgets, and this product by V.I.O appeals to the action videographer and the athlete who really wants to measure his performance.  The V.I.O POV.HD is a serious piece of helmet gear, a 1080p hd camera to be exact that can shoot stunning HD video on the fly, right from your head.  It combines some pretty sophisticated components in a smart but rugged design, and it's the first helmet camera to shoot native 1080p HD video because of its Texas Instruments hardware and 6 element glass lens.
The POV.HD is different from V.I.Os first introduction to this product category.  V.I.O's new HD version has in-field flexibility capabilities, and records up to 5-hours of HD video.  It's small too…only 2-ounces.  You really can quite easily forget that's its mounted on your helmet or goggles.  It also has many recording and exposure options that help pro athletes really develop their game, or video professionals to create high-quality footage with plenty of on-board action.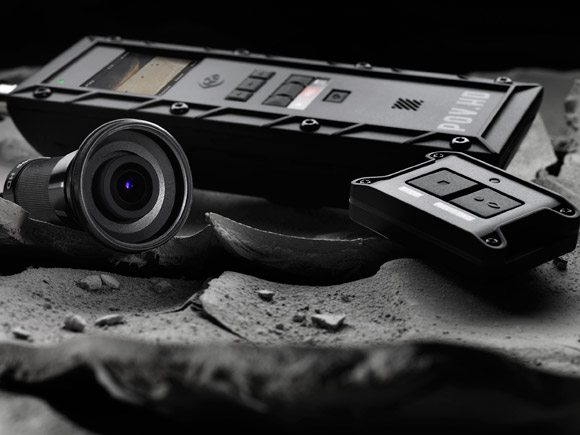 The VIO POV has a 2-inch LCD screen.  This is cool because you can see what you've just created right where you captured the action.  You can also edit the video and make exposure control adjustments right from the camera.  I think the best part of this camera are its controls.  They're simple and pretty intuitive.  In fact, you can view your creation and make final edits before you even go back to your PC or studio.  The camera is that advanced!  Normally with headcams, you have to go back to the PC to download the footage, and really manipulate it into a working video.  Not the VIO camera.  It has everything you need right on the camera.  If you're still one of those who needs to watch the action on a big screen, you can hook the VIO POV.HD up to your television with the supplied AV cable and watch the videos on your TV.
As I mentioned, the Vio POV HD has a Texas Instruments new Da Vinci DM368 Video Processor, which supports a real-time video pipeline that enhances image quality and produces crystal clear 1080p H.264 video. It can capture 142 degree FOV, at 1080p 30fps. Now that's fast and diverse.  In my VIO POV review, I was amazed at the stunning images the camera head produced- video capture at 720p 60fps, especially in a digital helmet camera.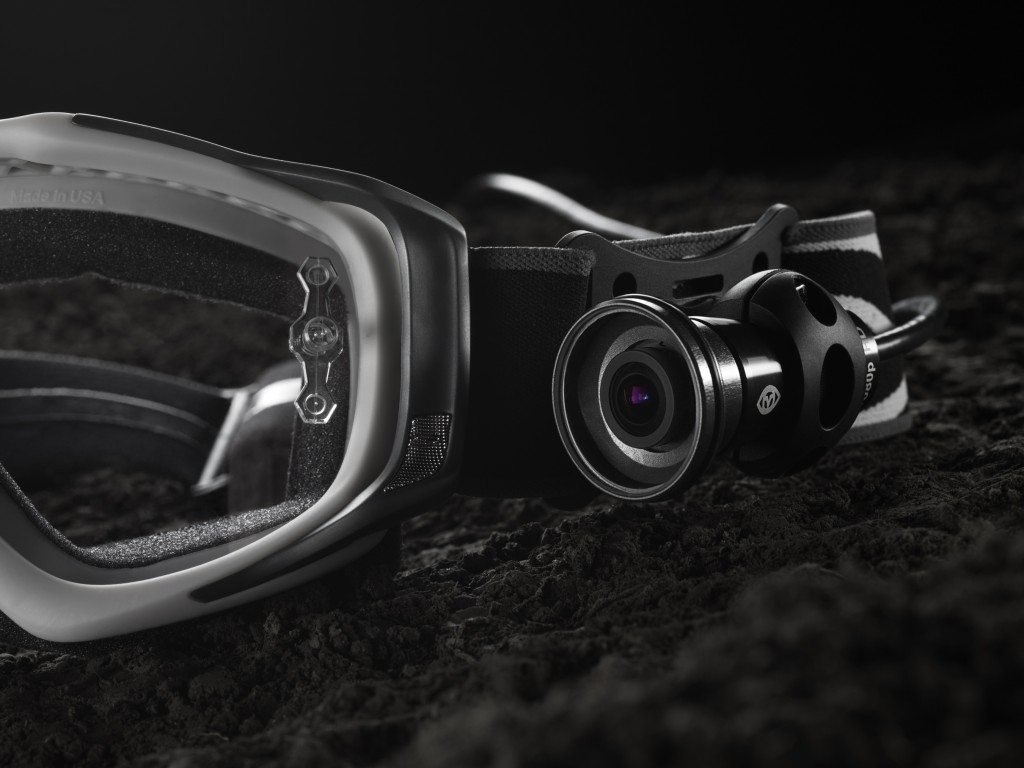 The POV.HD is also a sturdy piece of hardware.  It really has to be to be able to compete in this product category.  This high definition camera is IP67 certified and can withstand some seriously threatening weather.  What does that mean to you?  Well you can probably capture image and video footage you might otherwise not be able to achieve in more extreme conditions.  The V.I.O. POV.HD system is water, dust and shock proof.   I tried this puppy out in some pretty bad tornadic weather, and while I didn't catch a twister on film, I was able to film both night and day shots during extreme wind and rain.  It's white balance and contrast control was really something to marvel.  And with the different included mounts, I was able to secure it to a pair of goggles, a bicycle helmet, even my shirt.  Can't forget the wireless remote.  It takes 'control' to a whole new level.  You really need a remote when you have a headcam, and VIO remote was extremely responsive and allowed me to control everything I needed to.
The video yield on the VIO POV HD is about 30 minutes on a 4GB card, shooting at full 1080p.  If you ratchet it down to 480p, you'll get more like 2-hours.  It will accommodate up to a 32GB card, giving you around 4.3 hours in 1080p mode.  Depending on the batteries you use, Ni-MH rechargeable batteries will last around 2.5 hours, while a set of Lithium Ion batteries will last approximately 5 hours in the 1080p and 720p modes (8 hours and 12 hours respectively with Ni-MH/Li-Ion batteries).  The 16:9 widescreen mode is really a treat.  You can capture a lot from a seemingly weightless and tiny lens.  The POV.HD comes standard with a wide angle lens. A narrow angle lens is not currently available.  The VIO POV.HD camera is waterproof to 1m.
What about audio you say?  Yes it certainly captures some pretty good quality audio.  It has a microphone embedded into the cable that joins the helmet camera to the recording unit. It's been specially designed to cut-out wind noise and you can adjust the sensitvity to suit your use.  With many microphones, even the high-quality ones, wind becomes a major issue with sound quality.  The VIO HD cam handled this pretty well.  While I could still hear the wind, it was evident that the audio technology in this camera is good enough to cut out most windy background noise, even with wind at 40-50mph. There's also an external microphone input (3.5mm jack) so you can hook up your own microphone.
Can't say enough about this camera.  The price is a bit steep at an MSRP of $600, but if you're in the market for a rugged headcam that has all the goodies of a traditional high-end recorder, the V.I.O. POV.HD is the only game in town.
You can buy it now at Amazon [amazon_link id="B004CRSLE4″ target="_blank" ]HERE[/amazon_link]
[amazon_my_favorites design="2″ width="250″ title="V.I.O POV.HD" market_place="US" ASIN="B004CRSLE4″ color_theme="Orange" columns="1″ rows="3″ outer_background_color="" inner_background_color="" background_color="" border_color="" header_text_color="#FFFFFF" linked_text_color="" body_text_color="" shuffle_products="True" show_image="True" show_price="True" show_rating="True" rounded_corners="False"/]
Check out the video demo….
Check out the specs…..
In-Field Flexibility
In-field Editing
Tag scenes while recording from either the recorder or the wireless remote control
Compile tagged scenes into highlight clips automatically and in-the-field
In-field Exposure Control
Exposure Compensation – Improve color saturation and contrast in especially bright or grey shooting conditions
Exposure Metering – Set the automatic exposure control sampling area
Four Recording Methods
Clip Mode – Start and stop recording action from your POV
Loop Mode – Capture footage from the past
Loop & Forward Mode – Capture footage from the past + continue recording into the future
Still Image Mode
Rugged – Ease of Use
Shock proof and Water proof (1m/30min)
Dust proof
Environmental Rating: IP67
Modular mounting
Powered by 4 AA batteries
Wireless Remote
Specifications:
Focal Distance: Fixed Focus (6.5ft/ 2m to 8m)
Aperture: f/2.0, Relative Illumination @ Full Field 90%
Field of View: 142° in 1080p, 95° in 720p, 120° in 480p
Resolution Settings: 1080p: 1920×1080 pixels, 30, 25 or 24 fps, 15 Mbit/s data rate | 720p: 1280×720 pixels, 60 fps, 15M bit/s data rate | 480p: 720×480 pixels, 30 fps, 4 Mbit/s data rate
Video Codec: H.264
Format: MPEG4
Exposure Control: Automatic Exposure Control and White Balance
Sensor: 1/2.7″ Advanced Native 1080p CMOS sensor, 3.0 µ meter pixel size
Dynamic Range: 69 dB
Sensitivity: 3300 mV(lux-sec)
Operating Temperature: -4°F to 140°F / -20°C to 60°C
Processor: 32 Bit ARM Microprocessor, 10 Bit Image
Audio Codec: AAC
Mic Type: Monaural Omni-directional Cable-mounted, -40dB sensitivity at 1kHZ
Resolution: 16 Bit Half Duplex
Sampling Rate: 16kHz
SNR: 80dB
Speaker: Monaural 80 Mylar, 0.7 WMax
Memory: SD card, up to 32GB capacity (SDHC)
Average Recording Times: 1080p: 8min/GB | 720p: 8min/GB | 480p: 30min/GB
File Functions: Record, Playback, Delete
I/O Ports: SD Cart Slot, USB 2.0 High Speed (Mini-B), Mic-in, NTSC/PAL Analog TV/Audio Out (Live Stream Capable)
Image Display: 2″ LCD Screen, Resolution 640×320
Navigation Controls: All On Recording Unit, including Quick Mode Select Keys for Recording, Playback, and Set-up Modes
Auxiliary Controls: Unidirectional RF Remote Control with Record, Tag, and Stop Controls
Functionality: Record, Tagging, File Navigation including Select, Playback, and Delete. Recording Configurable for either Standard Clip Capture or Loop Mode. User Configurable Camera Settings via Settings Menu Screens
Battery Type: 4 x AA Batteries
Battery Life: Lithium Batteries: Up to 5 hours in HD modes, up to 12 hours in SD
Alkaline Batteries: Up to 2.5 hours in HD modes, up to 8 hours in SD
Recording Unit: 1.6″ x 2.4″ x 6.6″ / 40mm x 60mm x 167mm, 11.6oz / 328grams(with 4 x AA Batteries)
Imaging Head: 2.0oz / 58 grams
Remote Control: .85oz/ 24 grams (with A27 Battery)
Digital AV Cable: Approximately 60″ / 1.5 meter length, 4.5oz / 128 grams
Includes:
POV HD Recorder with LCD
Wide Angle Camera Head
LVDS Cable
Wireless Remote Control
Carrying Case
Mounting Systems
4GB SDHC Card
USB Cable
Analog A/V Cable
Quick Start Guide
4 AA Batteries
Preloaded Tutorials
Here's the full press release…..
Introducing the POV.HD Video System by V.I.O.

Advanced Point-of-View 1080p Video

Marquette, MI, November 18, 2010 /PRNewswire/ — Caveat Emptor: not all HD is created equal. V.I.O., the decade-long leader in point-of-view video technology, is proud to announce the all-new POV.HD video camera: the most flexible, rugged and easy to use point-of-view HD video system available. The POV.HD is V.I.O.'s response to video professionals and athletes who demand advanced high-definition video with vibrant color and superior camera control that excels in extreme environments.

The new POV.HD follows the award-winning form-factor of its predecessor, but with all-new internal components and functionality. The POV.HD features new in-field flexibility capabilities and records up to 5 hours of crisp HD video. Thanks to the exceptionally small and robust nature of the POV.HD camera head, options for capturing creative and beautiful video angles are limitless. Clint Slack, Marketing Director at V.I.O., says: "The POV.HD not only delivers advanced HD video, but also provides a host of unique recording and exposure options designed for the discriminating video enthusiast."

The POV.HD comes with a laundry list of proprietary functionality driven by user feedback. The recording unit features a 2-inch LCD screen to view footage in the field, edit video and make exposure control adjustments. A simple set of controls allows the user to easily "tag" the best footage in the field, so final editing is finished quickly back in the studio. The recorder, run by Texas Instruments' new Da Vinci DM368 Video Processor, supports a real-time video pipeline that enhances image quality and produces crystal clear 1080p H.264 video. The 2-oz wearable camera head captures 142 degree FOV, at 1080p 30fps—the widest point-of-view camera angle available on the market. The camera head also features video capture at 720p 60fps, a high-quality 6-element glass lens and a native 1080p CMOS sensor designed specifically to produce optimal-quality, Full HD video.

In addition to utilizing the best video components available on the market, the POV.HD excels in the single most important test for point-of-view cameras: durability and ruggedness. The POV.HD is IP67 certified and is commonly used in a wide variety of extreme environments due to the unit's dust, water and shockproof ratings and ability to handle extreme temperatures. Todd Jones, Founder and Producer for the action-sports film company Teton Gravity Research, said: "Thanks to the exceptionally small size, bombproof nature and production-grade video quality of V.I.O.'s cameras, we've been able to capture unique and beautiful shots of our athletes in extreme situations that otherwise would have been unattainable."

The POV.HD Camera will be available at Backcountry.com, B&H Photo and in other fine camera/video establishments across the country. View video, photos and learn more at: vio-pov.com.
[amazon_my_favorites design="4″ width="250″ title="V.I.O POV.HD HeadCam HD Camera" market_place="US" ASIN="B004CRSLE4″ color_theme="Onyx" columns="1″ rows="3″ outer_background_color="" inner_background_color="" background_color="" border_color="" header_text_color="#FFFFFF" linked_text_color="" body_text_color="" shuffle_products="True" show_image="True" show_price="True" show_rating="True" rounded_corners="False"/]