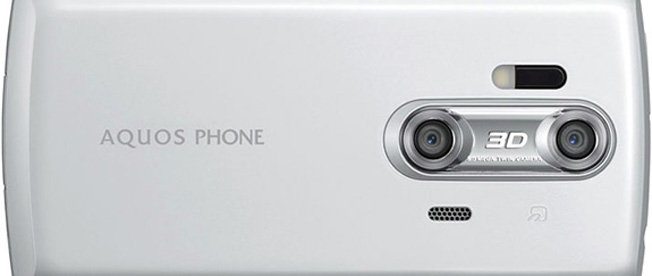 Well, well, well….Sharp just joined the 3D smartphone market, with the likes of HTC and LG, and I'll have to say, it's not a bad showing at all, particularly from a company that is not exactly the forerunner of cellphones in any of the categories.
The Sharp Aquos SH-12C sports the new Android 2.3 operating system, which is always a welcome when a new entry into the smartphone category actually has installed the latest Android version.  It's also powered by the fastest mobile processor to date, the 1.4GHz Qualcomm MSM8255 processor.
Other specs include a 4.2-inch qHD glasses-free 3D display, an 8-megapixel camera capable of recording 3D video, and 512MB of RAM.
I saw this phone at a press event, and out of the 3D phones I've seen coming out on the market, this is so far the best.  Sharp as a company is big into the display and monitor business.  So it's no surprise that the display on this phone is killer, the 'best in show'.   It's also lightening quick, being able to handle a multitude of applications at once, without loosing that 1.4GHz blaze.
3D video looks awesome.  Somehow Sharp was able to incorporate a little extra technology juice into this phone, which has upped the anne in 3D quality.  Also, the 8-MP camera not only records great HD video, but it takes point-and-shoot-quality photos…..those that you could actually display in a physical photo album.
Along with the other usual hardware specs and Android goodies, this is a very smart looking phone.  Very little physical keys help make navigating the touchscreen a delight, and the call quality and speaker system sound really good.
The Sharp Aquos SH-12C will land on Japan's NTT DoCoMo network on May 20th, although pricing details were not disclosed.  If things go right in Asia Major, we should see this phone hit the U.S. by mid-summer.  More to come on this stellar 3D phone when more details are available.