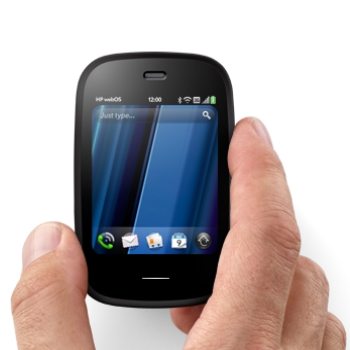 OK, so if you've seen this phone, you know what I'll be talking about.  The new [amazon_link id="B00505SPYS" target="_blank" ]HP Veer[/amazon_link] is far and away the smallest, full-featured smartphone out on the market today.  If you read the press before it appeared in stores, everyone was reporting it was small, but until you get your paws on it, you have no idea it's scrawnyness.
Star Rating:


Price: $49 at Amazon with Contract, $99 at AT&T
Where to BUY: Amazon, AT&T stores [amazon_my_favorites design="2″ width="250″ title="" market_place="US" ASIN="B00505SPYS" color_theme="Orange" columns="1″ rows="3″ outer_background_color="" inner_background_color="" background_color="" border_color="" header_text_color="#FFFFFF" linked_text_color="" body_text_color="" shuffle_products="True" show_image="True" show_price="True" show_rating="True" rounded_corners="False"/]
Literally the length of a credit card, it comes in black and now white and feels real solid in the hand.  What's better is that it's a full fledged webOS device, the new-and-improved webOS, and it's actually pretty fast. In fact, while we're add it, let's list the specs:
Qualcomm MSM7230, 800Mhz processor
512 Megs RAM
2.6-inch multitouch screen with a vibrant 18-bit color, 320×400 resolution
Gesture area
Slide-out physical QWERTY keyboard
8GB (~6.1GB user available)
HSPA+ (this is the 4 in "4G" moniker that AT&T is using)
webOS 2.1.2
Wi-Fi 802.11b/g/n with WPA2, WPA2, WEP, 802.1X authentication; Bluetooth® wireless technology 2.1 + EDR with A2DP stereo Bluetooth support
Mobile hotspot supports 5 devices
Built-in GPS (A-GPS)
USB mass storage support
Accelerometer, Light sensor, Proximity sensor
Battery (910mah), non-removable
Touchstone capable
Charger/magnetic connector with USB 2.0 Hi-Speed
Magnetic connector with 3.5mm stereo headset adapter included
Tri-band UMTS: 850/1900/2100 HSDPA Cat 10/HSUPA Cat 6; Quad-band GSM/EDGE: 850/900/1800/1900, GSM/GPRS/EDGE
Dimensions:

Width: 54.5 mm (2.15 inches)
Height: 84.0 mm (3.31 inches)
Thickness: 15.1 mm (0.59 inches)

Weight: 103 grams (3.63 ounces)
Colors: Black and White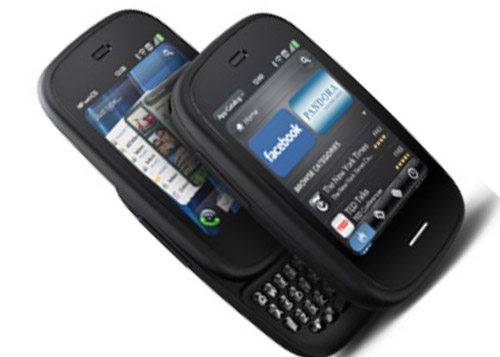 OK, that's out of the way. I said it was fast, and you can thank the 800-Mhz processor on board, coupled with AT&T's HSPA+ radio band that helps it perform at 5 MB down and 1+ MB up. Those are speeds comparable to my desktop at home.  This is huge because so much of webOS is on the web. Most of the apps are pulling something or other from the cloud and when you have a connection that is that fast, it speeds everything up.
RAM on this sucker is really a beast as well. I had around 10 cards open, and it was still performing without hiccups.  Flash on the device, however, is a bit of a disappointment.  I experienced pinch-and-zoom problems, and the overall performance was shakey at best. This is probably more to do with webOS and Adobe than the Veer hardware itself.
The screen is the exact same as the Pixi at 2.6 inches, 320×400 pixels.  It looks even smaller because it has the gesture area right below it giving it a sizable bezel.  The quality of the resolution is good, and details are fairly vibrant, but compared to the Super AMOLED or a Retina display, it pales in comparison.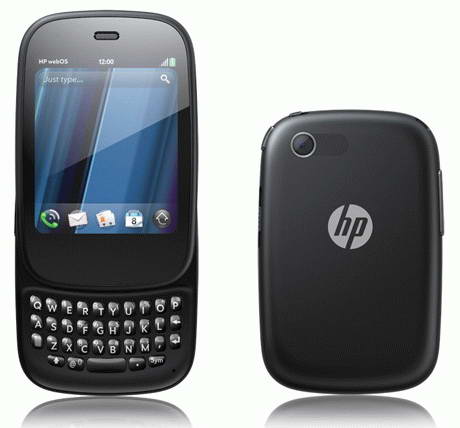 OK, let's talk keyboard.  Anyone glancing at this thing would deem the keyboard unusable.  But you would be surprised.  Now granted, I've been using a Palm (now HP) device for over a decade as my primary phone, so I'm biased.  The Veer keyboard is pretty strong, and actually feels larger than anyother QUERTY Palm device to date.  Perhaps it's the spacing of the keys, or the rubber material used to manufacture the keys.  I don't know.  Let's just say that I can type pretty fast on the Veer.   Could I go so far as to say that it's better than a Blackberry keyboard?  I just might.
Call quality is awesome, almost better than the best Motorola phone.  The speaker, however, leaves a little to be desired.  It's loud, but it becomes distorted at full amp.  Also, the [amazon_link id="B00505SPYS" target="_blank" ]Veer[/amazon_link] picks up a tremendous amount of background noise.  So when you're in an indoor environment, you almost can't buy a better phone for call quality than the Veer.  But if you talk a lot while walking the metropolitan streets, don't buy the Veer.
Camera-wise, Palm and webOS have never been strong in this department, disappointedly. Why?  Ask Palm.  Palm makes great phones and technology, but they often have me scratching my head at certain categories of the phone.  The camera is really no different.  Sure they've upgraded it to a 5mp lense, (without flash by the way….Pre 3 will have a flash), and it takes pretty good pictures when there is good light.  But in bad lighting or distance shots, the Veer really sucks. Hopefully the Pre 3 will be a different story.
Video is fare to middlen. If you want a quick vid shot of the moment, it works fine, but if you want HD-quality video, the Veer is not even close to accomplishing this.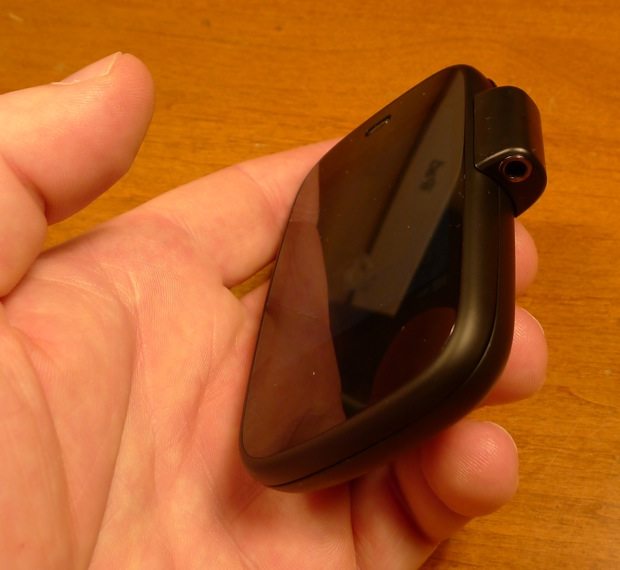 For charging and connecting headphones to the [amazon_link id="B00505SPYS" target="_blank" ]Veer[/amazon_link], HP has engineered a magnetic connector that attaches via magnets. The Veer doesn't have a USB port or a 3.5 mm headphone jack. Because of the form factor, there simply wasn't enough room for both. Rather than not including these features, HP came up with a rather ingenious solution. On the right side of the phone there is a magnetic connector that will allow you to connect a USB cable (and therefore charger) or a standard headphone jack.
The magnetic technology for this is superb, but its use-ability is weak.  If you want to listen to music on the go you have to remember to bring the really tiny headphone adapter.  And if you're jogging with the Veer as a music player, it jossles loose pretty easily.
Battery life is a medical wonder.  While it only sports an internal, non-removable 910mah, it has tremendous battery life.  In fact it will last a full day with pretty heavy use.
Finally, let's talk about the new and improved webOS.  As I've said, I have always been a big fan and avid user of Palm and webOS.  The Veer comes with webOS 2.1, and it is twice as fast and robust as the Pixi.  It's really a pleasure to use, both in speed and performance.  2.1 also includes new functions like Just Type, stacks, synergy, and exhibition mode. They all run flawlessly and for those who actually give webOS a fair shot, they'll quickly undersand why I think webOS is the best mobile OS around.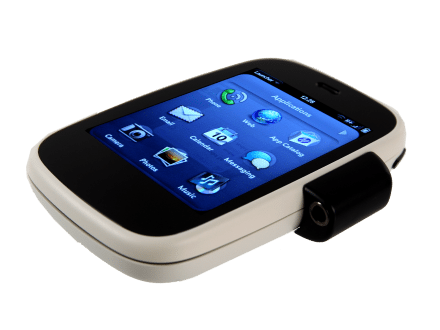 In conclusion, HP really grabbed their balls with the introduction of the [amazon_link id="B00505SPYS" target="_blank" ]Veer[/amazon_link].  In the age of phones coming to market that are getting larger and larger, the Veer does a complete 180. HP's position is that some people don't want those big phones.  Some people don't need to watch full-length HD movies on their phone.  Some just want a full-featured business phone that is very compact and extremely easy to carry.  Well the Veer answers that call with almost perfection. 
I'm a fan of smaller phones, and I absolutely love the Veer. It performs extremely well, it is very well built, and to stuff all that it has in a miniature version of the PRE is a marvel of technology. Will the Veer be a success?  Time will tell.  If people adopt HP's sales plan of having consumers pair a Veer (or a Pre3) with HP's new Touchpad tablet and it's touch-to-share capabilities, and ulimately having all you'd ever need in mobile technology, then the [amazon_link id="B00505SPYS" target="_blank" ]HP Veer 4G[/amazon_link] could be a huge success.