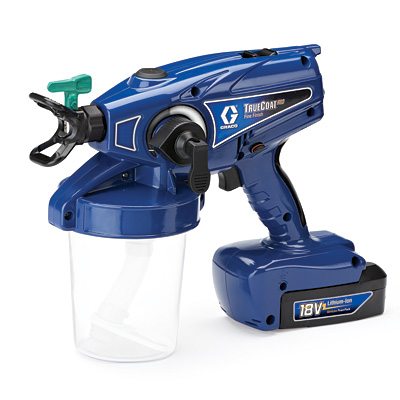 The TrueCoat Pro Airless Paint Sprayer is the finest paint sprayer I've ever used, corded or cordless.  I'm just lucky enough that this baby is cordless, which I don't need to tell those who have painted rooms and houses that 'no cords' makes life so much easier. And because its airless, it's a brand new experience.
Getting started with the TrueCoat Pro is a piece of cake.  You pour the paint into the cup, which is lined with a disposable plastic bag, prime the pump and good to go. Thinning is not required for most paints, and the TrueCoat Pro accommodates a smorgasbord of paints like varnishes, primers, stains, Latex paints, enamels, acrylic and oil based paints, and Urethanes.  It works great for both interior or exterior painting projects, including walls, doors, exterior surfaces, fences, garage doors, etc.
Star Rating:


Cost: $429
Where to Buy:  [amazon_link id="B004ZGWDM8″ target="_blank" ]Amazon[/amazon_link]
The[amazon_link id="B004ZGWDM8″ target="_blank" ] TrueCoat Pro[/amazon_link] is driven by an 18-Volt, lithium-ion rechargeable battery.  Lithium-ion is the gold standard of batteries because they have strong contacts, which ensure maximum pump performance. On a full charge, the PRO will spray a little over a gallon of paint. The sprayer comes complete with 2 batteries and a charger, and the re-charge time for 80% capacity is 45 minutes.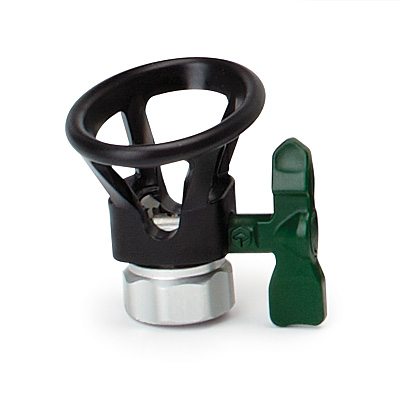 The TrueCoat PRO RAC (Reverse-A-Clean) spray tips are very nice, because they cover everything, and they are so easy to clean. (The PRO comes complete with a 311 and a 515 spray tip. The 517 spraytip for thick latex paints can be purchased separately.)  And speaking of cleaning, the TrueCoat PRO is the easiest paint gun to clean, hands down!  Basically, you remove the cup and pour excess paint from the plastic liner back into your paint tin.  Next, fill the cup with water and flush it through the pump.  Then you can replace the water with the bottle pump armor solution (to increase pump life).  That's it.  You're done.
The[amazon_link id="B004ZGWDM8″ target="_blank" ] TrueCoat Pro Airless Paint Sprayer[/amazon_link] is very light and feels completely balanced in your hand.  This helps out during long jobs.  You'd be amazed at the difference you experience when you have an entirely-contained painting system in the palm of your hand.  It beats the hell out of additional cans, cords and tubes that competing products require.  The TrueCoat Pro comes with a .95 ltr paint cup, however you can purchase a larger 1.42 litre cup to reduce re-fill stops.  To offset this extra weight there is a shoulder strap that is an optional extra.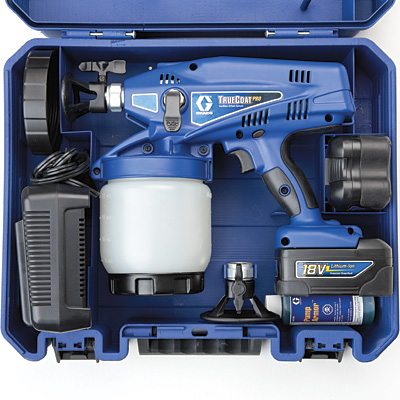 Bottom line, the [amazon_link id="B004ZGWDM8″ target="_blank" ]TrueCoat Pro Airless Paint Sprayer[/amazon_link] saves tons of time, is ergonomically superior, and it cleans up in a snap.  It's easily the best paint sprayer on the market, so good that many professionals choose Graco spray guns for their profession.  Out of all the paint gun reviews I've done, this was a real treat.  And this was only the 3rd airless spray guns I've evaluated. Paint went on very smooth, no drips, and coverage is fast and thorough.
The real beauty of this product, besides all the accolades I laid out above, is that this professional product is readily available for the do-it-yourselfer. It is an essential addition to the handyman, professional painter or the weekend warrior looking to complete daunting painting projects in a fraction of the time.
The [amazon_link id="B004ZGWDM8″ target="_blank" ]Graco TrueCoat Pro Paint Sprayer[/amazon_link] includes the following:
TrueCoat Pro Cordless Airless Sprayer (Part #258864)
311 and 515 TrueCoat Pro Reversible Tips
Two 18V Lithium Ion Power Pack Batteries
Lithium Ion Battery Charger
32 oz (.95 L) Round Cup with Cover and 3 Cup Liners
4 oz (.12 L) bottle Pump Armor
Cordless Sprayer Storage Case
Model # 258864 Tip includes the 311 and 515 TrueCoat Pro Reversible Tips
Max Pressure 2000 PSI
Max Tip Size 0.017
The Graco TrueCoat Pro Airless Sprayer can be purchased at [amazon_link id="B004ZGWDM8″ target="_blank" ]Amazon[/amazon_link] for around $429
Check out the video review……
http://youtu.be/bgDKIMyJnIA