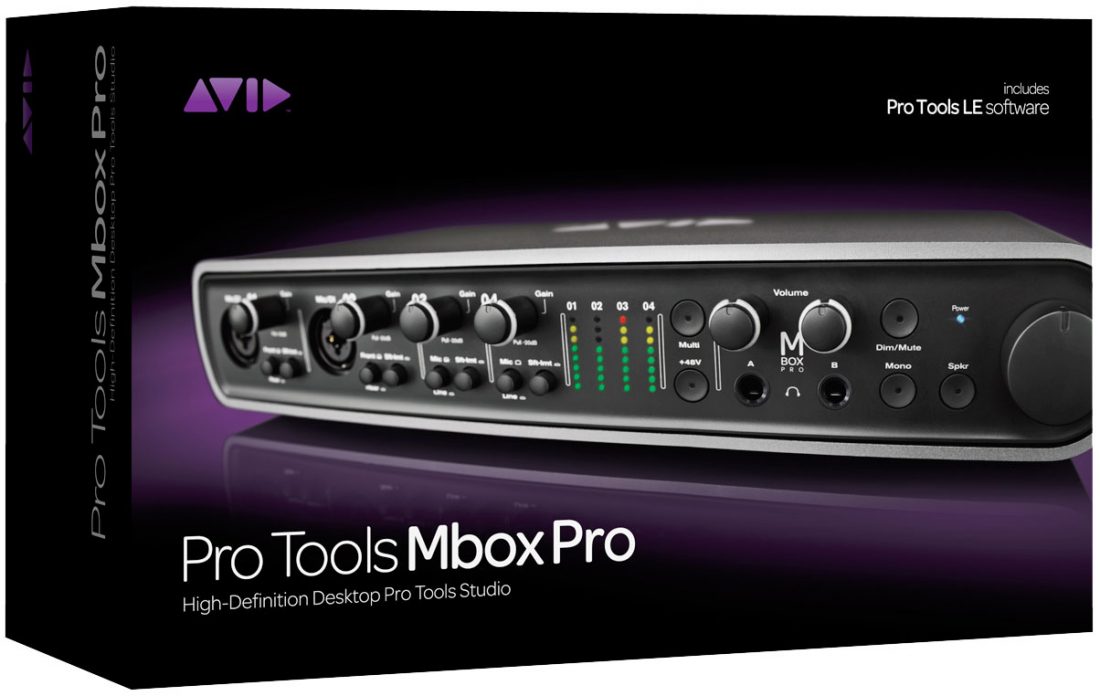 Avid recently renovated the Mbox product range with a new Pro Tools Mbox, Mbox Mini and Mbox Pro.  They sport a new metal design and a much improved circuitry and converters. Additionally, there's new DSP processing for enhanced low-latency monitoring
While there are three versions, the Mini, standard and Pro version, will be looking at the Pro, which works via FireWire and provides more I/O options and additional metering features.
Star Rating:


Cost:
Where to Buy: [amazon_link id="B0041OSWW4″ target="_blank" ]Amazon [/amazon_link]
The Avid Pro Tools Mbox Pro takes the Mbox line to a professional music production level.  How did they do this?  By gathering their brainy engineers to up the ante on their converters and preamps to make the Pro Tools Mbox Pro sound like no other audio interface on the market.  The Pro features 8 inputs, radically upgraded preamps and converters, 24 bit 192-khz audio, soft limiters on the inputs, a guitar tuner and a built-in reverb for tracking vocals easily. The Pro version is ideal for a band, an internet radio station or the home music producer.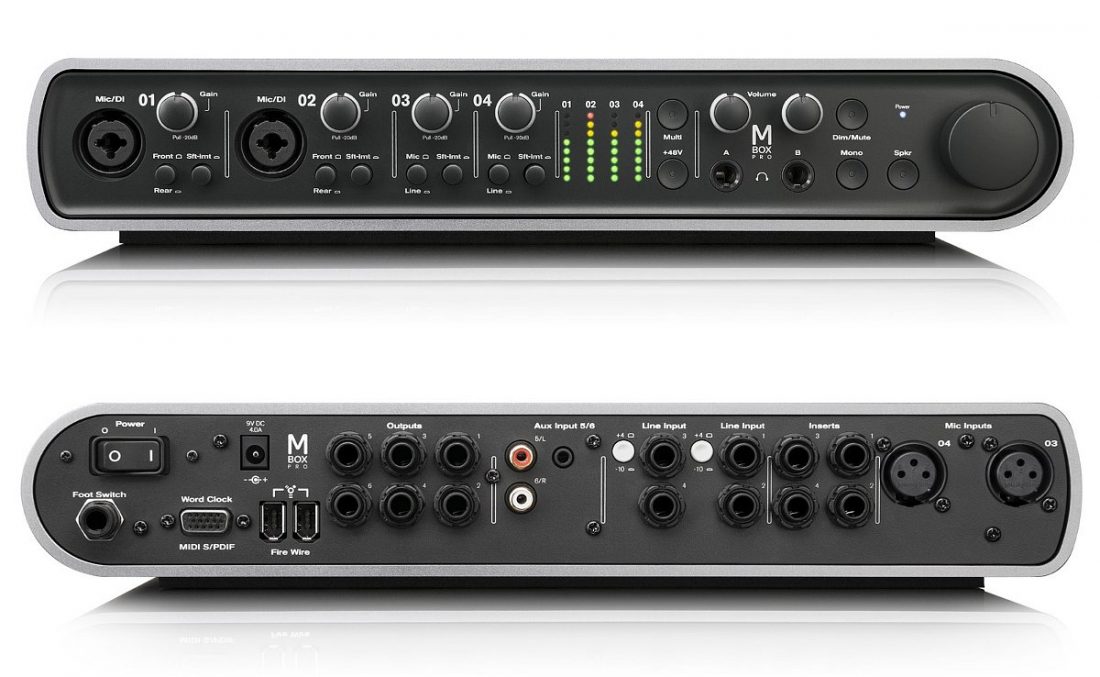 The Mbox Pro also has an 8 x 8 FireWire interface that offers some of best quality in sound that I've ever heard.  And I'm including systems that cost 5-times what the mBox Pro system costs. It has 4 XLR mic inputs with 48V phantom power, 4 x 1/4″ TRS line inputs, 2 unbalanced aux inputs, stereo S/PDIF inputs, 6 balanced outputs, stereo S/PDIF outputs, 2 x 1/4″ headphone outs, a soft-clip limiter, and its own gain/trim control on the preamps that, when pulled out, applies a -20dB attenuation to the incoming signal. Pretty cool
Handily the headphone sockets are placed at the front of the unit, next to dedicated knobs for phones volume control. As for the speakers output, Avid has re-designed the level control, implementing a bigger knob for easier and more accurate monitoring levels.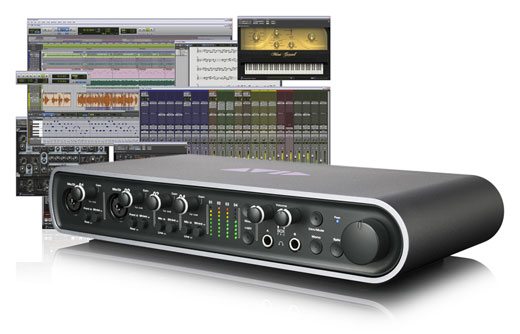 The Mbox Pro functions are second to none. Loaded on each of the Pro Tools Mbox Pro's preamps are the same Softclip limiters found on Avid's flagship HD series interfaces. Each preamp also has its own dedicated insert point, so integrating your favorite outboard gear is a snap. Additionally, the Pro Tools Mbox Pro has enough analog outputs to accommodate several mixes or to even support full 5.1 surround mixing.
The Pro Tools Mbox line also works with any digital audio workstation.  It's client drivers- like Core Audio, MME, WDM and ASIO- integrated flawlessly with Pro Tools Logic, Cubase, Live, LE and almost any other PC or MAC digital audio workstation.  With the [amazon_link id="B0041OSWW4″ target="_blank" ]Avid Pro Tools Mbox Pro[/amazon_link], you get a complete music production system that compares to a small studio.
Other features include a dedicated DSP engine for flexible cue mixing and for adding reverb to headphone mixes, as well as an on-board guitar tuner, which helps you to stay in tune while eliminating the need for a separate tuner or plug-in.  A multi-function button, which you can assign different functions to, gives you quick access to Pro Tools software functions like tap-tempo and record start/stop.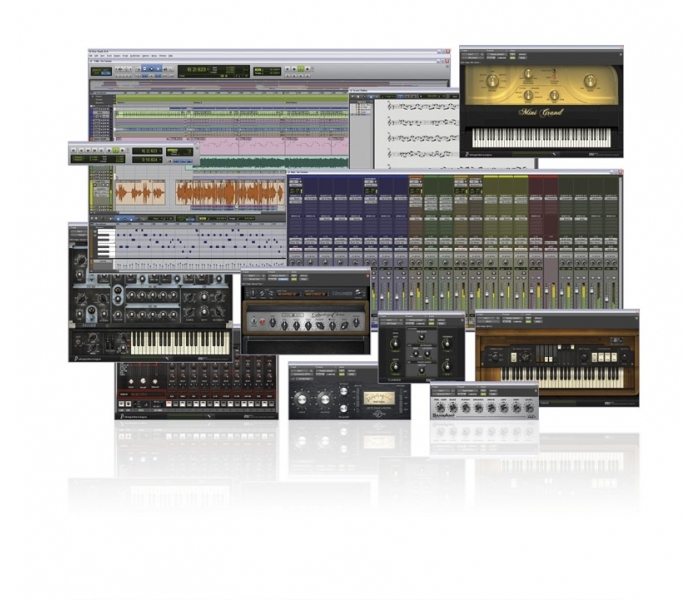 The [amazon_link id="B0041OSWW4″ target="_blank" ]Pro Tools Mbox Pro[/amazon_link] is available by itself, or in a bundle with Pro Tools 9, which offers a smorgasbord of virtual instruments and robust audio editing power.  The previous Mbox line, when it was manufactured by Digidesign, was sub-par at best.  Digidesign's business model was to take average quality hardware and software, and make audio recording available to everyone.  Avid appreciates the connoisseur and professional music producers, and they have revamped the Mbox line to provide audio production systems for that niche, just on a smaller scale.
Bottom line, Avid understands the music lover's wants and need.  The new Mbox Pro is quieter than the older model, allows for higher recording levels, and offers a warmer sound. Frankly, the[amazon_link id="B0041OSWW4″ target="_blank" ] Pro Tools Mbox Pro[/amazon_link] is the only product where you can record a whole band on one small, compact system, and get professional results for under $1000.
Here's a list of features the Avid Pro Tools + Mbox Pro contains:
Includes Pro Tools 9 software
Compatible with most major audio software (Pro Tools LE, Logic, Live, Cubase, and more)
FireWire connection
Professional-grade circuitry and converters deliver exceptional audio performance
Up to 24-bit/192 kHz sample rates
Soft-clip limiter lets you track hot signals without clipping—providing a classic overdriven tape saturation sound
Built-in guitar tuner
Onboard DSP offers flexible cue mixing and reverb effects
Assignable Pro Tools multifunction button on interface gives you fast access to software functions
Connect up to three pairs of monitors or do 5.1 surround mixing
Hardware configuration:
8 x 8 simultaneous channels of I/O
4 mic inputs with 48 V phantom power and high pass filter (2 XLR/DI combo, 2 XLR)
4 1/4″ TRS line inputs
2 unbalanced Alt line inputs (2 RCA, 1 mini 1/8")
6 1/4″ TRS balanced line outputs
2 discrete 1/4" stereo headphone outputs with separate volume controls
Stereo S/PDIF digital I/O
1 MIDI input, 1 MIDI output
Check out the Avid video featuring the entire mBox family….