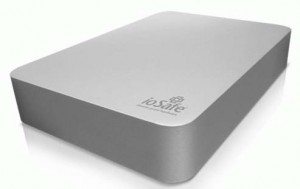 The[amazon_link id="B004J6LYGA" target="_blank" ] IoSafe Rugged Portable[/amazon_link] just came to market a few months ago, and holds the position as the first mobile external hard drive that is as tough as nails. It can handle just about anything including being submerged in water or being cracked by a shotgun.  The easy-to-tote, 5.7″ x 0.9″ drive is slightly smaller than a 3.5-inch internal hard drive, weighs about 1 pound, and has a watertight, solid billet aluminum casing with built-in shock absorption.
Star Rating:


Cost: $150 (256GB), $250 (500GB), $300 (750GB), $400 (1TB)
Where to Buy: [amazon_link id="B004J6LYGA" target="_blank" ]Amazon[/amazon_link]
The Rugged Portable supports USB 3.0 and is bus-powered. It does require separate cables for USB 3.0 and USB 2.0, which are included.  It's available in 256GB, 500GB, 750GB, and 1TB capacities that cost $150, $250, $300 and $400, respectively. While it's significantly more expensive than other portable drives of the same capacities, it does offer a security level second-to-none.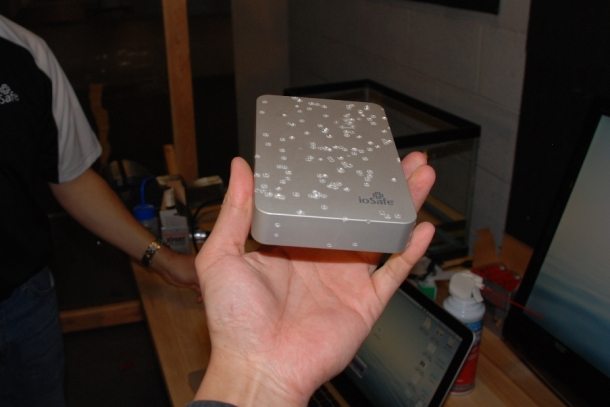 Performance-wise, the IoSafe works pretty handly, both with the USB 3.0 and the USB 2.0 included cables.  During my speed test, it scored an above-average rating, reading and writing at about 29 MBps.  But when testing the drive with USB 3.0, it flew at around 92 MBps for writing and 108 MBps for reading.  One thing I did notice is that when you try to use the drive with the USB 3.0 cable in a USB 2.0 port, the drive won't start up. You can use the Y-shaped cable with USB 3.0 ports, but you lose speed.  This is not IoSafe's fault.  This is actually a problem with USB 3.0 standard, not just with the Rugged Portable. Technically, USB 3.0 should work in a 2.0 port and indeed it does on the majority of computers – but in those other cases, it does not. A different port, USB extension, hub, etc., may well fix the problem.
The [amazon_link id="B004J6LYGA" target="_blank" ]IoSafe Rugged Portable drive[/amazon_link] feels heavy in the hand compared to its size, which is a good thing.  It assures you that it's got some meat to it. I dropped it multiple times, submerged it in water, even took a bat to it. When I booted it up again, it still kept my data intact. IoSafe says the drive is also fully protected from chemicals and dust. There's another version of the Rugged Portable, housed in titanium casing and based on a solid-state drive, that can withstand even more strenuous environmental challenges.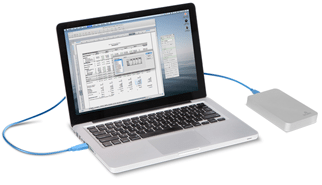 And while the Rugged Portable withstood just about everything I threw at it, it is not fire-resistant , unlike its big brother the IoSafe SoloPRO.   But it's not meant to be. If you think about the way that most people will use a portable drive- for shocks, drops and spills- these little catastrophes are all much more likely threats than heat.  Still, it can keep your data intact at fairly extreme heat.  One test included another reviewer toasting it for 4-straight hours, and it survived!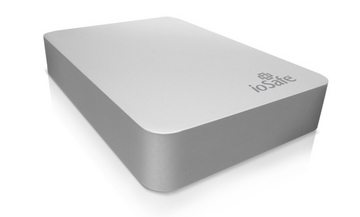 The IoSafe Rugged Portable has only one Mini-USB 3.0 port on the back, and comes with two cables. One of them is a regular Mini-USB 3.0 cable to be used with a USB 3.0 port. This cable works as both a data and a power cable. When used with USB 2.0, however, the drive will need the second, Y-shaped cable. This cable can use two USB ports at the same time to draw enough juice to power the drive.
Set-up is a breeze. The [amazon_link id="B004J6LYGA" target="_blank" ]IoSafe Rugged Portable hard drive[/amazon_link] doesn't require setup in Windows. It's pre-formatted and plug-and-play. Mac is a different story.  You'll need to use Disk Utility to reformat it to HFS+, which was quick and easy as well.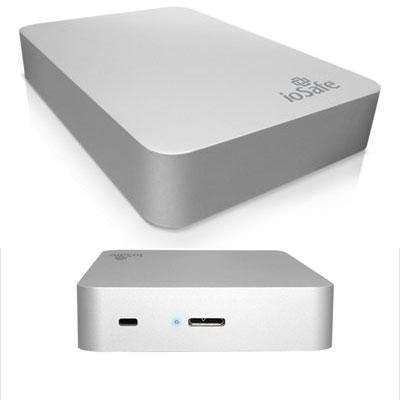 The Rugged Portable drive has a registration card on the bottom of the unit, which you need to register the drive with IoSafe to have the IoSafe Data Recovery Service activated.  IoSafe says that with the service the company will pay up to $5,000, depending on which model you buy, to recover data if the drive is damaged for whatever reason. This service can be extended to three or five years for $50 or $100 respectively. Registration will also offer Windows users a full version of the Genie9 Timeline Pro backup software, for free.
The [amazon_link id="B004J6LYGA" target="_blank" ]IoSafe Rugged Portable hard drive[/amazon_link] is the best disaster-proof drive on the market in its size category.  Add the benefit of USB 3 and 2 support along with its sheer toughness, and you've got a very solid insurance policy for your data.  Granted, the price is a bit salty, it still is worth the peace of mind.  I recommend this product with the highest of confidence.
Check out the CES video of this sucker being shot…..
Consider an Intel core duo i7 iMac computer for a perfect gadget gift.