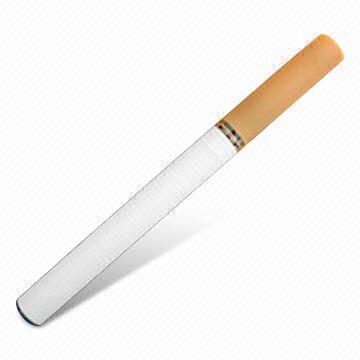 E-cigarettes are hot!  No, not temperature-wise, but popularity-wise.  Additionally, the electronic cigarette is getting a lot of publicity lately, and not all of it bad.
Basically a battery-operated nicotine delivery system that looks like a cigarette, E-cigarettes are gaining market share rapidly in the US and parts of Europe as smoking bans and health concerns attract consumers to the new technology.
According to studies, the US is the largest market for e-cigarettes, selling well over a million units.  Europe is following close behind, with sales, particularly online sales, increasing at a staggering rate.  However, not all countries like the powered smoke.  Some have banned them, or they've yet to be developed.  Asia, on the other hand, is where the market is potentially going to boom.  After all, China is the leading producer of e-cigarettes.
Star Rating: 


Cost: Smoke 51 'The Duo' $149.95
Where to Buy: Smoke 51 Online Shop
According to Isaac Galazan of www.Smoke51.com, a leading supplier of E-cigarettes, "Online sales are huge, accounting for around half our sales. We are moving around 30,000 to 40,000 starter kits every month, and cartridge sales are around half a million units monthly."  The company is experiencing tremendous growth, and their brand seems to be leading the way into tobacco shops, cigar shops and even the mass market.

Vapor Corp. introduced the Fifty-One™ Electronic Cigarette a while back, and touted it as a revolutionary electronic smoking device designed as a better smoking alternative to traditional tobacco cigarettes. Using advanced technology, the Fifty-One™ E-Cigarette allows you the freedom to smoke virtually anywhere, without the flame, ash, tar, or carbon monoxide found in traditional tobacco cigarettes.
Fifty-One is a brand of Vapor Corp. Vapor Corp produces 4 different brands of electronic cigarettes.
Smoke 51 'The Duo' is the companies top-of -the-line electronic cigarette kit with some distinguishing features.  The Smoke 51 is a two piece system, where the  atomizer is built into the nicotine cartridge, so it gets replaced with each new nicotine cartridge.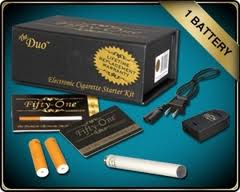 The Smoke 51 Duo starter kit comes with two batteries, two 12 mg nicotine cartridges, a home charger, and manual.
The Smoke 51 'Duo', in my opinion, tastes pretty damn good, and offers the most authentic flavor I've experienced yet.  Believe me, there are some bad e-brands out there.
And because the smoke 51 atomizer is constructed with the nicotine cartridges, it seems to be always fresh and plenty of vapor mist available. It gives you the impression that you are puffing on a real stog, and I didn't find myself straining or profusely sucking to get more vapor.
The nicotine is also fairly mild, not a real harsh inhale.  And one nicotine cartridge is approximately the same as one to 2-packs of regular cigs, depending on the strength you choose.
Here's what you get with the Smoke51 Fifty-One DUO™ Starter kit:
1 x DUO™ Rechargeable Lithium Ion 'Cigarette' Battery
2 x All-in-One disposable Atomized Cartridge/Filters (Original / 6mg)
1 x USB Charger
1 x Fifty-One™ Carrying Case (your choice of color)
1 x Fifty-One™ Carrying Case (your choice of color)
Instruction Manual
Smoke51 members card
Smoke 51 also makes 'The Trio', which is the model found in most gas stations, malls, and other brick and mortar vendors. The Smoke 51 Trio is a smaller size than the Duo, and puts out less vapor.
The TRIO is Smoke51's version of the three-piece style e-cigarette. The three piece e-cigarettes are advantageous when it comes to the price of the refill cartridges. You can get 6 carts for $9.95 as opposed to $14.95 for 5 cartomizers for the DUO™ two-piece model. There is also a Trio starter kit with 2 batteries for an additional $29.95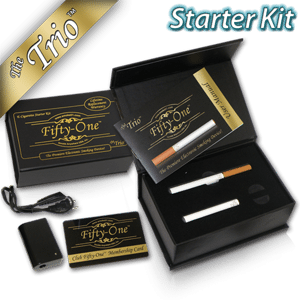 With the Smoke51 'The Trio' starter kit, you get:
1 x TRIO™ Rechargeable Lithium Ion 'Cigarette' Battery
1 x Reusable Atomizer
5+1 (6) x Cartridge/Filters (Original / 11mg)
1 x Standard Wall Outlet Charger with Power Cable
1 x Club 51 Membership Card
1 x TRIO™ Electronic Cigarette Instructional User Manual
Price: $99.95
Both styles of Smoke51 cartridges are available in two flavors- Menthol & Tobacco.  You also get your choice of  nicotine strengths. With the Duo, you can choose 8mg, 6mg, 4mg, and 0mg.  TRIO Style Cartridges come in 18mg, 14mg, and 11mg.
Smoke51 is expanding to bring new products as the court case against the FDA has been wildly successful. E-Cigarettes are no longer classified as drug delivery devices and Smoke 51 is capitalizing on this news. So if you're a first timer to the e-cigarette craze, there a few reasons to consider this alternative.  First and foremost, they don't produce smoke.  So if you're on an airplane or in a pub, bar, restaurant or other public place that prohibits conventional cigarettes, then Smoke 51 is the answer to your cravings.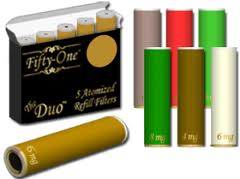 Smoke 51 has some noticeable health benefits as well, if you can believe that.  Lack of smoke is the first.  And the option to choose the amount of nicotine in a cartridge, the absence of ash and odor, no butts to dispose of, the familiar feel of the tube in your mouth, and the option to individualize your product by decorating it with colored sleeves – all contribute to consumer acceptance.   Additionally, the tip won't burn a hole in your pants or any material for that matter, and the price of the Smoke 51 e-cigarettes works out cheaper than the traditional loosey.
So what's the verdict with Smoke 51?  I'm sold.  I love them.  They taste good, they aren't offensive to those around me, I can pick my strength, I can pick my colors, and I have a few options for different smoking needs.
For more information or to buy any of the Smoke 51 products, visit their online store here.
Click here if you're interested in reading review of other brands of electronic cigarettes.
Check out the Smoke 51 video demo….