The iPhone 4 is an indicator of the advancement progression we can see in the iPhone 5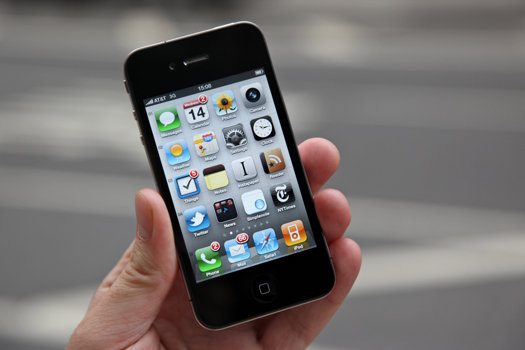 When it comes to smartphones, there are few companies who are surrounded by the same success and hype as Apple.  The iPhone 4, is no exception. Apple's latest incarnation of the hugely popular iPhone was released in Summer 2010, and has outsold any smartphone to date.
"The iPhone 4's features indicate the speed at which each iPhone generation improves"
Aesthetically, the iPhone 4 is arguably more attractive than the previous 3GS, with its slimmer size and metal edges it looks sleeker and more robust. Granted, the metal edging on the phone caused many an antenna and reception problem, but Apple was quick to address the issue.
Moving beyond the appearance of the iPhone 4, it also has a longer battery life and several technical advantages to the 3GS. The iPhone 4 offers its users multi-tasking, camera updates and Facetime video chat.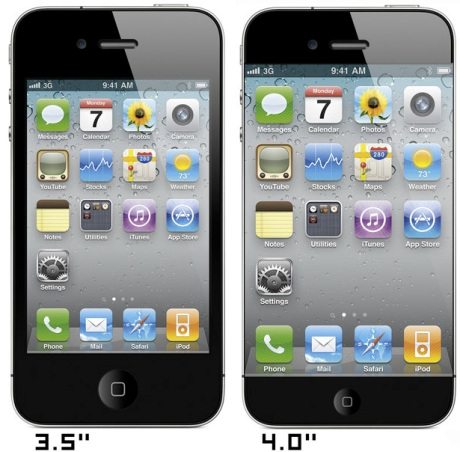 The iPhone 4 is an indicator of the advancement progression we can see in the iPhone 5.  Apple has become the world's top global smartphone vendor by shipment volume this year.  According to new estimates, Apple's iPhone unit shipments will climb 81.9% to 86.4 million in 2011, up from 47.5 million units last year.  Smartphones shipped by the soon-to-be dethroned Nokia are projected to drop 25.8% from 100.3 million units in 2010 to 74.4 million in 2011, and Samsung is expected to move 191.3% more smartphones in 2011 than last year, with shipments totaling 67 million units.
"iPhone 5 will be as big of an advancement leap from the iPhone 4 as the iPhone 4 was with the 3GS"
RIM will ship an estimated 55.7 million smartphones to slide to the No. 4 spot despite 12.8% growth over 2010, and HTC will round out the top-5 with 49.7 million units shipped.  Previous reports cited anonymous sources from Apple's supply chain in estimating that iPhone shipments would reach 95 million units this year, but an iPhone 5 launch coming later than expected is likely responsible for trimming this figure by nearly 10%.
Below is a chart from DigiTimes mapping out their 2011 projections: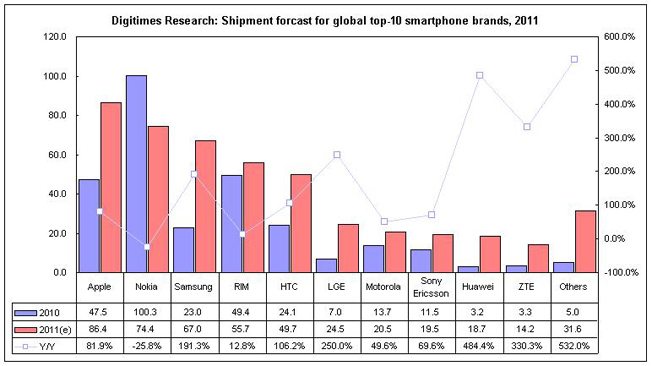 Read more mobile phone gadget news from our partner at  Dialaphone website, and don't forget to post your comments below.