iGrill is the first Bluetooth and app-enabled device on the market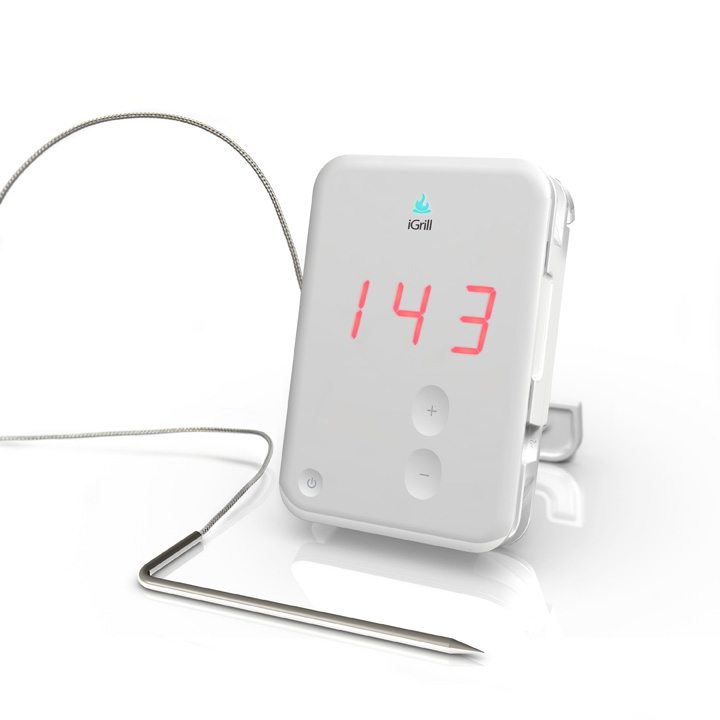 Gadgets have gone culinary. Next time you take online cooking classes from master chef online universities, check out this product. A company called iDevices has introduced the world's first wireless cooking thermometer for iPhone, iPod touch and iPad. iGrill turns your iPhone into your own personal sous-chef, enabling you to multitask between your grill or oven and your guests, with the peace of mind that comes from knowing that your food is perfectly cooked.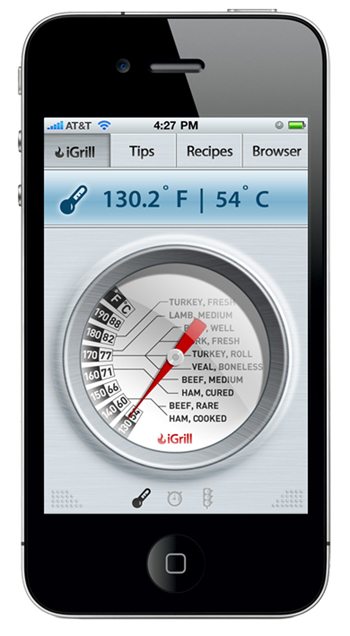 [amazon_link id="B005CA8YTM" target="_blank" ]iGrill[/amazon_link] is the first Bluetooth and app-enabled new gadget on the market, and includes an iGrill thermometer with projection display, probe, and the iGrill app for your iPhone, iPod touch or iPad.  The app is the real magic here.  It lets you know the status of your food via Bluetooth.  And because the Bluetooth connection has a particularly long range (over 200 feet), it means that you can be with your guests while your food is cooking, and you don't have to be slaving over a hot stove all the time and missing out on all the fun.
Star Rating: 


Cost: $99.99
Where to buy: [amazon_link id="B004WG560W" target="_blank" ]Amazon[/amazon_link]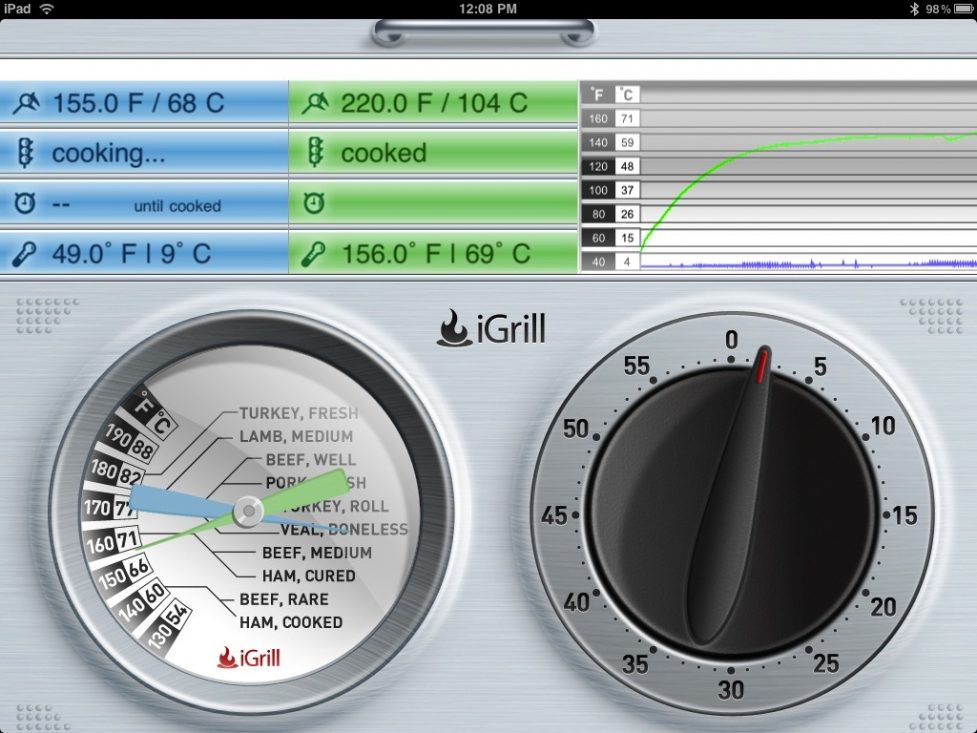 Available free through the iTunes Store, the new iGrill App V2 perfects the core cooking functionality of the iGrill wireless cooking thermometer, improving the entire user experience. Available for iPhone, iPad, and iPod touch, iGrill App V2 new features include new alarms, graphs, presets, timers, individual probes, and time remaining functions.  Also included:
Ability to set alarms for peak temperature or temperature range per probe.
Many more included presets for fish, chicken, and meat.
Ability to add/edit/remove/rename any presets.
Time remaining feature tells you how long until it's ready.
Range mode shows current temperature and maximum/minimum of the current range.
Ability to edit the name of each iGrill probe.
A timer tool lets you run single or multiple timers simultaneously.
Graph Tool lets you view temperature charted over time.
Ability to export graph or CSV file of temperature history via email.
Ability to view iGrill manual and iGrill news.
Ability to submit a support inquiry via email.
Both Fahrenheit and Celsius settings.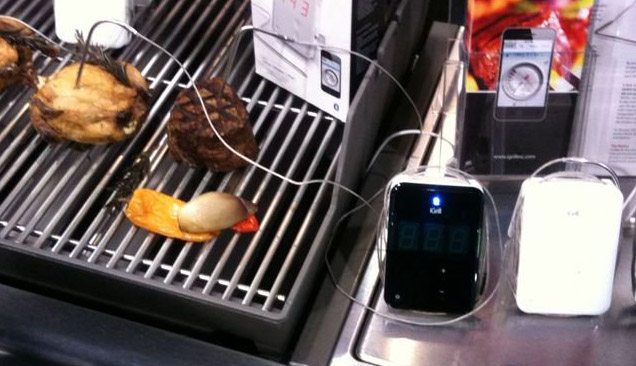 "iDevices is thrilled to be releasing both the new iGrill and new iGrill App," said company CEO, Christopher Allen Sr. "By simultaneously addressing iGrill's practicality and functionality, we are addressing the wants and desires of our customer.  We are always listening for features that our customers want, and then integrating them into the iGrill App.  This latest update completely transforms the users experience and is just one of many to come over the next few months."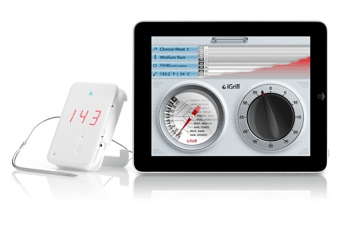 You can order[amazon_link id="B005CA8YTM" target="_blank" ] iGrill[/amazon_link] now for $99.99 at www.igrillinc.com and [amazon_link id="B004WG560W" target="_blank" ]Amazon[/amazon_link].
The[amazon_link id="B005CA8YTM" target="_blank" ] iGrill[/amazon_link] is just another example of all you can do with your Apple products.  Hardware accessories for the iPad and iPhone are hitting peaks in popularity, and the iGrill is a perfect example.  Yes, it may be a little overkill to have your iPad monitoring your cooking food, but hey, if you're a serious griller, and you love new gadgets, the iGrill gives you a ton of information about your food, the way it is cooking, and its safety status for consumption.
[amazon_my_favorites design="4″ width="250″ title="" market_place="US" ASIN="B004WG560W, B005CA8YTM" color_theme="Onyx" columns="2″ rows="1″ outer_background_color="" inner_background_color="" background_color="" border_color="" header_text_color="#FFFFFF" linked_text_color="" body_text_color="" shuffle_products="True" show_image="True" show_price="True" show_rating="True" rounded_corners="False"/]
It also is, for all practical purposes, very accurate.  The probe has high quality sensors, and because it's wireless, it's easy to setup and manage. It's a tad pricey, but as I said, if you're really into cooking, you get a very accurate and robust food thermometer that displays sophisticated information about your food on the stellar iPad screen. [amazon_link id="B005CA8YTM" target="_blank" ] iGrill[/amazon_link] and iDevices are running a new commercial in Apple stores, highlighting the iGrill App V2 working alongside the iGrill.  Below is the press release.
Check out the full release…
iDEVICES LAUNCHES NEW "HANK VS. SUZIE" COMMERCIAL

FEATURING IGRILL WIRELESS COOKING THERMOMETER

iGrill, Do You?

Canton, CT, September 6, 2011 – Canton, CT — iDevices www.igrillinc.com, creators of iGrill, the award-winning world's first wireless grilling/cooking thermometer for iPhone, iPad and iPod touch via a long-range Bluetooth® and App-enabled connection, is targeting the chef in men and woman alike in their new 60 second iGrill commercial that will run continuously in the Apple aisle in big box stores across the country and through social media sites.

The "Hank vs. Suzie" ad spot at: http://www.youtube.com/watch?v=MEFntbudC6k showcases the flexibility and ease of use of the iGrill thermometer for those who love to cook and entertain.  In the commercial, Hank is busy working in the garage while his food is cooking in the oven.  Suzie is relaxing, knitting and checking her email, while her food is smoking on the grill.  They are both free to do other tasks because iGrill is monitoring the temperature of their food in both locations.

With a distinctive graphic look, this upbeat spot with a cute role reversal twist at the end captures the essence of the iGrill product.  The commercial is currently running online on Facebook, Youtube, the iGrill mobile site atwww.m.iGrillinc.com and other social media destinations.

"The 'Hank vs. Suzie' ad, the latest addition to iGrill's marketing tools, truly expresses the versatility and functionality of the iGrill and how the product appeals to a very broad audience," said Christopher Allen, Sr, CEO of iDevices.




About iGrill

iGrill reads temperatures ranging from 40F (4.4C) to 400F (204C) and runs on four AA batteries. The iGrill device comes with one probe, but can accept two probes at once for monitoring two pieces of meat or fish simultaneously(additional probes are available for sale through the iGrill site). In addition, a new Ambient Temperature Probe is also now available (priced at $19.99), which monitors the inside temperature of your grill or oven. The included iGrill app advises what temperatures you should be aiming for, for all different types of meats, letting you know approximately how much time is remaining before your food is ready.

Pricing & Availability

Priced at $99.99, iGrill is available in black or white through the iGrill site at: iGrillinc.com, Apple online store at: http://store.apple.com/us/product/H6253VC/A?mco=MTY3ODQ5OTY, Apple retail stores across North America, and Frontgate print catalogues. iGrill comes with the iGrill device with display equipped with long-range Bluetooth®, one probe, useful iGrill Apps, and 4 AA batteries.  iDevices also offers additional products made especially for the iGrill, including the iGrill Apron one-of-a-kind silicone skin that keeps iGrill safe from heat, moisture, food and the elements (priced at $19.99), additional probes (priced at $17.99/each or 2 for $29.99) and the Ambient Temperature Probe for $19.99. See www.igrillinc.com for info.

iGrill is the first in a line of products created by iDevices geared towards the Apple IOS lifestyle. For more information, visit www.iGrillinc.com or phone: 888-WE-iGRILL, (888-934-4745.)

iGrill – Now You're Cooking

About iDevices http://www.iDevicesinc.com/

In 2009, American inventor/entrepreneur Christopher Allen Sr. created iDevices, LLC a company committed to partnering with inventors in the development of winning ideas for the iPhone, iPad, and iPod touch, as well as other areas of the Bluetooth®/WiFi market.  The goal was to bring high quality, beautiful and cost-effective products to market in the shortest possible time.  Leading by example, Mr. Allen assembled an elite team of industry professionals to develop an idea of his own – a concept that would go on to become iDevices LLC's flagship product  – iGrill, the first of a line of products created by iDevices around the Apple Lifestyle.

For more information, see www.iGrillinc.com or www.iDevicesinc.com, phone: 1-888-WE-iGRILL

(1-888-934-4745),  Facebook: http://www.facebook.com/pages/The-iGrill-FB-Page/124504680938214?v=wallTwitter:  http://twitter.com/iGrillTweets#.
Here's the commercial….
http://youtu.be/MEFntbudC6k