Facebook could be considering webOS acquisition to integrate into their messaging and media portfolio

So HP ditched their$1.2-billion webOS project.  What now?  In the latest gadget news, it seems there are rumors flying around that Facebook could be a amicable suitor.
We know that Facebook has been working on a custom version of Android that could be used on mobile phones for some time already, and devices with deep Facebook integration and dedicated Facebook buttons like we see on devices like the HTC Status are making their way out to consumers as we speak.
WebOS is one of the best mobile platforms on the planet when it comes to working with HTML5, a technology that Facebook strongly believes in. Frankly, webOS is one of the best mobile platforms period.  Why there new gadgets didn't gain steam in the market falls directly on the forces in charge of marketing and mobile partner negotiations.  Facebook also knows that in order to integrate themselves further into people's lives, they need to have a very strong position in mobile.  A heavily customized version of Google's Android operating system is certainly one way to go about this, but having a mobile platform that is already very good at social media integration would be better. On top of this, WebOS is much easier to use than Android.
If Facebook were to pick up WebOS and carry it forward they would have a very user-friendly mobile operating system with some existing developer support. These developers would be able to leverage their knowledge and skill with WebOS to make applications that integrate with any number of Facebook's already pervasive APIs, giving Facebook their own software ecosystem.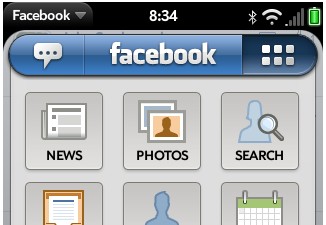 Once people start buying FacebookOS phones and becoming accustomed to applications with very tight integration to the most popular social platform on the planet, why would they want to switch to Android, iOS, Windows Phone, or anything else? Facebook would have the ultimate lock-in, and millions of people would gladly give away loads of personal data for the chance to enjoy a simple, easy-to-use cell phone (or tablet) that delivers the information that matters most to them at any given time.
All of this is conjecture, however Richard Kerris, HP's Vice President of Wordwide Developer Relations with WebOS, has already said that they're looking for a partner. In a note to investors on Thursday, Jefferies & Company analyst Peter Misek suggests that Facebook might be in the best position to purchase webOS and use it to expand its lead in the social space.
"Based on our analysis of prospective buyers and our checks, we believe Facebook is the best fit," said Misek.  "Due to Facebook's scale, developer community, and movement toward media (e.g., music) and communications (Messenger), it is possible that an acquisition of an OS asset like this could be a good option. Checks with developers indicate that they would support a potential Facebook OS, and industry sources have noted Facebook's historic interest in a mobile OS or heavily influencing one."
As to which companies might be in trouble if Facebook enters the platform wars, Misek points to two popular victims. "We see this scenario as most negative to Research in Motion and Windows 8 as there would be another major competitor vying to be the third mobile OS," said Misek.