Pro Mental Coach was designed by neuropsychologists, designed to actually train your brain to perform better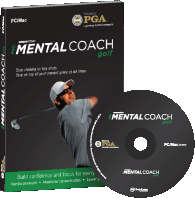 When you play the game of golf, you've probably have been told that it's a mental game.  Would you believe that some subscribe to the theory that golf is 90% mental.  If that's the case, then why in the hell are people practicing their swing or buying new gadgets to improve their physical game?  They should be exercising that big fat muscle in their head called the brain.  You've probably heard that many of the PGA professional tour players are hiring pros for that very thing….mental toughness.  So why couldn't the average joe do the same?  Well for one reason, these notable psychologists that tour players hire are not to affordable.  Some players pay them $400-$1000/hr for such consultation.
There is a solution for us normal folk.  It's called [amazon_link id="B005LICM9I" target="_blank" container="" container_class="" ]Pro Mental Coach[/amazon_link], and it is the latest in gadget news and offers some of the same top-dollar advice at a sliver of the cost.  Pro Mental Coach is a program created for golfers of all skill levels to help them play better, enjoy the game better, and manage tough times better. You can download it to your computer for $139.95, (or buy the CD-ROM for the same price).  Powered by Dynamic Intelligence, it is engineered to deliver maximum results in minimum time: three 20-minute sessions a week are recommended.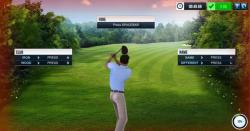 The software runs a full diagnostic of your mental game skills with a comprehensive assessment test.  It then rates and compares graphically your mental game skills to golfers that have the same handicap. It also customizes the right golf mental coaching program to matches your needs.  And to sustain your progress, the software tracks and evaluates every training session, and adapts the difficulty level of the training exercises in real-time.  We're talking almost artificial intelligence here.
Pro Mental Coach was designed by neuropsychologists, and it is designed to actually train your brain to perform better in certain aspects.  For example, you can do several things to improve your golf  swing.  You can read instructional books on the golf swing, but doing so will not do you any good if you can't correctly learn to make those moves when hitting the ball.  And we all know as golfers that we screw up our fair share of shots between our ears before the club ever even moves an inch away from the ball.   So for most of us, an actual training aid that forces you to put the club in the correct positions and trains your muscle memory is going to be more effective than just reading some instructional material.  That's what Pro Mental Coach does.
[amazon_link id="B005LICM9I" target="_blank" container="" container_class="" ]Pro Mental Coach[/amazon_link] offers real simulations that you can practice in the comfort of your own home.   You'll be introduced to a lot of content that not only discusses how the brain functions in terms of memory, reactivity, and athletic preparation, but also showcases specific examples that allowed me to practice and better understand the content being presented.
The CD-ROM or downloadable software is a highly-interactive, educational program presented on a clean format that allows you to complete various brain exercises (including object recognition and muscle reactivity,) and compare your results to that of the national average. After a few runs through the various exercises on the program, I learned a few things about myself.  For example, I surmised that I was average in muscle reactivity, and above-average in the timed recognition exercises.  This suggests that my hand-eye coordination could use some improving, but that my long-term mental stamina to maintain this coordination throughout a 4-hour round of golf was not bad.
While many of these findings and the brain exercises in the program might seem a little weird at first, the underlying message is simple:  The game of golf requires a high level of mental acuity and stamina to perform at your best.  The big "aha" for me is "mental stamina".  Why do professionals start off playing out of their minds, and lose their grip during the home stretch?   In any sport, it has to do with mental stamina.  Pro Mental Coach works on this area and many other mental hurdles.

Pro Mental Coach was selected by the PGA Center for Learning & Performance, and provides professional training 24/7 with no appointment necessary. You can also use the Pro Login feature, which allows you to share your results with your PGA certified golf instructor.
[amazon_my_favorites design="1″ width="250″ title="" market_place="US" ASIN="B005LICM9I" color_theme="RedGrey" columns="1″ rows="1″ outer_background_color="" inner_background_color="" background_color="" border_color="" header_text_color="#FFFFFF" linked_text_color="" body_text_color="" shuffle_products="True" show_image="True" show_price="True" show_rating="True" rounded_corners="False"/]
The interactive software ($139.95) is based on proven neuroscience and years of research by the program developers. You can learn more about Pro Mental Coach by visiting their company website .  You can buy Pro Mental Coach Golf through [amazon_link id="B005LICM9I" target="_blank" container="" container_class="" ]Amazon[/amazon_link].
Check out the Pro Mental Coach press release and videos….

http://youtu.be/ciOWWofbnxM
Pro Mental Coach Launched as Golf's First & Only Interactive Mental Coaching Program That Revolutionizes Training

Brain Center International (BCI) – creator of science-based interactive brain fitness programs – introduces Pro Mental Coach, golf's first mental coaching software created to help players master the game, play smarter and lower scores.

Part of the new state-of-the-art technology at the PGA Center for Golf Learning and Performance at PGA Village, in Port St. Lucie, Fla., Pro Mental Coach independently assesses mental skills and customizes a training program fitting each user's needs. PC and Mac compatible, it features scientifically-proven exergames that are fun and easy. These build the "brain muscle," helping create an "in the zone" mental state through improved focus, confidence, motivation, stress management, endurance and recovery from bad shots.

"It's a fact that golf is 90 percent in your head, and the outcome of each round is usually determined by how a player manages the mental game," says Dr. Stephane Bergeron, Founder of BCI. "Our software helps golfers train the part of their game that's been holding them back, from the comfort and privacy of home, 24/7, no appointment necessary!"

Pro Mental Coach ($139.95) is powered by a proprietary Dynamic Intelligence System. This breakthrough neuroscience technology was developed by BCI in collaboration with medical centers. It is used in clinical research funded by National Institutes of Health (NIH).

Dramatically different from books and DVDs, Pro Mental Coach continuously interacts with users and adjusts exergame difficulty levels in real time according to performance. This personalizes each training session, creating a fully customized regimen to deliver maximum benefits in the shortest period of time.

"The exergames featured in Pro Mental Coach replicate on-course stress, allowing golfers and their instructors to learn what areas of the mental game are strong and train those that need it," says Joe Hallett, coach of LPGA Tour star Stacy Lewis and a GOLF Magazine Top 100 Teacher. "An hour a week is all it takes to effectively manage tough times, play better and enjoy the game more."

"The PGA Center for Golf Learning and Performance is excited to integrate Pro Mental Coach into its golf instruction program, as mental game training should be part of every golfer's routine," says Bob Baldassari, PGA Senior Director, Player Development and PGA General Manager of the PGA Center for Golf Learning and Performance. "This innovative approach will be a special part of our curriculum, in addition to our focus on the latest in technology, equipment, physical fitness and on-course performance."

Unique features of Pro Mental Coach include:

• Assessment and full diagnostic of a user's mental game strengths and weaknesses
• Customized training program that matches users' skills
• Tracking and evaluation of performance from each training session
• Ability for PGA Professionals to access a student's mental game profile

For more information, visit www.ProMentalCoach.com or call 866/716-3876.