The Razer Hasbro line includes Transformer 3 Mice, Mouse Pads and Notebook Sleeves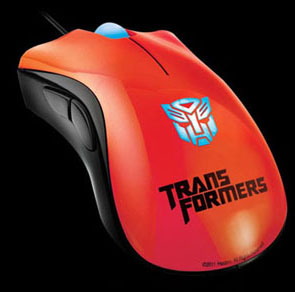 Gaming peripherals and accessories maker, Razer, has just unveiled three new gadgets carrying the Transformers 3 brand.  This includes specially painted versions of the company's DeathAdder mouse, available in yellow, red, silver and purple. The former two colors are festooned with the Autobot logo, while the latter are only available with a Decepticon symbol.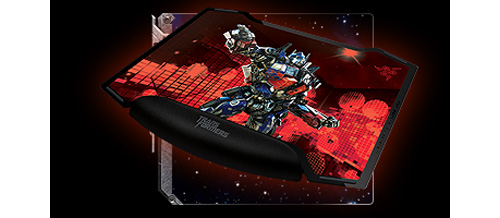 Razer, who partnered with toymaker Hasbro on the gear, also introduced a dual-sided Vespula mouse mat.  One side is meant to enhance speed and sports an Autobots theme, while the other has a control-enhancing surface and a Decepticons layout.
Finally, the two companies introduced four colors of notebook sleeves dedicated to the movie.  They mimic the mouse colors and represent Megatron, Shockwave, Bumblebee and Optimus Prime.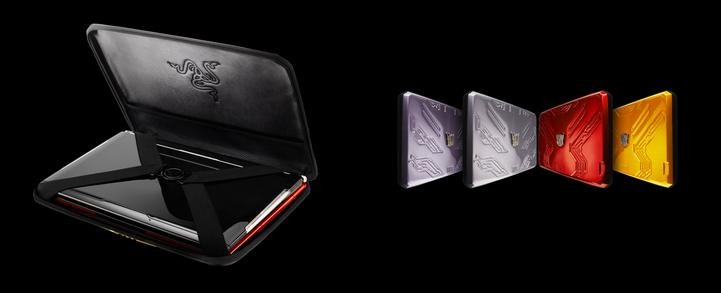 The mice are priced at $60 each, the mouse mat $35 and the notebook sleeve $50.  They are available at Amazon.  Check out the full press release….
[amazon_my_favorites design="4″ width="250″ title="Razer Hasbro Transformer 3 Gaming Gear" market_place="US" ASIN="B0057TG7RO, B005FPT4FC, B0057TG6DE" color_theme="Onyx" columns="1″ rows="3″ outer_background_color="" inner_background_color="" background_color="" border_color="" header_text_color="#FFFFFF" linked_text_color="" body_text_color="" shuffle_products="True" show_image="True" show_price="True" show_rating="True" rounded_corners="False"/]
RAZER AND HASBRO LAUNCH TRANSFORMERS 3 GAMING PERIPHERALS WITH MOVIE DVD/BLU-RAY RELEASE

Carlsbad, Calif. –– Sept 30th, 2011 – Earth will soon shroud in the dark of the moon as the great war between the AUTOBOTS and DECEPTICONS explodes, threatening to tear our planet apart. Razer, the world leader in high performance gaming hardware, under license from Hasbro, Inc., will unleash a unique Transformers 3: Dark of the Moon Collector's Edition product line to prepare you for the metal on metal battle of epic proportions now available on DVD and Blu-Ray.

OPTIMUS PRIME, BUMBLEBEE, MEGATRON, and SHOCKWAVE: four legends crafted and transmuted into four uniquely designed Razer DeathAdder mice to give you unparalleled gaming performance while evoking the heart-pumping excitement and robot wonder of the TRANSFORMERS universe.

Also included in the product line is a dual-sided Razer Vespula mouse mat.  One side represents the AUTOBOTS with a speed-enhancing surface, the other of the DECEPTICONS with a control-enhancing surface, to showcase your favored allegiance as you annihilate opponents with your preferred style of swiping.  And finally, an exclusive laptop case designed by Razer, available in the four iconic TRANSFORMERS brand colors, delivers a sleek and eye-catching storage solution for your gaming on the go.

"The TRANSFORMERS franchise has never been more mind-blowing.  Especially now with the Transformers: Dark of the Moon movie, a blockbuster hit across the globe," said Robert "RazerGuy" Krakoff, President, Razer USA.  "Fans, whether long-time or newcomers thanks to the films, will love the TRANSFORMERS product line we've designed.  It'll give you our best gaming-grade peripherals wrapped up in the designs of the famed robot universe."

"Powerful technology in spectacularly designed hardware – that's what both the TRANSFORMERS franchise and Razer have in common," said Joe Keane, VP Brand Licensing for the Americas, Hasbro. "And that's why this collaboration is something fans of the brand and gamers alike will seriously enjoy."

About the Razer DeathAdder: Transformers: Dark of the Moon Collector's Edition Gaming Mouse

The Razer DeathAdder has always been the weapon of choice for gamers seeking a combination of comfort and unbridled gaming precision. A 3500dpi 3.5G infrared sensor, 1000Hz Ultrapolling with 1ms response time, 5 Hyperesponse buttons, and On-the-Fly sensitivity adjustments make the right-handed ergonomic Razer DeathAdder: Transformers: Dark of the Moon Collector's Edition more than meets the eye.

Available in four unique designs representing four famed characters of the TRANSFORMERS universe: OPTIMUS PRIME, BUMBLEBEE, MEGATRON, and SHOCKWAVE.

Price: US $59.99 / EU €59.99

Availability:

North America (Retail and Razerzone.com) – Available Now

Rest of the World – Q4 2011

Product features:

Ergonomic right-handed design
3500dpi Razer precision 3.5G infrared sensor
1000Hz Ultrapolling / 1ms response time
5 independently programmable Hyperesponse buttons
On-the-fly sensitivity adjustments
60 – 120 inches per second and 15g of acceleration
Zero-acoustic Razer gaming grade Ultraslick mouse feet
Gold-plated USB connector
7-ft lightweight, braided fiber cable
Approx. size in mm: 128(L) x 70(W) x 42.5(H)

For more information about the Razer DeathAdder: Transformers: Dark of the Moon Collector's Edition, please visit: www.razerzone.com/transformers3

About the Razer Vespula: Transformers: Dark of the Moon Collector's Edition Gaming Mouse Mat

The dual-sided Razer Vespula mouse mat provides two distinct gaming-grade surfaces on an abrasion-resistant hard coat to suit your preferred swipe style – SPEED for smoother fast-paced action, maximizing freedom of movement; and CONTROL for ultra-precise movements and tactile feedback with its textured surface.  Game over extended sessions in complete comfort thanks to a memory conformance wrist rest designed to reduce fatigue and make smashing your metal opponent to a pulp so much easier.

The speed-enhancing surface of the Razer Vespula: Transformers: Dark of the Moon Collector's Edition is embossed with a design of OPTIMUS PRIME representing the AUTOBOTS, and the control-precise side embossed with a design ofMEGATRON representing the DECEPTICONS.  Choose which side of the great war you'll fight and swipe on for victory.

Price: US $34.99 / EU €34.99

Availability:

North America (Retail and Razerzone.com) – Available Now

Rest of the World – Q4 2011

Product features:

Non-slip, anti-reflective, abrasion-resistant hard coat on dual sides for accurate mouse tracking
Design of OPTIMUS PRIME and AUTOBOTS on SPEED surface for faster mouse movements
Design of MEGATRON and DECEPTICONS on CONTROL surface for precise mouse movements
Size: 300mm (length) x 240mm (width) x 4 mm (height)
Comes with a gel-filled wrist rest for maximum comfort

For more information about the Razer Vespula: Transformers: Dark of the Moon Collector's Edition, please visit www.razerzone.com/transformers3

About the Razer Laptop Case: Transformers: Dark of the Moon Collector's Edition

A new product crafted exclusively for the TRANSFORMERS brand, the Razer Laptop Case is made of a flexible hard weave with a zip seal to ensure your precious game-destroying machine is well protected on the go, and easily accessible for quick deployment.  Available in four colors, two embossed with a chrome metallic faction logo of the AUTOBOTS, two of the DECEPTICONS'.

Price: US $49.99 / EU €49.99

Availability:

North America (Retail and Razerzone.com) – Available Now

Rest of the World – Q4 2011

Product features:

·         Storage for laptops up to 15″
·         Hard, flexible plastic shell for maximum protection and shock absorption
·         Padded inner lining for laptop scratch protection
·         Straps to securely fasten laptop for travel
·         Metallic logo of Autobots or Decepticons emblazoned on front of case
·         Four colors available: Red, yellow, silver, purple
·         Approximate internal storage size: 390mm x 300mm x 40mm (15.4 in x 11.8 in x 1.6 in)

For more information about the Razer Laptop Case: Transformers: Dark of the Moon Collector's Edition, please visit www.razerzone.com/transformers3

About Hasbro:
Hasbro, Inc. (NASDAQ: HAS) is a worldwide leader in children's and family leisure time products and services with a rich portfolio of brands and entertainment properties that provides some of the highest quality and most recognizable play and recreational experiences in the world. As a brand-driven, consumer-focused global company, Hasbro brings to market a range of toys, games and licensed products, from traditional to high-tech and digital, under such powerful brand names asTRANSFORMERS, NERF, PLAYSKOOL, TONKA, MILTON BRADLEY, PARKER BROTHERS, CRANIUM and WIZARDS OF THE COAST. Come see how we inspire play through our brands at http://www.hasbro.com

About the Razer Group:

Razer™ is the world leader in high performance gaming hardware. Founded in 1998, with its headquarters in Carlsbad, California, the company has offices in nine cities around the globe.  Used by the most demanding professional gamers who compete in global tournaments, Razer provides gamers with the unfair advantage of cutting-edge technology and award-winning design. We live by our motto: For Gamers. By Gamers.™

Learn more at www.razerzone.com