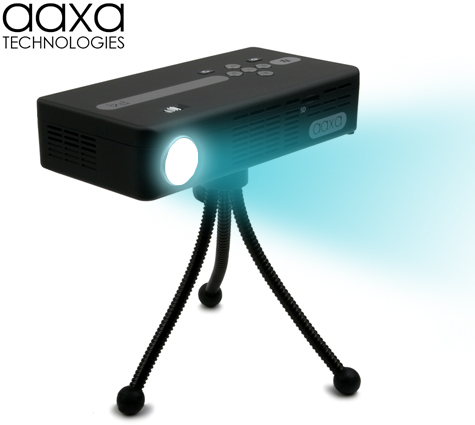 AAXA Technologies, perhaps not a household name now, has just introduced their P4 Pico Projector.  And with the world's brightest battery-powered pico projector in their line-up, you might see a lot more of these guys.
The P4 weighs less than a pound, and has a screaming 750mhz Windows CE mobile processor, as well as a super-bright 80-lumen high-contrast optical engine powered by Texas Instrument's DLP.  Perfect for the road warrior who's primary job is presenting digital material, the AAXA Technologies P4 Pico Projector can deliver high brightness and deep colors for a rich viewing experience up to 80-inches.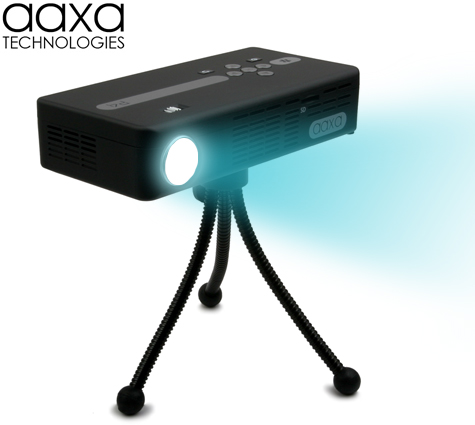 The P4 is the most powerful and fully-featured projector in its class.  It employs a robust Windows CE 6.0 processor with 2GB of onboard memory and is capable of playing 720p videos, high resolution pictures, and supports an array of 3rd party apps including Microsoft Office mobile, Adobe PDF viewer, mobile games, and a variety of other Windows CE applications.  Coupled with the optional keyboard and mouse, the P4 gives you a lot in a tiny package.   Additionally with the P4's 1-watt speaker, the P4 can serve double-duty as a standalone multimedia system.
Check out the full press release and video below….
AAXA Technologies Announces Worlds Brightest Pico Projector with Windows CE

AAXA Technologies is excited to announce the release of our P4 Pico projector – the world's brightest battery-powered pico projector.  Weighing less than 1 pound the P4 Pico projector features a powerful 750mhz Windows CE mobile processor and employs a dazzling 80 lumen high-contrast optical engine powered by Texas Instrument's DLP.  Combined with AAXA's Vibrant-Color™ technology the P4's next generation HD optical engine utilizes 15,000 hour LEDs  and can deliver high brightness and deep colors for a rich viewing experience up to 80"*

Powerful Windows CE Processor

The P4 is the most powerful and fully-featured projector in its class.  Designed for today's on-the-go executive the P4 employs a robust Windows CE 6.0 processor with 2GB of onboard memory and is capable of playing 720p videos, high resolution pictures, and supports an array of 3rd party apps including Microsoft Office mobile, Adobe PDF viewer, mobile games, and a variety of other Windows CE applications.  Coupled with the optional keyboard and mouse the P4 can function as a true mobile computing platform!  Additionally with the P4's 1-watt speaker the P4 can serve double-duty as a standalone multimedia system.

True Pocket Projector

At less than 5.6" long, 2.7" wide, and 1.2" tall the P4 is a true pocket projector and includes a premium-grade lithium ion battery capable of 75+ minutes of operation.    Additional features include adjustable tripod, 1280×800 VGA input, Micro SD Card slot, USB on-the-go, composite video input, and 3.5mm headphone jack.

About AAXA Technologies Inc

AAXA Technologies Inc was founded in 2008 as a developer and distributor of a new class of projector known as "micro" projectors and "pico" projectors. Our core technology is based on small LCoS (Liquid Crystal on Silicon) and DLP (Digital Light Processing) imagers mated to LED (light emitting diode) and Laser light-sources that makes possible the manufacturing of micro projectors and pico sized projectors. In 2010 AAXA launched the world's first laser pico projector and today remains a leader in mini-projector technology.  AAXA manufacturers the majority of its products in China, with core technological development occurring in both the Silicon Valley, California and China.

*80" image requires low-light conditions