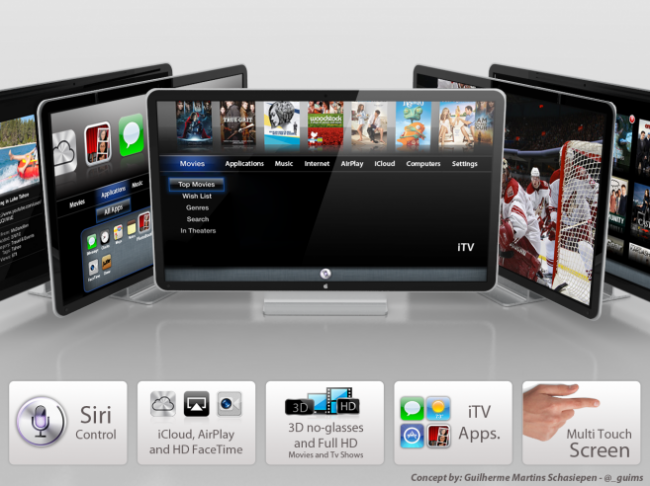 Steve Jobs biography, which debuted last week, quoted the computer industry's icon as saying, "I've finally cracked it."   He was, of course, talking about Apple TV, and this one quote has once again started the enormous rumor mill regarding the prospect of Apple revolutionizing one more media medium….the television.
A Flickr user has created a mock-up of what Apple could be envisioning, and it ain't too shabby.   Nor could it be too off the mark with what we know about Apple's current technology installations with the iPad and iPhone.
So far, the name of the actual Apple TV has waffled from "iTV" to "Apple TV"……and back to "iTV."   We're pretty sure that, with the acquisition of SIRI and its integration with the new iPhone 4S, iTV will use this evolving technology as its primary input and channel navigation tool.  It's also speculated that iTV will be a 3D device, sporting iCloud/AirPlay, HD FaceTime, a multitouch screen, and have the capability of running apps.
If any of these prediction are true, we could be looking at a giant iPhone…..television style.  In terms of its physical appearance, Apple is going more towards getting rid of the bezel, so maybe expect and edge-to-edge screen going forward.
Several industry experts are predicting that you'll be able to use any of the iOS devices as the remote control for Apple iTV, via an iTV remote control app, complete with TV listings on an iPad, iPhone or iPod Touch.
Apple has made tremendous strides with iOS and Mac OS X Lion, and these advancements look like precursors to what we could see in Apple's upcoming iTV technology.  Apple is shooting for a late-2012 release of iTV.  More information to come as it comes in.
Check out the video…