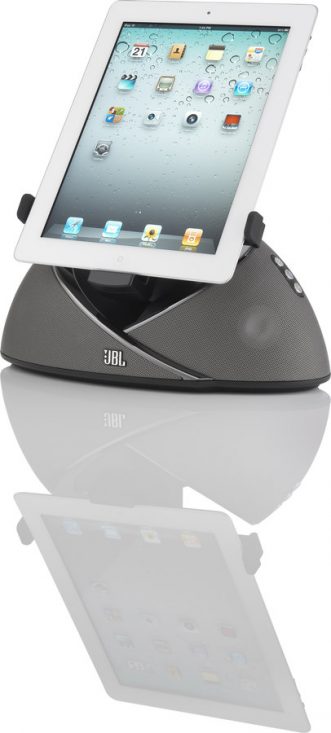 A brand new gadget with incredible sound is now available for all your wireless needs, whether it's for your laptop, iPhone or iPad! The [amazon_link id="B0061HMPWM" target="_blank" container="" container_class="" ]JBL OnBeat Air[/amazon_link] ($249.95; available now) uses Apple's Airplay wireless technology, so no matter where you are in your home, you can stream music from an iTunes collection or Internet radio station. This versatile music player features digital sound processing equalization with dual Phoenix full-range transducers to produce a room-filling soundscape, and includes an adaptable docking station to fit an iPad, iPhone or iPod in portrait or landscape mode.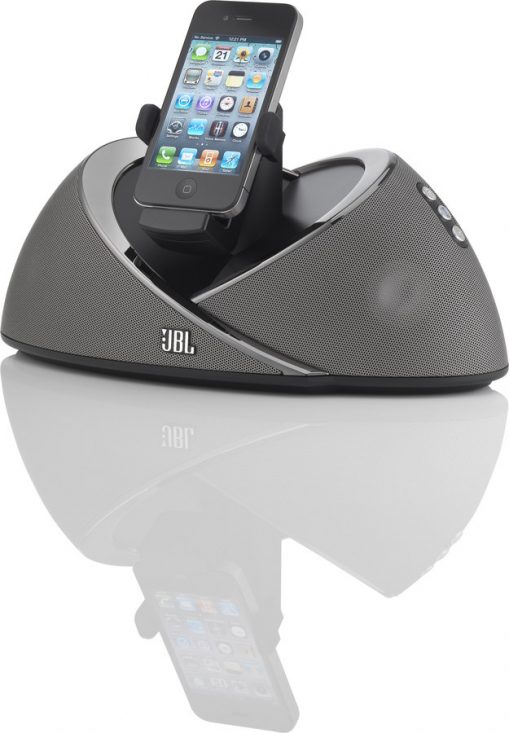 AirPlay makes it easy to tap into your iTunes library wirelessly through the OnBeat Air. How do you free the music on your computer? Just open iTunes, select the JBL system in the AirPlay menu and start streaming to the OnBeat Air. Or you can pull your iPhone out of your pocket, select the OnBeat and play tunes stored on your phone. Watch a movie with your iPad on your lap and the OnBeat Air delivering the finely detailed soundtrack.
And you're not just limited to music files. The OnBeat Air can play Internet radio stations that you access through iTunes, or audio from apps on your AirPlay-connected device — including music services like PANDORA® Internet radio, Spotify, and Rhapsody.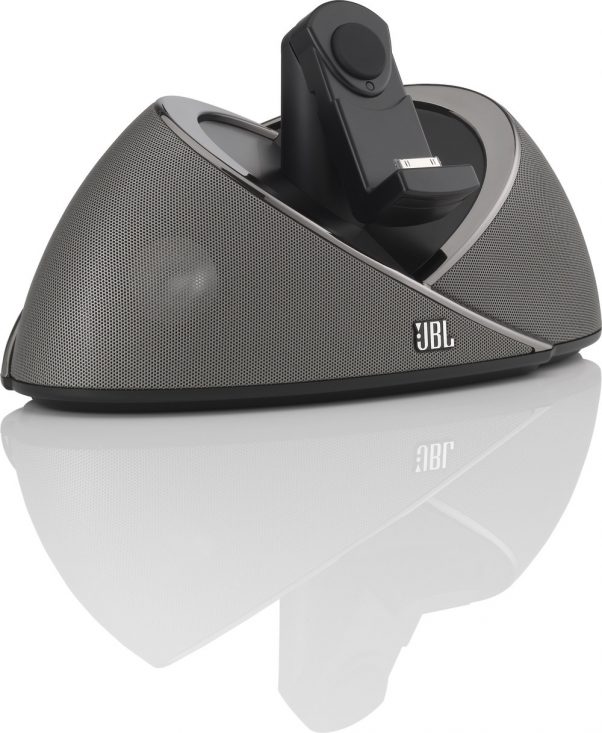 Remote control your way
The [amazon_link id="B0061HMPWM" target="_blank" container="" container_class="" ]OnBeat Air[/amazon_link] comes with its own remote, but you've got other options, too. Control the volume remotely through iTunes on whichever device or computer you're streaming from. Download Apple's free Remote app to your iPhone, iPod touch®, or iPad, and turn it into a powerful Wi-Fi® remote that'll control the music coming from your PC.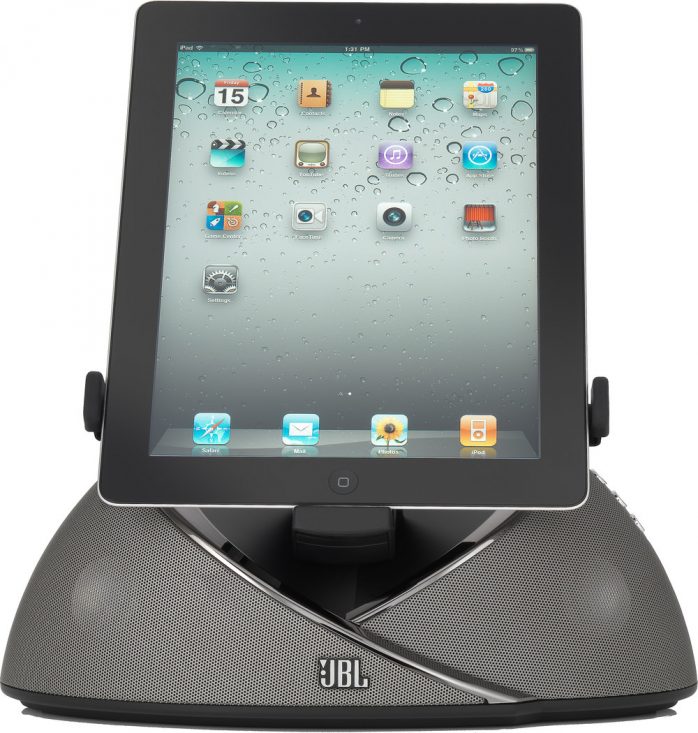 Get great sound from your player 
Inside the base of the OnBeat Air is a remarkable compact speaker system. Carefully optimized digital signal processing allows the twin full-range JBL speakers to deliver your music with plenty of detail in a spacious, 360° soundfield.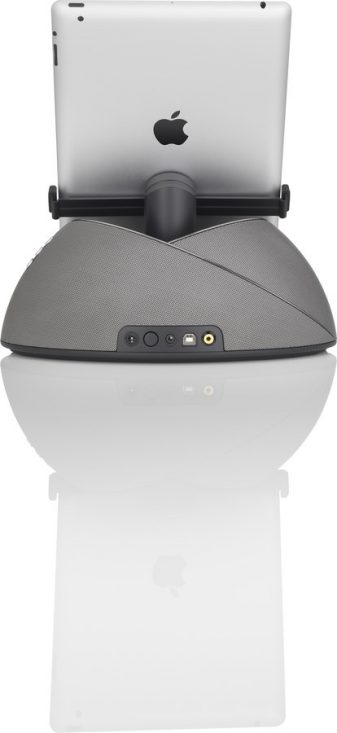 Video, too
Want to enjoy the player's videos on the "big screen?" The OnBeat Air has composite video output so you can connect it to your TV. Watch a movie from your iPad on the TV, while playing the soundtrack through the OnBeat Air.
The JBL OnBeat Air speaker dock features adaptable docking clamps that can securely hold your iPhone, iPad, or iPod touch in both landscape and portrait orientations. The devices can connect to the dock either wirelessly through AirPlay or via a 30-pin dock connector.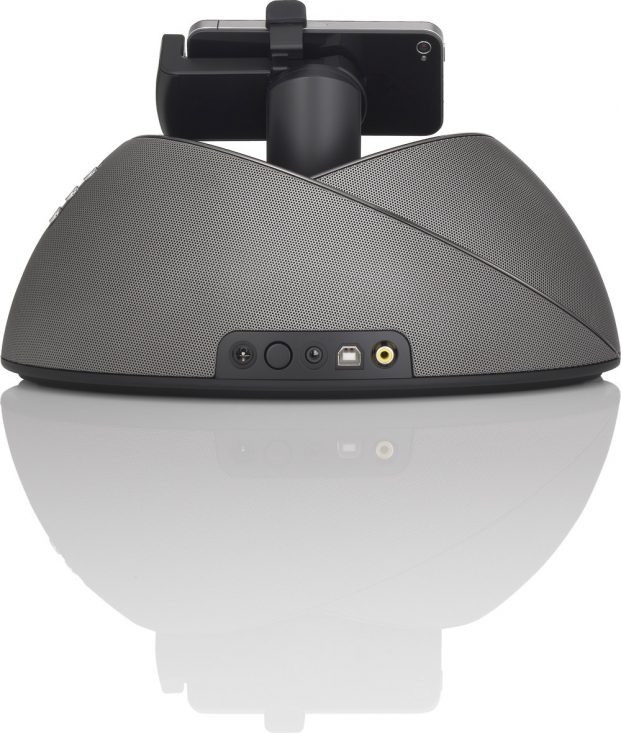 With AirPLay, you'll be able to stream music from your iTunes collection to the OnBeat Air no matter where it is in your home. The speaker dock includes an IR remote control that lets you conveniently navigate your iTunes songs and videos from a distance, while its tabletop design makes it convenient for gaming, watching movies, or video chatting through Apple's FaceTime or Skype.
The JBL OnBeat Air dock is priced at $249.95 and is available now at [amazon_link id="B0061HMPWM" target="_blank" container="" container_class="" ]Amazon[/amazon_link].
[amazon_my_favorites design="4″ width="250″ title="JBL OnBeat Air" market_place="US" ASIN="B0061HMPWM" color_theme="Onyx" columns="1″ rows="1″ outer_background_color="" inner_background_color="" background_color="" border_color="" header_text_color="#FFFFFF" linked_text_color="" body_text_color="" shuffle_products="True" show_image="True" show_price="True" show_rating="True" rounded_corners="False"/]
Check out the specs and video below….
The JBL OnBeat Air is more than a wireless music system:
Plays iOS music two ways – stream via Apple's AirPlay or through a 30-pin dock connector
Android™ smartphones, tablets and wireless MP3 players connect via Wi-Fi®/built-in auxiliary input jack
Provides high-quality wireless sound for video chatting, gaming, music and movies
Includes an IR remote control to quickly navigate iTunes songs, playlists and videos
A great videoconference tool via Apple's FaceTime or Skype
Table-top style makes it ideal for any room in the house
Specs
Amplifier Power: 7.5 watts per JBL Phoenix transducer
Weight: 1.9 pounds
Height x Width x Depth: 5-3/4″ x 10-13/16″ x  5-5/16″