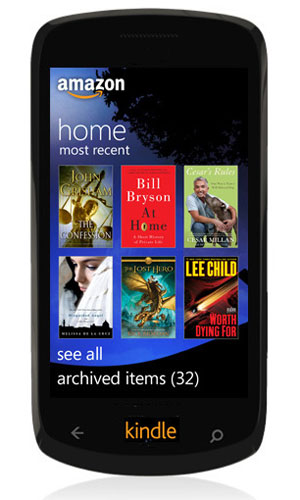 It's very likely that online retail giant Amazon might be following up their best-selling Kindle Fire tablet with a smartphone by next year.  This week the Amazon Kindle Fire was launched in the US.  The Fire is Amazons first tablet, sporting Android 2.3 operating system.
It is expected that Amazon will launch the Amazon Kindle Phone sometime in 2012.
"Based on our supply chain channel checks in Asia led by Kevin Chang, Citi's Taipei-based hardware research analyst, we believe an Amazon Smartphone will be launched in 4Q12. Based on our supply chain check, we believe FIH is now jointly developing the phone with Amazon. However, we believe that Amazon will pay NRE (non-recurring engineering fees) to FIH but the device and multiple components will actually be manufactured by Hon Hai's TMS business group (the same business group that makes Amazon's E-reader and the 8.9" Amazon tablet). We believe the smartphone will adopt Texas Instrument's OMAP 4 processor and is very likely to adopt QCOM's dual mode 6-series standalone baseband given QCOM has been a long-time baseband supplier for Amazon's E-reader."
Pricing of the Kindle Phone is expected to be as competitive as their tablet with manufacturing prices estimated at between $150 and $170. It is expected that Amazon will not make much of a profit margin on the first smartphone device and perhaps give it a price tag of $200 or less.  This pricing model has worked enormously well with the Kindle Fire tablet, and Amazon is looking to do the same with its smartphone to gain some speedy traction in this already hugely-competitive market.
Although the operating system isn't known for this device, it is likely that Amazon will use a custom version of Android, which is what resides on the Kindle Fire. We're not sure at the moment if that will be 2.3 or if Amazon will adopt a newer version of the OS by this time next year when the Kindle Phone is expected to launch.  Of course, that new version would be Google's latest Android 4.0 Ice Cream Sandwich.