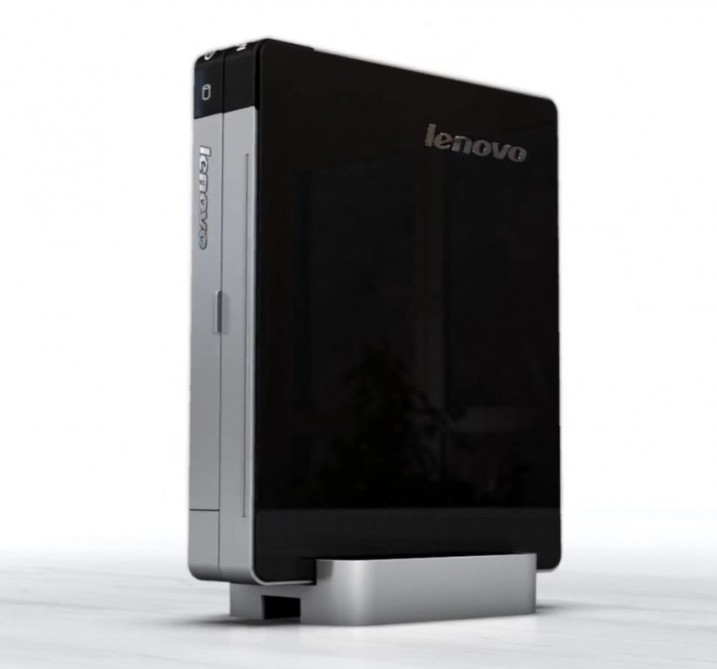 Lenovo, the world's #2 PC manufacturer recently announced the IdeaCentre Q180 – the world's smallest desktop PC, with multimedia features that can turn your TV into an entertainment hub for videos, games, web browsing and more.
Slim and compact, the Q180 comes complete with a range of multimedia features including full HD graphics, 7.1 surround sound, plus an optional Blu-ray Disk™ drive supporting Blu-ray 3D™ playback, along with a number of other highlights that allow the Q180 to double as a mobile home theater system.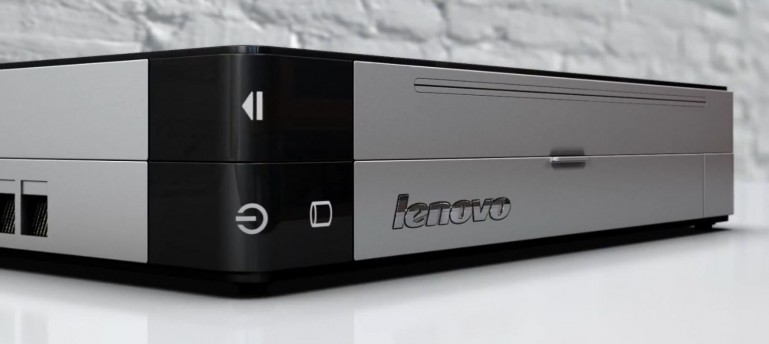 The book-sized Windows 7-based computer will fit easily alongside any television set, where it can serve as an entertainment hub, given that it handles 1080p videos.
The base model of the Q180 is powered by a 2.13 GHz dual-core Intel Atom D2500 CPU, AMD Radeon HD 6450A discrete GPU and 2GB of DDR3 RAM running at 1066MHz.
The Q180 is also outfitted with 500GB HDD storage, WiFi 802.11 b/g/n, Bluetooth and an 8-in-1 card reader with SDXC format support. Wired connectivity is provided by HDMI, VGA, 4x USB 2.0 and 2x USB 3.0 ports. The base model is bundled with a matching USB mouse and keyboard, while it's also possible to hook up a keyboard-equipped Lenovo Multimedia Remote to the Q180, available for an additional $79.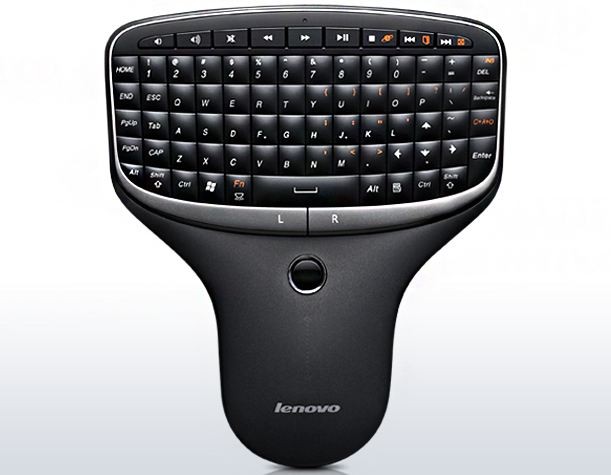 Further customization options include an external DVD burner or Blu-ray drive (both fit into the stand), 4GB of RAM, 750 GB HDD, or 128GB SSD.
The tiny PC can be set vertically (utilizing the included stand), horizontally, or mounted anywhere comfortable for the user utilizing the VESA mount standard. Its chassis' dimensions without stand and external drive are 155 x 192 x 22 mm (6.1 x 7.55 x 0.8 in).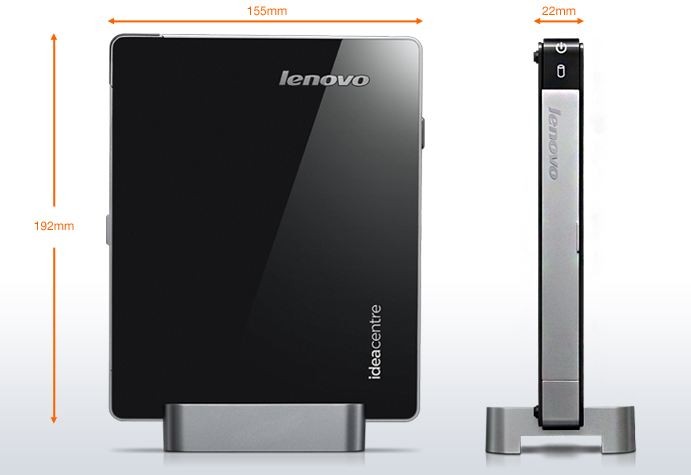 The base model of the Lenovo IdeaCentre Q180 retails at $379, with shipping slated to begin in December.
Other features include:
·         Intel® Atom™ dual core processor
·         750GB HDD storage or 128GB SSD storage
·         Blu-ray 3D and DirectX11
·         Compact wireless multimedia remote, with a built-in mini-keyboard and mouse
·         VGA and HDMI out ports
·         USB 3.0 and 8in1 card reader supporting SDXC format
Below is a product tour video and the full press release of the Lenovo IdeaCentre Q180…
Lenovo Unleashes the World's Smallest Fully-Functional Desktop PC

The IdeaCentre Q180 Turns the TV into an Entertainment Hub for the Home

 

RESEARCH TRIANGLE PARK, NC – November 22, 2011: Lenovo (HKSE: 992) (ADR: LNVGY) today announced  the IdeaCentre Q180 – a consumer desktop PC no larger than a paperback book, yet powerful enough to turn a digital TV into a multimedia hub for enjoying music, videos, games, web browsing and more.

"With the IdeaCentre Q180, we upped our game in the compact PC category," said Nick Reynolds, executive director, Product Group Marketing, Lenovo. "Featuring the latest HD Graphics and Blu-ray 3D playback, the Q180 enables consumers to change the way they enjoy multimedia and the Web in their living room at an affordable price point."

Compact Size, Complete Entertainment

Light weight and similar in size to a paperback novel — just 22 mm thick – the world's smallest production PC still packs a punch and comes with the latest technology. Along with an Intel® Atom™ dual core processor, up to 4GB DDR3 memory, 750GB HDD storage or 128GB SSD storage and 802.11bgn Wi-Fi, the Q180 also comes equipped with a VESA Mount that allows flexible fitting anywhere in the home including the back of most HDTVs and monitors.

 

Home Movie and Theatre Companion

Featuring great multi-media support, the Q180 comes with Full HD 1080p output, including a Blu-ray drive1, 7.1 channel surround sound, Blu-ray 3D and DirectX11 support to help create an authentic movie ambiance and state-of-the-art home-theater experience right in the living room. It also features fast USB 3.0 file transfer support, VGA and HDMI out ports, and S/PDIF connectivity for your HDTV and sound system.

Compact Wireless Keyboard

The IdeaCentre Q180 also comes with a latest generation Lenovo wireless backlit handheld keyboard1, which can fit snuggly in the palm of your hand. From the comfort of a sofa, users can do just about anything via this multimedia control wirelessly, including adjusting surround sound settings, selecting HD movies or simply surfing the Web on the Q180.

Pricing and Availability1

The IdeaCentre Q180 will be available November 22 on Lenovo.com starting at $349. The Q180 will also be sold through select retailers and on www.lenovo.com.

For the latest Lenovo news, subscribe to Lenovo RSS feeds or follow Lenovo on Twitter and Facebook.

1 Optional configuration and feature

 

ABOUT LENOVO

Lenovo (HKSE: 992) ADR: LNVGY) is a $US21 billion personal technology company – and the second largest PC company in the world, serving customers in more than 160 countries. Dedicated to building exceptionally engineered PCs and mobile internet devices, Lenovo's business is built on product innovation, a highly-efficient global supply chain and strong strategic execution. Formed by Lenovo Group's acquisition of the former IBM Personal Computing Division, the company develops, manufactures and markets reliable, high-quality, secure and easy-to-use technology products and services. Its product lines include legendary Think-branded commercial PCs and Idea-branded consumer PCs, as well as servers, workstations, and a family of mobile internet devices, including tablets and smart phones. Lenovo has major research centers in Yamato, Japan; Beijing, China; and Raleigh, North Carolina. For more information, see www.lenovo.com.

1Prices do not include tax or shipping and are subject to change without notice and is tied to specific terms and conditions. Reseller prices may vary. Price does not include all advertised features. All offers subject to availability. Lenovo reserves the right to alter product offerings and specifications at any time without notice.