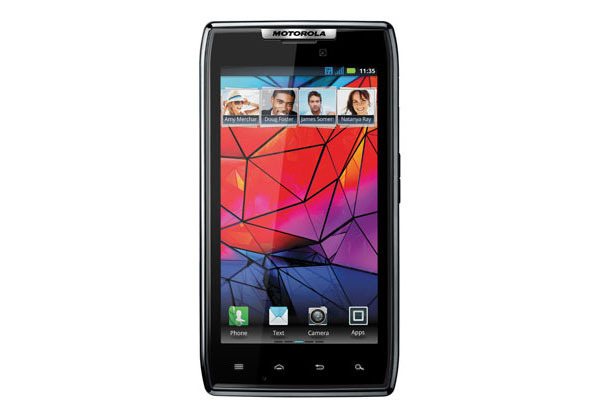 The Motorola Droid RAZR is being touted as the latest flagship phone from Verizon, and for good reason.  The company is claiming that it is the thinnest smartphone to date, and we can't argue with that.  This thing is wafer-thin, but that does not slow down its performance or features.  In fact, this sucker is very robust, durable and just plain cool.
The Droid RAZR is a descendant from the RAZR family introduced back in 2004.  But this ain't your grandmother's phone.  It runs Android 2.3 (Gingerbread) with lightning speed, has a very good battery life, and if you drop it, the Kevlar back panel will protect its internals.
Star Rating: 


Cost: $111 to $299 on contract
Where to Buy: [amazon_link id="B0061OQJTK" target="_blank" container="" container_class="" ]Amazon[/amazon_link], Verizon
This newest addition to Verizon's Droid lineup boasts a Gorilla Glass coated, 4.3-inch qHD Super AMOLED display — a first for any mobile handset — atop a dual-core 1.2GHz TI OMAP4430 processor. Although the RAZR may look like a Kevlar-wrapped, retooled Droid X with its 7.1mm slim design, the insides tell a different tale.  Joining the list of super phones specs, the RAZR has an 8-megapixel rear camera capable of 1080p HD video, 1GB RAM, 16GB of onboard storage with 16GB additional on the microSD card and an 1780 mAh battery. Moto's also included Lapdock 100 and 500 Pro compatibility, converting the RAZR into a power user's best friend.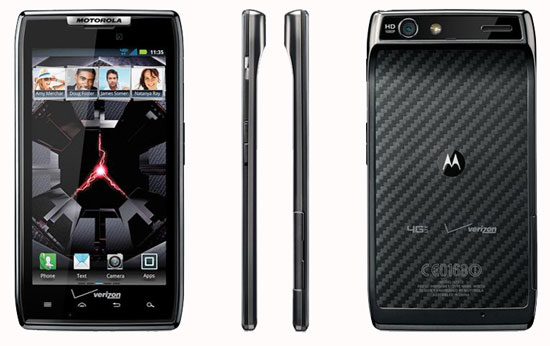 Productivity wise, Motorola also includes what it's calling SmartActions software to manage your phone's battery life. These user-determined settings can be programmed to shut off Bluetooth when you return home or slow down the processor speed while you're on the phone — whatever your energy needs, the RAZR accommodates.  A new personal cloud feature comes bundled with the device, called MotoCast. Video, photos, documents and music can be streamed from your laptop straight to the handheld. And for business needs, the RAZR comes business ready with Citrix Receiver, Motorola Webtop and videoconferencing abilities.
Motorola Mobility was recently bought by Google, leading to some concern amongst Android vendors that Motorola would get unfair access to the best Android features. With this first RAZR this does not appear to be the case. Rather than coming with Ice Cream Sandwich, which has just been launched by Google on the Galaxy Nexus, the RAZR comes with Gingerbread.  Of course, the phone will most likely get an update in the foreseeable future.  Additionally, Android has been modified with the Motoblur interface, which brings some excellent social networking integration to the table.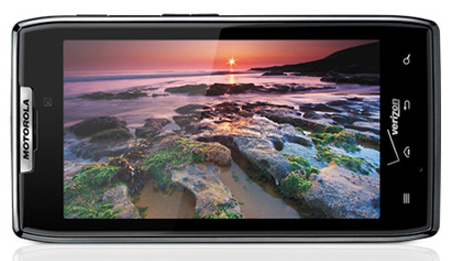 One of the features of the RAZR that makes it well suited to competing against the current Android favorite, the Galaxy S2, is its screen. The screen is one of the biggest selling points of the Samsung phone, and the RAZR has one of the first smartphone screens to really give a run for its money.  The 4.3-inch display uses Samsung's Super AMOLED technology which, while not quite as vibrant as the Super AMOLED Plus of the Galaxy S2, does offer a comparatively better experience thanks to a sharper qHD resolution.  Some reviews have been critical of the RAZR's qHD display, with both the HTC Rezound and the Galaxy Nexus boasting full 720 HD screens. While those observations may be warranted, nothing about the RAZR's screen deserves negative marks. Colors are bright and vivid. Blacks are deep and true. Response times are fast and outdoor readability was above average. The screen is nothing short of beautiful.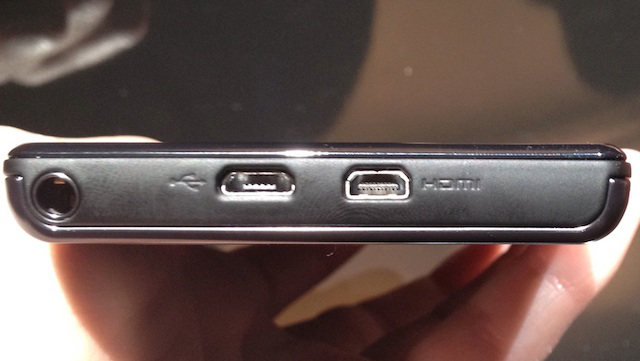 The [amazon_link id="B0061OQJTK" target="_blank" container="" container_class="" ]Motorola Droid RAZR[/amazon_link] comes with a manual, a standard microUSB cable, and a very interesting USB power adapter. It's a small cube with fold-out prongs, which makes traveling with it easier. While that's cool, it also has not one, but two USB ports and an HDMI port.  Since the RAZR is an LTE smartphone, you'll need a SIM to get on the 4G network (2G/3G data is still CDMA). To save space, the RAZR uses a microSIM, similar to that used in newer iOS devices.
On first use you'll notice just how fast the phone boots up.  The pre-installed apps include several from Google, a few Verizon apps, and a couple NFL apps and games. In short, with Motorola's customizations, everything you need to get started is already installed on the RAZR — without any additional downloading.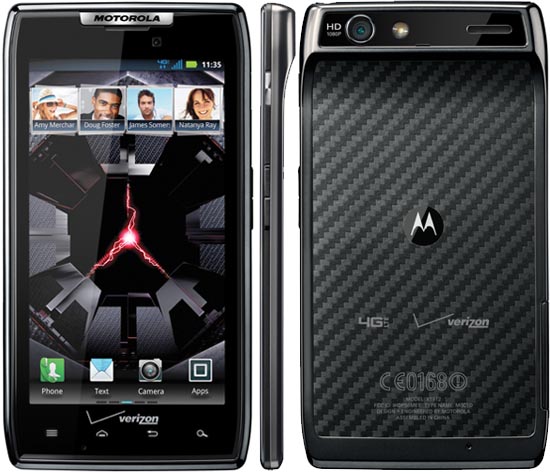 With its dual-core processor and ample amounts of RAM, the phone is very fast with hardly any lag.  The camera app comes pre-configured for 720p video without image stabilization turned on. That can be bumped up to a full 1080p with image stabilization.  As far as still images go, the RAZR defaults to 8MP, but you can set it down to 6MP widescreen if that's more your thing. Images were sharp and colors true. Shutter speed wasn't all that quick due to the camera's auto-focus.  The rear 8-megapixel camera took very sharp, clear pictures.  The Droid Razr's camera can stand up to the quality levels of the Samsung Galaxy S II and the iPhone 4S.
Motorola also boasted of their new nanotechnological Splashguard technology used in the Droid Razr, which protects the phone from about three tablespoons of water thrown at the back.
Voice calling on the Droid RAZR was always crisp, clean, echo-free, and no dropped calls were experienced.  Data coverage in my area was always good, being within one or two bars from "full bars".  Data speeds were very fast with its LTE 4G speed, and WiFi speeds were ridiculous, making movies on Netflix flawless and Pandora stunning.
The 1780mAh battery nestled inside the Droid RAZR had no problem making it through my day.  The screen, typically the largest power consumer on a smartphone, sipped down the power. When connected to Wi-Fi at home and at the office my run times were extended. Turning off Wi-Fi seemed to use up the battery approximately twice as fast.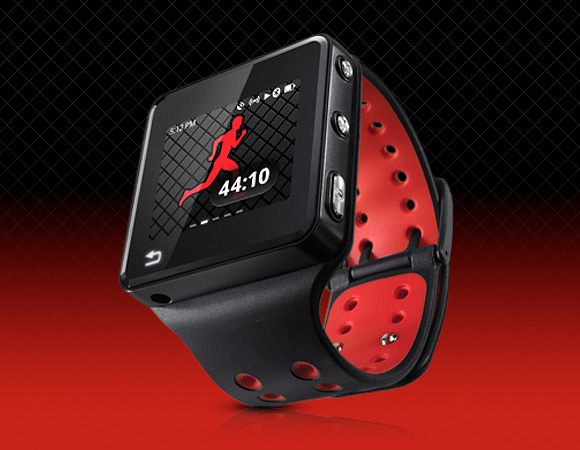 Motorola Motoactv
The Droid RAZR also has available a very cool fitness accessory called the Motoactv.  It's capable of many things the Apple nano is not. The Motoactv is a chunky black wristband with a metal back that creates grooves on all four sides, which allow users to slide it in any direction into accessories like an arm or wristband. It also has two more buttons than the iPod nano: one as a shortcut to stop or start a workout, and the other as a shortcut to play and pause music.
It gets about four hours with all its workout-logging, music-playing, Bluetooth-headphone-connecting, or about eight hours when just playing music. The fact sheet provided by Motorola quoted 20 hours of music playback, 10 hours of "indoor" workout time, and five hours "outdoor" workout time.  It felt snappy enough switching between music browsing and workout monitoring. The device comes preloaded with a set of basic cardio activities to monitor, such as cycling (indoor or outdoor) or running pace, overall time, etc.
The device will auto-sync workouts wirelessly with Motorola's Motoactv website, where users can view the progress and set goals. The Motoactv also has can analyze how the music you listen to corresponds to your workout intensity, and will, if allowed, play the songs it believes motivate you best at crucial moments.
The Motoactv runs $99 for a heart-rate-tracking wired set of headphones, and $149 for a wraparound Bluetooth headset. The Motoactv itself is priced at $249 for an 8GB model and $299 for 16GB.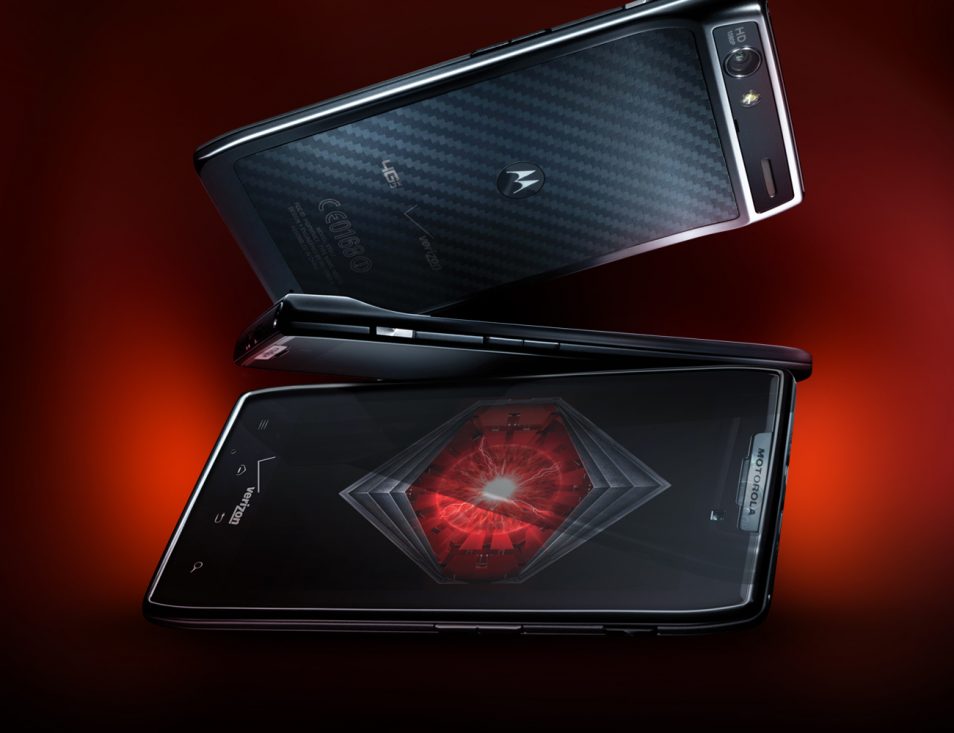 PURCHASING AND AVAILABILITY
The Motorola Droid RAZR is available now for the Verizon network from $111 to $299 on contract.
Of course, there are a slew of other accessories you can pair up with the RAZR: two lapdocks, wireless keyboard options, HD docks and Bluetooth headsets.
The form-factor of the [amazon_link id="B0061OQJTK" target="_blank" container="" container_class="" ]Motorola Droid RAZR[/amazon_link] will become the new industry standard.  It's thin, lightweight, durable, fast, and has a beautiful screen. The phone is a little wider and longer than most smartphones available today, but fits comfortably in-hand and carries well in a shirt pocket. The RAZR comes with Android 2.3.5 Gingerbread, but thanks to Motorola's commitment of timely upgrades, it shouldn't be long before the RAZR gets an upgrade to Android 4.0 Ice Cream Sandwich.
Check out the specs, video and full press release of the new Motorola DROID RAZR…
SPECIFICATIONS
Battery
1780 mAh
12.50 hours Talk time
204 hours Stand-by time
Dimensions
5.15 x 2.71 x 0.28 (130.7 x 68.9 x 7.1 mm)
4.48 oz (127 g)
Display
4.3-inch qHD Super AMOLED display
540 x 960 pixels
Processor
1.2GHz dual-core TI OMAP 4430 processor
Memory
16GB Internal
16GB Samsung Class 4 micro sdcard (pre-installed; user upgradeable)
1GB RAM
Wireless
Bluetooth 4.0 + EDR
Wi-Fi (802.11 b/g/n)
4G LTE
CDMA
Connectors
HDMI-out
microUSB (data and charging)
3.5mm headset jack
Verizon Wireless and Motorola Announce DROID RAZR™ by Motorola: DROID Strong. RAZR Sharp.

Impossibly thin with unstoppable power on America's fastest and most reliable 4G network

BASKING RIDGE, N.J., and LIBERTYVILLE, Ill. – Today, Motorola Mobility, Inc. (NYSE: MMI) and Verizon Wireless announced DROID RAZR™ by Motorola, the world's thinnest 4G LTE smartphone. A true marvel of design, this smartphone packs strength and smarts into a stylish package offered exclusively from Verizon Wireless.

Measuring 7.1 mm thin, made with KEVLAR® fiber for strength and Corning® Gorilla® Glass for scratch resistance, the DROID RAZR is ready to face the elements. Speed limits are just an illusion with a dual-core 1.2 GHz processor and Verizon Wireless 4G LTE. DROID RAZR customers can expect to rip through the Web with speeds up to 10 times faster than 3G.

"DROID RAZR by Motorola combines style, performance and the power of Verizon Wireless' 4G LTE network into one innovative device," said Marni Walden, vice president and chief marketing officer for Verizon Wireless. "These are two iconic brands that separately symbolize the best technology available today. The combination will provide an unsurpassed wireless experience for customers."

"DROID RAZR by Motorola is a testament to the innovation and design possibilities that stem from a strong partnership between Motorola Mobility and Verizon Wireless," said Sanjay Jha, Chairman and CEO, Motorola Mobility. "We set out to design the best smartphone on the planet and delivered DROID RAZR which is thinner, smarter, stronger than any device on the market."

Not only does DROID RAZR by Motorola deliver heart-pounding speed, but it has a mind-bending 4.3-inch hyper-vibrant display with more colors than most LCD HDTVs. The Super AMOLED™ Advanced display with qHD resolution dishes out beautiful images and smooth action so on-the-go movies and TV shows aren't a blur, whether customers stream from Netflix™ or rent from Android Market™. It's the first smartphone capable of streaming movies and TV shows through Netflix with up to HD resolution.

DROID RAZR customers can take advantage of the Super AMOLED Advanced display and 4G LTE speeds to stream videos with NFL Mobile, only from Verizon. Fans can stay up to date on news, schedules and scores from their favorite teams on the go. NFL Mobile is included at no additional charge for 4G LTE customers for the remainder of the 2011 season.

If cutting-edge visuals are its beauty, apps on DROID RAZR are its brains. Enter MotoCast™, the free Motorola app that lets you stream or download your music, pictures and more from your PC to your phone. The Smart Actions app helps automate everyday tasks and optimizes battery efficiency by letting customers create rules, such as automatically setting the phone to vibrate during work hours or dimming the display at a specific battery level. The revolutionary webtop application allows customers to combine the device with separately sold accessories, like the Lapdock™ 100 or HD Station, unleashing the power to edit documents and browse the Web with a full Firefox® browser on a larger screen – all while charging the device.

Additional features:

Powered by Android™ 2.3.5, Gingerbread
1GB RAM for a fast user interface and multi-tasking
8-megapixel rear camera with 1080p HD video capture and image stabilization technology for crisp and clear videos
Front-facing HD camera for video chat over 4G LTE, 3G or Wi-Fi
4G LTE Mobile Hotspot capable so customers can share 4G LTE speed with up to eight Wi-Fi enabled devices
Water repellent nanocoating protects the phone, and even the inside components, against everyday spills
Remote wipe, pin lock and government-grade encryption for email, calendar and contacts as well as voice and video chat conferencing
Use Quickoffice® to view, create and edit Microsoft® Word, Excel and PowerPoint documents on your mobile device from anywhere at anytime
Bluetooth 4.0 low energy
32 GB memory: 16 GB on board and 16 GB microSD™ card pre-installed (actual formatted capacity is less)
Powerful 1780 mAh battery

The DROID RAZR will be available in early November for $299.99 with a new two-year customer agreement at all Verizon Wireless Communications Stores and online at: www.verizonwireless.com; as well as at authorized retailers. Customers can visit www.droiddoes.com/droidrazr to pre-order DROID RAZR beginning on October 27. For more information on Verizon Wireless products and services, visit a Verizon Wireless Communications Store, call 1-800-2 JOIN IN or go to www.verizonwireless.com.