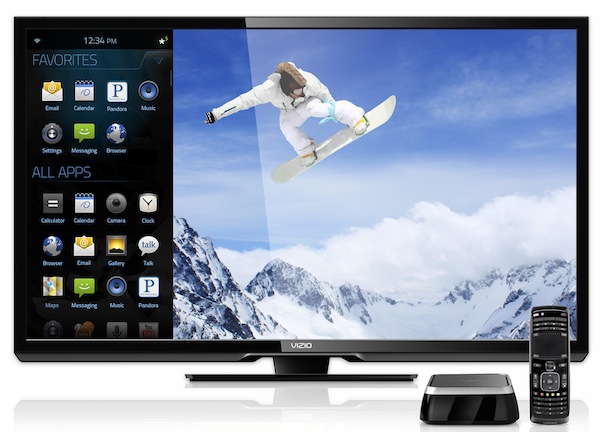 Vizio, manufacturer of ground-breaking TVs and accessories, has announced two Google TV powered set-top boxes, the VAP430 and the VBR430.
The VAP430 Stream player picks up where the Revue left off , adding the Google TV experience and access ot streaming media in any existing setup. Meanwhile, the VBR430 Blu-ray player adds discs to the mix of a VIA platform (standard and Plus) that stands to benefit from a new VOD app, M-Go from Technicolor that should bring first-run movies streaming directly to TVs. Vizio announced a few other add-ons mentioned in their keynote including a Skype webcam, iPad dock and soundbar, but all of these are available now.
Like the other products Vizio has announced at CES, shipping dates and prices are will be announced soon.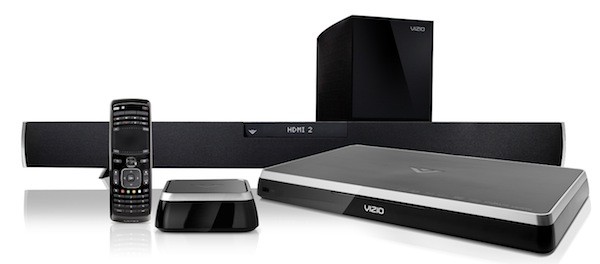 Check out the video and press release below…
VIZIO Takes Home Entertainment Beyond TV With New Blu-ray Players, a Stream Player, Audio Products and Accessories for 2012


-Introductions include an advanced VIZIO Internet Apps Plus® (V.I.A. Plus) enabled 3D Blu-ray player, one that incorporates the latest Google TV experience and DLNA; a V.I.A. Plus powered Stream Player that incorporates the latest Google TV experience and DLNA, and a Skype camera for use with VIZIO Internet-connected TVs
-New audio products include an HDMI-equipped slim-profile 2.1 sound bar and a five-speaker, high-performance iPod®, iPhone® and iPad® compatible audio dock
Irvine, CA and (CES) Las Vegas, NV -January 10, 2012 – VIZIO, America's #1 HDTV Company*, today announced its entry into several new product categories and the expansion of key product lines. The new additions to VIZIO's Beyond TV line will provide consumers with better performance and optimized entertainment experiences never seen before.
Key new products include the VBR370 3D Blu-ray player, the VAP430 VIZIO Internet Apps Plus (V.I.A. Plus) powered Stream Player, the VHT215 2.1 Sound Bar with wireless subwoofer, the VSD210 High Definition Audio Dock compatible with the iPod, iPhone and iPad, and the XCV100 VIZIO Internet Apps TV Video Camera compatible with Skype.

VIZIO's Beyond TV line has shown strong growth in the last three years. The company now holds the #1 market position in sound bars, with four of its SKUs taking the top four slots in recent rankings from a major consumer review publication. Its recent entries in the tablet, Blu-ray player and cable categories have been well received by consumers and dealers alike.
"In the last two years, VIZIO has proven we can extend our high value/high-performance philosophy to categories beyond TV," says John Schindler, VIZIO VP of Product Management. "Our latest Beyond TV products are not only competitive, they exceed the performance of similar products on the market, and they offer consumers easy access to more entertainment options than ever before."

3D Blu-ray Players That Deliver Far More Than Just Blu-ray

The VIZIO VBR430 is one of the most advanced 3D Blu-ray players on the market for many reasons. It offers the incomparable entertainment power of the latest Google TV experience through V.I.A. Plus. The player can run thousands of Android apps and includes a full-featured Chrome web browser with flash capability. It also gives consumers the power to search for the content they want to watch, just as they'd search for a video through a web browser. A touchpad universal remote with QWERTY keyboard makes it easy to control the V.I.A. Plus interface and other functions.

The VBR430 is also the first 3D Blu-ray player to feature V.I.A. Plus with DLNA. DLNA, or Digital Living Network Alliance, allows the player to access personal photos, music and videos stored on DLNA-enabled computers, mobile devices, and network drives connected to your home network – and display them on the TV. Built-in Wi-Fi makes network connection easy, and Bluetooth capability provides yet another conduit for streaming media from cell phones and computers.

The VBR430 and VBR370 and will be available in 2012, with specific ship dates and prices TBA. For more information, please visit www.vizio.com/ces/bluray/overview.

The Most Advanced Streaming Player on the Market Today

With VIZIO's VAP430 Stream Player, any TV becomes the world's most advanced Smart TV. This stream player incorporates the latest Google TV experience with a rich V.I.A. Plus user interface, so you have access to thousands of Android apps and any web page through its Flash capable Chrome web browser. Consumers can access countless video and audio streaming services, such as Netflix®, YouTube®, Wall Street Journal®, Pandora®, iHeartRadio® plus many more including the just announced M-GO™ video-on-demand services. (Some services may require subscription fees.) And its seamless multi-tasking capability makes it easy to jump from one experience to another.
With the VAP430's included touchpad universal remote with QWERTY keyboard, consumers can easily navigate through apps, surf the web, and search their streaming services and the web for any content they want. This innovative upgrade also includes HDMI-pass-through, which lets users connect cable or satellite set-top boxes through the VAP430's built-in HDMI ports, for a smooth V.I.A Plus experience that overlays live TV so no one misses a minute of their favorite programs while multi-tasking.

Thanks to DLNA, the VAP430 can access personal photos, music and videos stored on DLNA-enabled computers, mobile devices, and hard drives connected to your home network, then display the images on the TV and play the audio through the TV or any connected sound system.. Built-in WiFi makes connecting to the network a breeze. Bluetooth capability and USB input provide even more ways to enjoy content from cell phones, computers, and USB drives.
The VAP430 Stream Player will be available in 2012, with specific ship date and pricing TBA. For more information please visit www.vizio.com/streamplayer.

A Super-Slim 2.1 Sound Bar With Wireless Subwoofer for True Home Theater Sound and Advanced Features

VIZIO created the new VHT215 sound bar to complement the latest slim-profile TVs. At less than 2 inches thick, the VHT215 looks great mounted on a wall under a flat-panel TV, or placed below the TV on a stand or table. With two HDMI inputs plus an HDMI output with ARC (Audio Return Channel), the VHT215 requires just a single cable to connect to a TV set. Dolby Digital decoding allows compatibility with all digital TV sets. Optical digital, coaxial digital and analog inputs connect the VHT215 to multiple entertainment components.
Thanks to meticulous engineering and careful tuning, the VHT215 delivers superior sound quality. Rugged drivers in the sound bar allow a lower subwoofer crossover point (108 Hz), so voices sound full and natural. Most competing sound bars have a crossover point around 200 Hz, which makes voices sound thin. The VHT215's wireless subwoofer delivers the impact and dimension to create a great movie or music experience. SRS® TruSurround™ and TruVolume™ produce immersive sound while assuring the volume never gets too high or too low.

The VHT215 is available now.
An Affordable, iPad-Compatible High Definition Audio Dock That Outperforms Docks Three Times its Price

VIZIO's VSD210 high-definition 2.1 audio dock produces big, room-filling sound from iPhone, iPad, and most iPod models. The audio performance of the VSD210 exceeds products at multiples of its price, with separate midrange drivers and tweeters for each channel, a 4-inch subwoofer, and sound carefully tailored through the use of digital signal processing. A 3.5mm analog input connects to computers and non-Apple mobile devices, and a remote control is included.
The performance of the VSD210 compares with any sound dock at any price. It was tuned specifically to beat some of the best-known docks on the market, and it does so easily-yet at only about one-third the price of some leading models. Its modern, elegant design suits any room in a home or business.
The VSD210 is available now.
Make Free Skype-to-Skype Video Calls Through VIZIO Internet Apps (V.I.A.)-Equipped VIZIO TVs

VIZIO's new XCV100 Video Camera lets owners of VIZIO TVs with VIZIO Internet Apps (V.I.A.) capability and any Skype certified devices-phones, tablets, TVs-to make Skype-to-Skype video or voice calls and instant message anywhere in the world for FREE-and all from the comfort of the couch. The XCV100 mounts atop the V.I.A. enabled TV and incorporates a high-definition** video camera and four separate microphones with a range of 16 feet. The XCV100 tilts down as far as 10 degrees, to assure that the picture is perfectly framed and every member of the family can get in on the call.
Installation is simple: Just plug the XCV100 into the V.I.A. enabled TV's USB port and launch Skype. Learn more at www.vizio.com/tvchat.

The XCV100 is available now.

* Source: IHS iSuppli Corporation Research Q4 2011 Market Tracker Report of Q4 2010 – Q3 2011.

**Not all HDTV models support High Definition viewing. Please visit www.vizio.com for more information