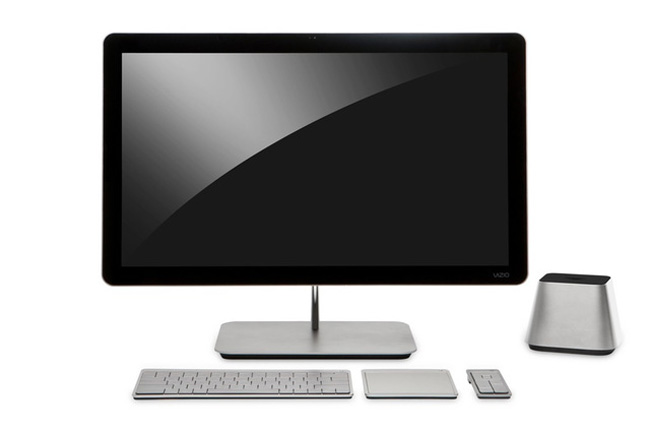 Vizio has officially entered the computer market and will be releasing their all-in-one PCs and laptops this spring.  Their all-in-one PCs will come in two sizes—24-and 27-inch versions—and feature a very sleek design (that's sharp and elegant at the same time) with an ultra-thin keyboard, touchpad and a base unit.  The screen is said to be thinner than the iMac, only because the computer's guts are sandwiched on the aluminum base. It also features stereo speakers that are located on each side of the base and a subwoofer in the power supply. There's also an HDMI input, which allows users to use the display as a TV, but Vizio isn't including a TV tuner with this device. Vizio also hasn't released info on what Intel processor it'll use in its new all-in-one PCs, but more info will probably drop closer to its ship date, which is said to be around May or June.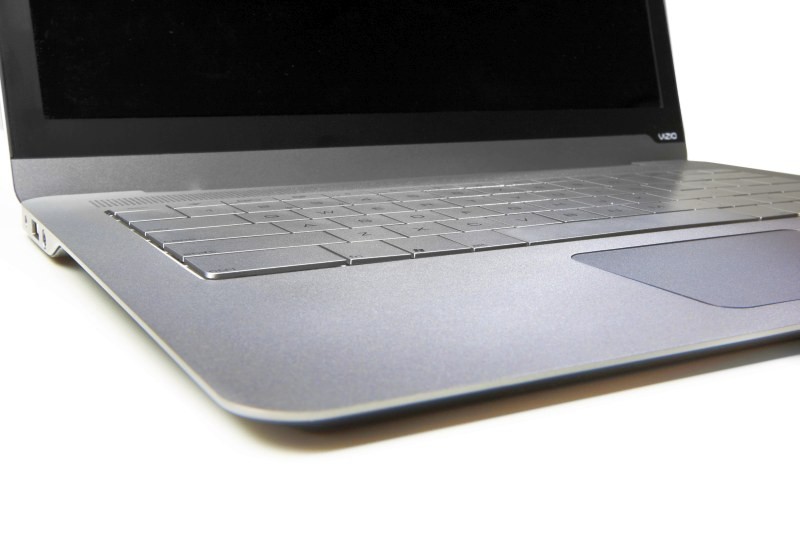 Vizio's whole family of PC products will be sporting a clean system image optimized by Microsoft itself and free of bloatware.  Besides the 24 and 27-inch all-in-one PCs, Vizio has announced 14 and 15.6-inch thin + light laptops in addition to a 15.6-inch regular laptop — all powered by Windows 7.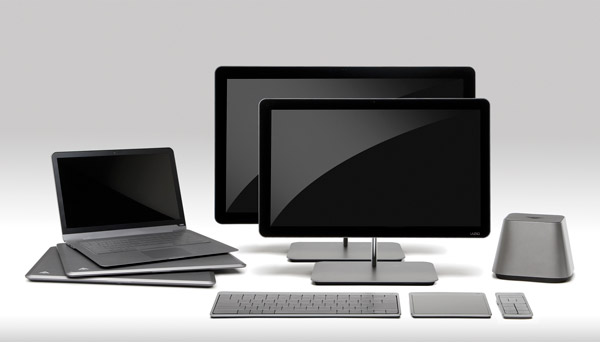 Check out the videos and the full press release…
VIZIO Bursts Into the Computing Realm with Five Innovative and Sleek PCs Set to Redefine Consumer Entertainment

Irvine, CA and (CES) Las Vegas, Nevada — January 9, 2012 — VIZIO, America's #1 LCD HDTV Company*, announced today an innovative line of five premium personal computers designed to turn the PC market upside down and accommodate the entertainment needs and wants demanded by consumers. Set to launch with Windows 7 in spring 2012, the elegantly designed PCs will provide an entertainment experience only VIZIO can deliver, complete with top notch 2.1 audio and video quality. The personal computing line consists of two all-in-one computers, two thin + light notebooks and one notebook. VIZIO's line was developed to raise the bar in personal and home entertainment while also keeping powerful performance at the forefront.

Much like its entrance into the HDTV category nearly a decade ago, VIZIO believes it has identified a need in the PC world for a device that addresses a recent change in consumer behavior. Growing popularity in video streaming services has resulted in the need for personal computers that can stream content for a family movie night and put together an important business presentation the following day. The VIZIO PCs address this change by meeting both the entertainment and productivity demands.

VIZIO PCs will be a continued progression of the VIZIO Internet Apps (V.I.A.) Ecosystem, which provides a seamless, cohesive entertainment experience across multiple screens. As the V.I.A. experience spans across the brand's HDTVs, Blu-Ray players, tablets and more, today's announcement represents a natural extension of the experience over to the PC as well. Together with Windows, VIZIO's PCs will deliver power, mobility and familiar ease of use, ensuring a fast, fluid and immersive user experience that distinguishes them from devices that function and those that are truly entertaining.

"PCs are often associated with productivity and the workplace, routinely lacking the excitement that would be expected with what and how consumers want to use their PCs today – as an extension of their entertainment experience," said Matt McRae, Chief Technology Officer. "VIZIO wanted to change that. Our new line of VIZIO PCs are truly high quality and consumer focused, delivering enhanced multimedia capabilities while upholding our high standards of performance, style and design."

Complete with high-performance hardware, the VIZIO PCs boast a clean system image optimized by Microsoft and an elegant industrial design incorporating authentic, high-quality materials that is sure to turn heads both on-the-go and in the living room. Known for HDTVs that boast stunning high-definition pictures, VIZIO engineered its new line of PCs to meet the same high-quality standards.

Always committed to pushing the envelope, VIZIO believes their groundbreaking PCs will alter the way consumers view computing. With entertainment at the heart of the VIZIO PCs, users will find that consuming content will be just as desirable as on their HDTV. With an already high demand for devices that are able to multitask between work and play, the consumer's choices are limited. VIZIO accepted the challenge and has elegantly bridged both worlds to provide a Windows-based PC that offers a rich entertainment experience alongside tools needed for getting work done.

"We're excited to see VIZIO enter the PC market and the positive impact they will have on the Windows ecosystem," said Steven Guggenheimer, CVP OEM Division, Microsoft. "With their expertise in providing connected entertainment experiences and an innovative go-to-market approach, we look forward to working with VIZIO to bring premium consumer PCs to market."

VIZIO anticipates its entry into the PC category will challenge consumers to expect more from their computers – enabling them to play as hard as they work. Discover more at www.vizio.com/ces#computers.