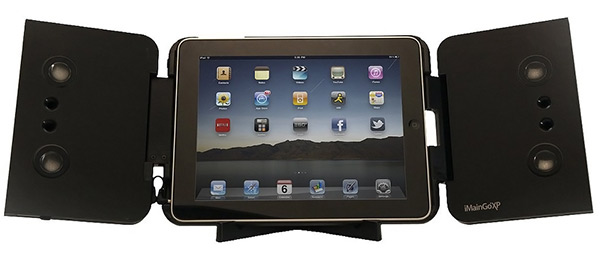 The iMainGo XP is a portable speaker system designed for the iPad family.  It delivers big sound on the go, and sports a clever design.  It's a breeze to setup making this accessory a must-have if you want to enjoy multimedia while you're on the road.  It's also not bad for a portable business presentation system.
Using Portable Sound Laboratory's sx149 digital music amplifier and four 38mm titanium-coned neodymium high-output speakers pumping out 10 total channel watts, the iMainGo XP's sound is a lot larger and vibrant than you think. It easy fills up a large room with quality sound, and any space in the house.  It's also interesting to note that the sound actually has a "radius."  In other words, it sounds like surround sound.
Star Rating:


Cost: $94-$119
Where to Buy: [amazon_link id="B005INACOS" target="_blank" container="" container_class="" ]Amazon[/amazon_link], Portable Sound Labs
The form factor of the case itself is a trifold design, the iPad situated horizontally in the center of two sets of speakers. They are attached with hinges on each end that make the speakers fully adjustable to almost any angle, allowing you to adjust them to be completely flat and flush with the device, or even swivel a bit past a completely horizontal plane, which would allow the user to have the screen as the focal point while the speakers are fully open and extended back past the screen in an almost butterfly wing fashion.  You can arrange the unit to stand on its own, horizontally or vertically.   It also comes with an adjustable easel-style stand for more comfortable movie viewing.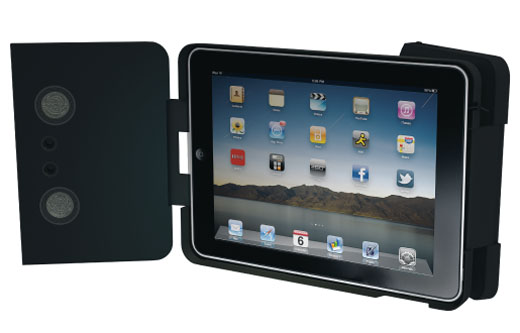 Along the top of the left set of speakers there are three ports, a switch, and a charge/power indicator light. One port is for charging and two ports are headphone jacks.
The rechargeable lithium ion battery makes it easy to keep your iMainGo XP charged and ready to operate for around 8-hours.  As mentioned, the[amazon_link id="B005INACOS" target="_blank" container="" container_class="" ] iMainGo XP[/amazon_link] also has two headphone jacks for multiple listeners.
The XP fits both the iPad 2 and the original iPad, thanks to the included snap-on plastic backing for your iPad 2 that makes up for the case differences between the iPad 2 and the iPad. The fit on my iPad 2 is snug and secure. Standing it up on its side, using the speakers as feet or the included robot arm stand works like a charm.
All the buttons and ports are still accessible on the iPad while it sits in the case. The iMainGo XP uses the headphone jack to extract the iPad's audio, which leaves the 30-pin dock connector available to be plugged in to power or synced while in use.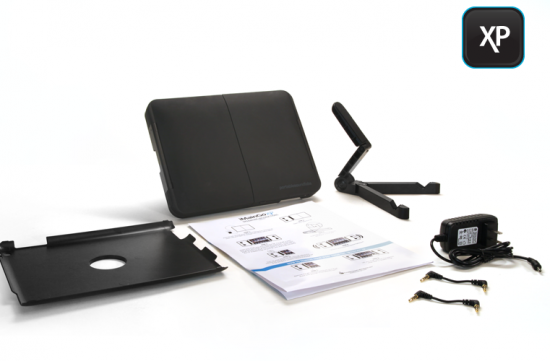 If you're looking for a portable sound solution for your iPad, the [amazon_link id="B005INACOS" target="_blank" container="" container_class="" ]iMainGo XP[/amazon_link] is a great accessory.   Sound quality is very good for the price and size.  Additionally, you're getting a nice rugged case for your iPad.  It has a gorgeous matte finish that does not fingerprint easily, and if you happen to get something on it, is very easily cleaned.
The speakers themselves are compatible with any device you might want to plug them into, even though the case is only for iPad. Portable Sound Labs also offers other iMainGo products for the iPod and iPhone if you are looking for fantastic speakers for your smaller iOS device.
You can order the [amazon_link id="B005INACOS" target="_blank" container="" container_class="" ]iMainGo XP[/amazon_link] directly from Portable Sound Laboratories for $119.95, or through Amazon for under $100.
For more information, visit www.portablesoundlabs.com
Check out the video….
http://youtu.be/P9GpOh90TEc