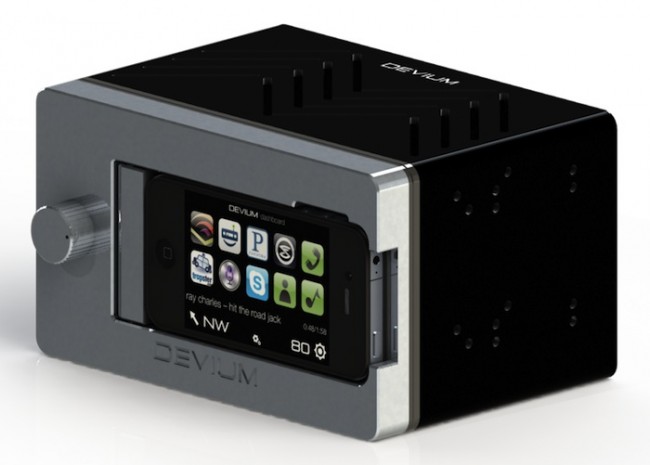 While we've seen car stereos designed to hold iPhones in the dash, they're usually limited to fit only the current generation iPhone only.   If you have an Android device or are waiting for the next generation iPhone, you are usually out of luck fitting your current smartphone into products like these.  Until now.  Introducing the DASH from Devium.
Unlike other smartphone compatible head units, which consist of one face plate and the body of the system, the DASH can be used with a variety of face plates that are hot swappable and can accommodate a variety of popular phones.   The Dash is a Kickstarter project.  Kickstarter is a company that raises project money from consumer investors, promotes that product invention and gauges market response prior to manufacturing of  the actual market product. For Devium's Kickstarter project, they're only building an iPhone/iPod compatible version for now.  So, if you invest in the DASH today and 1 year from now Apple releases a new iPhone, with an entirely new form factor, Devium will develop a face plate to accommodate the new shape and size.
Spec-wise, the DASH will sport 50×4 watts of power and 2 preamps running at 2V for a front and rear subwoofer.  It will measure 4-inches by 7-inches, which is apparently the standard double DIN size, allowing it to fit in a large number of vehicles.  A set of magnets will hold the iPhone in place, and it even allows enough space for those of you that use a bumper case.    They say that none of this, not even the aluminum body will interfere with the GPS signal, though it might be worth noting that the back of the face plates will be made from plastic.  The 200-watt amp is built and made from Maxim, a company out of Sunnyvale, CA.
The DASH will sell for around $250, and Devium and Kickstarter are looking to raise $45,000 in about 60 days.  Check it out at kickstarter.com.