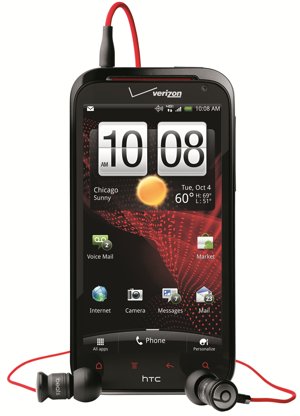 You could make a case that the Rezound phone by HTC could be the Flagship Android phone of the year so far.  It ain't the thinnest, nor does it have Ice Cream Sandwich yet, but being the first carrier-branded handset in the US boasting a 720p HD display does set it apart from the rest.  It's also the first HTC phone to incorporate Dr. Dre's Beats Audio technology.  The HTC Rezound ($300 with a new two-year contract) is one of the more capable devices released in the past year. With robust specs, including a 1.5GHz dual-core Snapdragon processor and Verizon LTE 4G connectivity, the Rezound could be the phone to beat for the rest of the year.
Star Rating:


Cost: ($299 with 2-year contract)
Where to Buy: Verizon Wireless
The Rezound sports a 4.3-inch, 1280-by-720-resolution super LCD screen, and it's not small in stature.  It compares size-wise to the Nexus S and just a tiny bit smaller than the DROID RAZR.  Having said that, this device is great for watching movies, live TV and playing games.   It weighs in at around 6-ounces, which gives some added stability while talking on the phone.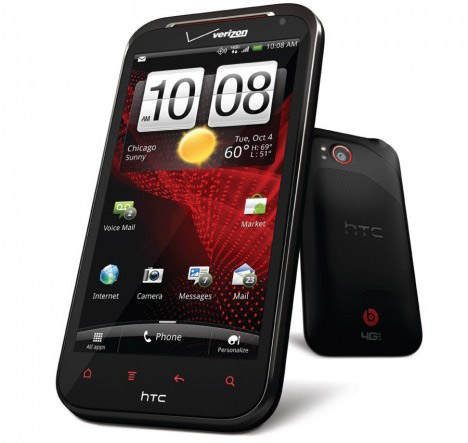 The Rezound rocks a 2-megapixel front-facing camera, and on the back, it has an 8-megapixel camera with dual-LED flash.   Its dual-core 1.5GHz Snapdragon processor is the fastest on the market so far, and performance is the best and speediest we've seen.  It's awesome for running graphics-intensive games.  Unfortunately, with all this power and speed comes some sacrifice.  Like many HTC phones, the Rezound's battery life drains a little quicker than other Androids.  However, purchasing a high-capacity battery or merely charging it a couple of times a day will alleviate any power failure.  Additionally the Rezound has several different modes to help regulate power consumption, and there are several third party apps in the Android Market to also help with this minor shortcoming.
The high-resolution display looks great.  In fact, in our opinion, it beats Nexus S and the RAZR.  Colors are slightly more subtle than the RAZR, which lends to a softer, clearer resolution.  The Rezound takes advantage of Verizon's blazing LTE network as well, and call quality is stellar, with no hiss, static or background noise .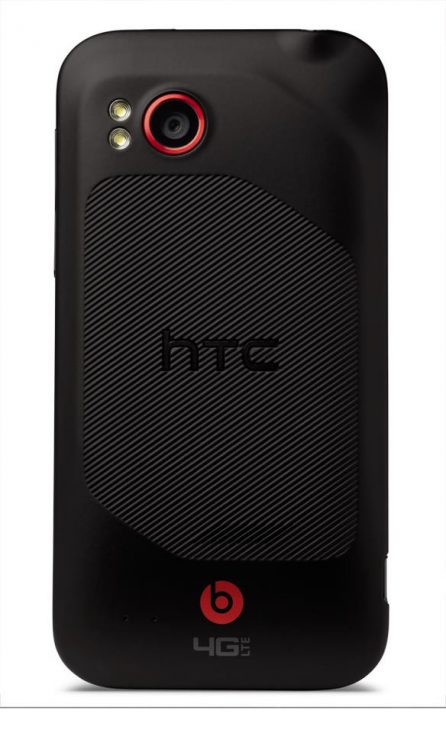 This HTC beast runs HTC Sense over Android 2.3 (Gingerbread) and comes with a handful of preloaded software. The Amazon Kindle app, Blockbuster Mobile, Polaris Office, and Slacker Radio all come preinstalled, along with the full version of Need for Speed Hot Pursuit and a demo of Let's Golf 2.  The HTC Sense overlay is a great bonus for the Rezound, and brings along a few features that are missing from stock Gingerbread. The lock screen allows you to launch applications quickly without having to unlock your phone first, and the notification bar contains a list of recently opened applications for easier multitasking. While Android 2.3 is nice, HTC promises to upgrade the Rezound to Android 4.0 (Ice Cream Sandwich) sometime later this year.
Besides the above acclaims, the Rezound is a killer phone for media.  Need I point out that the onboard Beats Audio technology sounds like a stand-alone, high-end media player?  Bass blows you away, and overall sound quality is CD-quality.  When you plug in Beats Audio-compatible headphones, the Beats Audio software will enable itself and will enhance the audio.  Oh, and The Rezound includes a pair of Beats Audio earbuds, a $149 value.  Streaming video over LTE works flawlessly and looks great thanks to Rezound's robust processor.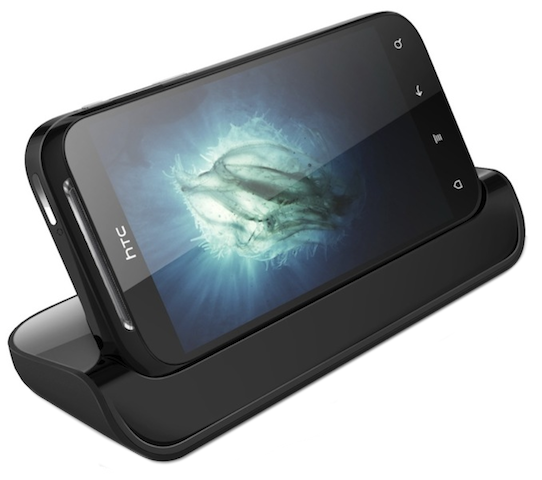 The Rezound comes with an 8MP camera.  It's a very good camera, rivaling some point-and-shoot cameras out on the market.  It also does a good job in dimly lit environments. In areas with good lighting, colors are sharp, and objects are well defined. The front-facing camera offers good image quality, but you most likely won't use it for anything besides a few self-portraits or video conferencing.  It records in 1080p, and audio sounds good too.  What sets the camera apart from other Android smartphone cameras is the amount of options available in the camera software.  You can fine-tune various aspects for better photos, including sharpness, saturation, and exposure, and the Rezound even features a panorama mode that makes it extremely easy to capture panoramic images.
The HTC Rezound is the best phone available spec-wise, and it pushes the envelope with respect to its multimedia capabilities. The high-resolution display is nice for movie watching, and the included Beats Audio headphones make the Rezound the phone to beat for 2012.
Check out the video…