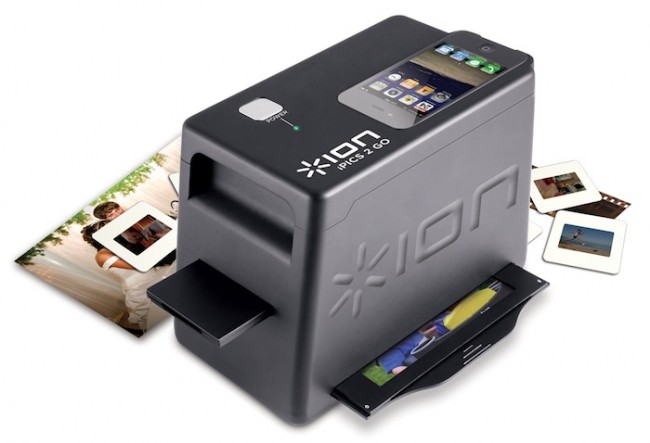 If you have a few boxes in your closet full of 3×5 photos, and want to scan them into digital versions, you've got a long job staring you in the face.  Add the process of also converting the pics into negatives or slides, and you'll need a whole lot of equipment to accomplish that.  That is, unless you have ION Audio's new iPICS to Go.
The iPics 2 Go from ION Audio uses your iPhone 4 or 4s' camera to quickly and easily convert your printed photos into digital ones.
The iPics 2 Go is compatible with 35mm negatives, slides, and both 3×5 and 4×6-inch pictures.  The iPhone inserts into the top of the box and holds it at an optimal height and position.  Once the handset is in place you simply just use the appropriate holder for your choice of media, insert it into the base and snap a pic using their free photo app.  A built-in LED light ensures that there are not hotspots or glares, and because ION Audio has built a free app, it should take most of the guess work out of the mix.  The whole thing is powered by 4 AA batteries so you don't have to hassle with cords, and you can take it into your closet where you've got all those photos tucked away for safe keeping.
Pricing and availability are unknown at the moment, but the new ION Audio iPICS 2 GO should be released soon.  We'll let you know.
Check out the Video…
http://youtu.be/mb6VDZ6EnSU