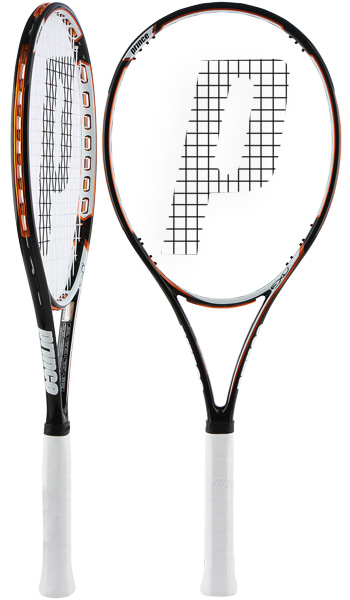 The softer feel and an increase in power is what you're going to get with the new Prince EXO3 Tour 100 16×18 racquet, especially if you've used its predecessor, the Prince Ozone Tour.   It's relatively light at 11.5-ounces strung, and is a very good 100 sq-inch-head racquet if you're looking for a bunch of control and maneuverability, thanks to its EXO3 technology and its head balance.
Star Rating:


Cost: $189.99
Where to Buy: [amazon_link id="B004DW1WQW" target="_blank" container="" container_class="" ]Amazon[/amazon_link]
If you're not familiar with Prince's proprietary EXO3 technology, let me explain.  EXO3 is what Prince calls their racquets, which use large holes and string suspension.  This delivers a much larger sweet spot.  The EXO3 technology in the Tour 100 16×18 has been renovated by adding a new thermoplastic resin into the carbon fiber matrix to offer a combo of properties from the two materials.  Because the thermoplastic resin is softer, it reduces string vibration, while the carbon fiber Energy Bridge gives you poppin' groundstrokes and good responsive feel.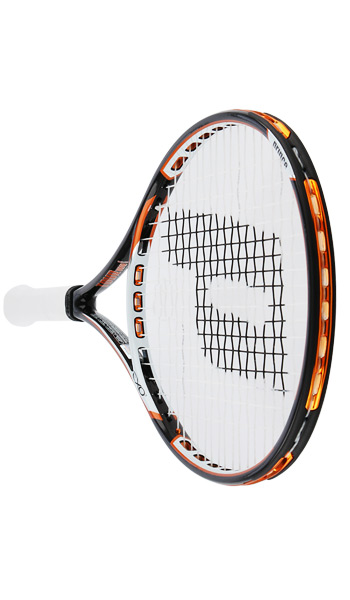 There's another plus with the Tour 100's EXO3 update.  Now you can actually customize the response by changing the string port inserts and string hole inserts.  The port inserts give strings greater movement, leading to different comfort levels and ball speed, while the hole inserts provide a more flexible feel.  The flexibility of the string bed gives the biggest sweetspot I've ever played with, assuring that the ball is stricken very well on every groundstroke.  It also works well when you're stretched out wide in defensive positions.
With its open 16×18 string pattern, the [amazon_link id="B004DW1WQW" target="_blank" container="" container_class="" ]Tour 100 16×18[/amazon_link] is a "live wire."   And talk about spin!  This puppy can spin the felt off the ball with its unique open string pattern.  At the net, the racquet is solid as a rock, which makes it a great stick for you net warriors and doubles fans.  Additionally, you can do almost anything with your serve and the Tour 100 16×18….a blaster down the "T", a slice serve into the next court, or a top-spin serve that can clear the net by 6-feet!
[amazon_my_favorites design="2″ width="250″ title="Prince EXO3 Tour 100 16×18″ market_place="US" ASIN="B004DW1WQW" color_theme="Orange" columns="1″ rows="1″ outer_background_color="" inner_background_color="" background_color="" border_color="" header_text_color="#FFFFFF" linked_text_color="" body_text_color="" shuffle_products="True" show_image="True" show_price="True" show_rating="True" rounded_corners="False"/]
Players who hang back at the baseline and like to stroke the ball with a lot of topspin will love this racquet. It's a head light frame that was built for those with full strokes.
Check out the Prince Tour 100 16×18 Video Reviews by Tennis Express and Tennis Warehouse, Specs, and Prince Technology Explanations below….
Head Size:
100 sq. in MP
Length:
27 inches
Weight:
Strung — 11.4 oz Unstrung — 10.9 oz
Tension:
53-63 pounds
Balance:
6 Pts Head Light
Beam Width:
18-20-18mm
Composition:
Graphite
Flex:
54
Grip Type:
ResiPro
Power Level:
Low
String Pattern:
16 Mains / 18 Crosses
Mains Skip: 8T, 8H
One Piece
No Shared Hole
Swing Speed:
Fast
Swing Weight:
326
The Prince Tour 100 (16×18) is designed to performs at the highest levels of the game, the new Prince EXO3 Tour with enhanced string suspension inserts delivers better ball response and more "pop" on off center hits for players who like to take a rip at the ball

EXO3 racquet design utilizes large holes and string suspension to deliver racquets with the largest hitting area on the market.
Strings are liberated from the conventional, restrictive grommet holes, allowing the strings to respond more freely.  Now, even off-center hits feel and respond more like dead-center.
Enhanced String Suspension Inserts
Sleek new inserts combine the vibration dampening of thermoplastic of carbon fiber for better hitting feel
Build-In Vibration Dampening System
Double Bridge (DB) improves shock Tour 100 (16×18)uction and Tour 100 (16×18)uces string vibration for added comfort.