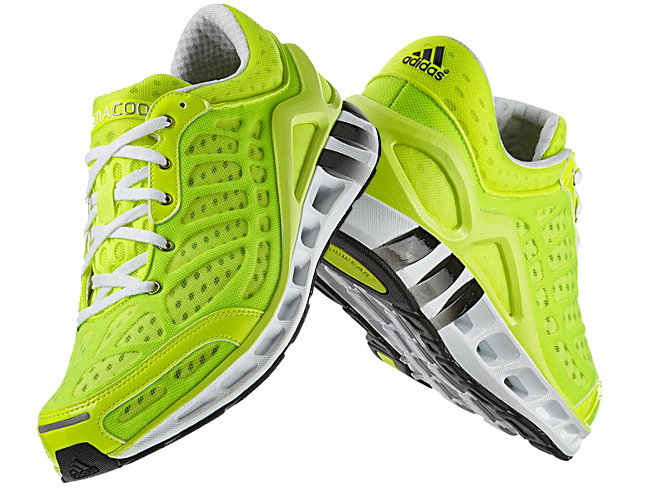 The joys of Spring.  The season makes it so much more comfortable to workout outdoors.  And runs on a cool Spring morning…well…there's nothing better.  However, sweaty feet are nothing nice on a hot Spring day run.  Your shoes absorb a lot more than you think,  and none of it to appealing in the odor category.
The new Adidas Climacool Seduction shoes further extend the brand's lineup of lightweight running shoes with technology to keep you cool no matter the scenario.   These puppies feature 360-degrees of Climacool ventilation plus rugged, lightweight cushioning and a clover-shaped Coolever mesh upper.  Additionally, the Coolever mesh lining provides a ton of comfort with a perforated sockliner for added breathability.   This results in an increase in performance.  The Climacool's are built upon the adiWEAR outsole for what adidas says is the ultimate in high-wear durability.
You can grab a pair now in a variety of colors for $100 on [amazon_link id="B005OTVDCQ" target="_blank" container="" container_class="" ]Amazon[/amazon_link].
[amazon_my_favorites design="3″ width="250″ title="Adidas ClimaCool Seduction Shoes" market_place="US" ASIN="B005OTVDCQ, B005OTVBKA, B005OTVCGI, B007PKDWDU" color_theme="Cinnamon" columns="1″ rows="4″ outer_background_color="" inner_background_color="" background_color="" border_color="" header_text_color="#FFFFFF" linked_text_color="" body_text_color="" shuffle_products="True" show_image="True" show_price="True" show_rating="True" rounded_corners="False"/]
Check out the video featuring Katy Perry…
http://youtu.be/4p5JWmeBEAQ