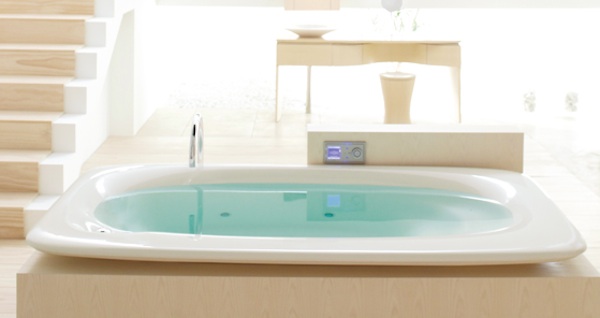 The Release of the new innovative Kohler VibrAcoustic baths combines some intriguing new technology for the bathroom.  They're rolling out a new line of its Underscore baths with VibrAcoustic technology that incorporates lighting, sound and vibrations to help "bathers… drift into deep relaxation".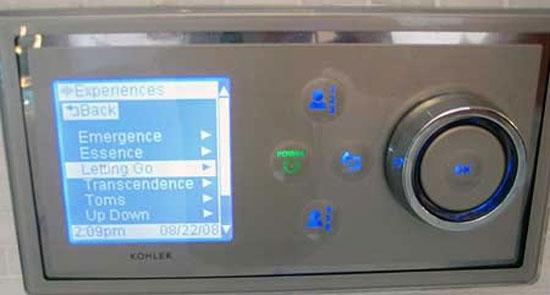 The systems range in price from $1,055 to $4,634, with the Chromotherapy feature reserved for the higher end models, and come bundled with a touchscreen unit that can connect to mobile devices for audio streaming.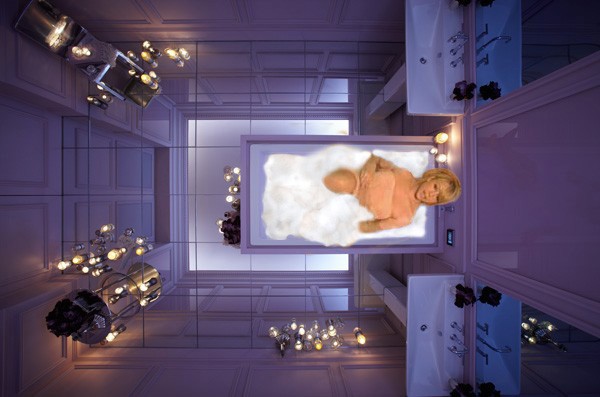 There are also four pre-loaded tracks composed by a sound therapy specialist specifically calibrated to sync your breathing up with preset beat and chord patterns to get you to relax.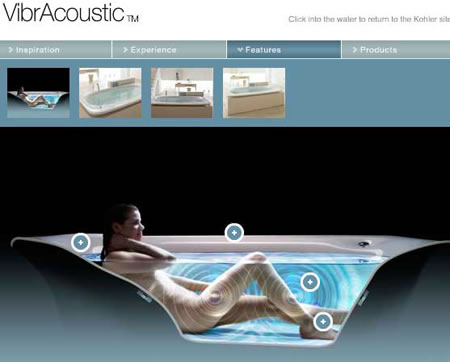 Check out the video and full press release…
http://youtu.be/e6QHpHHQ6fQ
VibrAcoustic Technology on Underscore Baths Offer Ultimate Relaxation and Music in the Bathroom
Enhanced technology-based baths integrate music, water vibration and lights in Kohler's popular Underscore bath collection
KOHLER, Wis. – April 24, 2012 – Adding to the wave of its recent technology innovations, Kohler Co., a global leader in kitchen and bath design,
introduces VibrAcoustic® technology on all nine models of the Underscore bath line. Vibroacoustic is a technology-based sound therapy defined as hearing and feeling sound vibrations through the body. Focused on complete body relaxation, the new Underscore VibrAcoustic baths are engineered to ease tension and stress. Additionally, the quality of the sound system is so good that it can be used as a stand-alone audio solution for the entire bathroom. The bather can stream music and podcasts through the bath from a mobile device via hardwire connection or wirelessly with a Bluetooth®* receiver. The VibrAcoustic technology is controlled by an intuitive full-color touch screen user interface.

"KOHLER VibrAcoustic technology truly is a multi-dimensional experience. It's like going to a rock concert – you can hear and feel the music and vibrations throughout your body," says Ann Roever, business director for Kohler bathing products. "With four original compositions to choose from and the ability to play your own music, it's an experience that can fit any mood –relax and unwind or rev up for a busy day or fun night out."
The four experiences are original compositions that integrate music, vibration and lighting in order to encourage the bather's breathing rate to align with the beats or chord structures. The bather cannot help but drift into deep relaxation.

The VibrAcoustic Experience
Four VibrAcoustic experiences envelop the bather in a multi-sensory environment. These original compositions were created in collaboration with a renowned sound therapist and are choreographed uniquely for this bath to optimize the vibroacoustic effect, in which the body is led into a state of complete relaxation. In addition, two massaging beat experiences add even more physical vibration that can be adjusted to the desired level of intensity to personalize the bathing experience.
Six transducers producing music/vibrations are strategically placed surrounding the bath allowing the bather to not only hear but also feel the music streaming in from one of the four preset VibrAcoustic experiences. The transducers are located both below the water for the vibration experience and above the water for the audio. A newly designed touch screen user interface allows bathers full control of their experience and the option of listening to a favorite play list from their mobile device, internet radio or home computer by simply plugging your device into the amplifier or streaming wirelessly with your Bluetooth®* receiver.
Chromatherapy lighting is synchronized with the four preset VibrAcoustic experiences and will also align itself with the rhythm of outside music. The four lights in the bath cycle through eight different colors and myriad color combinations and patterns. A color dial even allows bathers to choose a particular hue of each color.

Underscore Bath Design
The acrylic Underscore bath is available in nine sizes ranging from 60-by-30 inches to 72-by-42 inches, including a 48-by-48-inch cube-shaped model, and is available in five colors with both drop-in and undermount installation to ensure a natural fit with other design elements in the bathroom. The Underscore baths' simple, crisp design lines perfectly complement granite, stone or tile.
Underscore baths feature a slotted overflow that creates a deeper-than-normal soaking experience. In comparison to overflow drains found on traditional baths that are round and positioned lower, limiting the water depth, the large, slotted overflow drain positioned near the Underscore bath rim maximizes the level of water in the bath for a true soaking experience.
MSRP: Price ranges from $1,055.70 for the 60-by-30-inch Underscore VibrAcoustic bath to $4,634.55 for the 72-by-36-inch Underscore VibrAcoustic bath with Chromotherapy