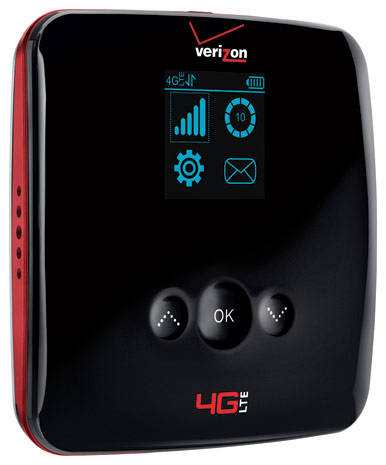 Verizon has just released the latest of its Jetpack hotspots with the arrival of the ZTE-made model.  The Jetpack 890L can share its 4G LTE service with as many as 10 WiFi devices at once. There's no removable battery like its Novatel-made Jetpack cousin, but you do get Global Ready (read: HSPA) roaming abroad.  And at $20 on a contract after a $50 mail-in rebate, the 890L will be the most affordable way to get LTE hotspot service when it reaches stores on May 24th.
Check out the full press release…
Go Global With the New Verizon Jetpack™ on the Verizon Wireless Network

Traveling abroad just got easier, thanks to Verizon Wireless. The new Verizon Jetpack™ 890L will be available beginning May 24 in Verizon Wireless Communications Stores and online at www.verizonwireless.com.

First introduced at the Consumer Electronics Show (CES) in January 2012, the Verizon Jetpack, developed by ZTE, creates a personal Wi-Fi cloud that is capable of sharing high-speed 4G LTE connectivity with up to 10 Wi-Fi-enabled devices. Business customers can organize meetings and keep their team connected and productive whether they are meeting in a conference room or while traveling. The Jetpack's Global Ready capability means customers and business travelers alike can enjoy wireless data service on their Wi-Fi-enabled devices in more than 205 countries, including more than 125 with 3G speeds.

With the Jetpack, business travelers can enjoy protected connections made possible by the device's latest security software, featuring VPN passthrough and WEP/WPA/WPA2 support. Traveling customers looking for a leisurely wireless experience can benefit from new features including an OLED screen and interactive keypad, which helps customers manage their connections and settings and also displays data usage alerts.

With Verizon Wireless' 4G LTE network, customers traveling within the United States can expect blazingly fast download speeds of 5 to 12 megabits per second (Mbps) and upload speeds of 2 to 5 Mbps in Verizon Wireless 4G LTE Mobile Broadband coverage areas.

The Verizon Jetpack 890L will be available for $19.99 after a $50 mail in rebate with a new two-year customer agreement. Customers will receive the rebate in the form of a debit card; upon receipt, customers may use the card as cash anywhere debit cards are accepted.