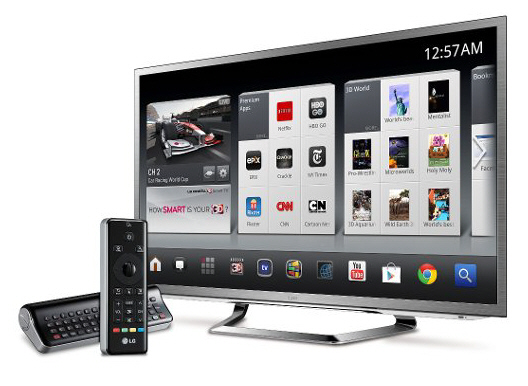 During the E3 conference in Los Angeles this June, OnLive, Inc. displayed its cloud-based gaming service on the new LG G2 with Google TV. The company first announced bringing OnLive Viewer to Google TV at CES last January, and teased about console-quality gaming features in the future.
On Tuesday, OnLive founder and CEO Steve Perlman unveiled the development, saying, "It's always been our mission to make top-quality gaming accessible to everyone, everywhere."
LG's G2 series of smart TVs are powered by the L9 dual-core chipset, which also features a quad-core GPU to handle the user interface, 3D capabilities, and console-level gaming on 47- or 55-inch screens. OnLive gaming support is further bolstered by the inclusion of a QWERTY keyboard and voice and motion commands. Gamers can connect with each other via voice chat, Facebook integration, and the OnLive MultiView spectating system, allowing games to be broadcast to large audiences.
Check out the video review from CNET:
For more information, read OnLive's press release below:
OnLive Cloud Gaming Demonstrated on LG Smart TVs with Google TV

Hundreds of Top-tier Games Playable Instantly On-Demand with No Console Needed; Rich Social Gaming with Multiplayer, Massive Spectating, Brag Clip Videos, Voice Chat; Supports up to 4 OnLive Wireless Controllers; Previewed at OnLive's E3 Booth

Los Angeles, Calif. (E3 Expo, 2012) — June 5, 2012 — OnLive, Inc., the pioneer of on-demand cloud gaming, is demonstrating the OnLive® Game Service on the next-generation LG Smart TV with Google TV (G2 Series) from LG Electronics at the Electronic Entertainment Expo (E3) here this week.

Capitalizing on the power of LG's L9 dual-core processor, the service would make hundreds of top-tier video games from more than 60 publishers playable on-demand, without a console or PC. When the service becomes available, LG G2 TV owners will also enjoy free instant access to exclusive OnLive social features such as worldwide massive spectating, the brand-new OnLive MultiView spectating capability, Brag Clip™ video recording and Facebook sharing.

Previews of the OnLive LG TV experience will be shown publicly for the first time at OnLive Booth #535, South Hall at the Electronic Entertainment Expo from June 5-7 in Los Angeles. Select 3D games, using the popular LG CINEMA 3D glasses, are planned for a future software update.

With just a few taps of the Universal OnLive Wireless Controller or any compatible game controller, LG G2 TV owners will be able to jump in and play OnLive's growing library of hundreds of top-tier, console-class video games on-demand. Instant demos are available for nearly every game—from eagerly anticipated indie titles like Ravaged to hot blockbusters such as the upcoming Darksiders® II—so players can experience up to 30 minutes of each game free before deciding what to buy, and then continue playing where the demo left off.

Games can be purchased a la carte, or players can subscribe to OnLive's revolutionary PlayPack subscription service for unlimited on-demand play of more than 220 games, with more titles added weekly. When players are away from their OnLive LG TV, all of their OnLive games are available—with full game saves and achievements—on almost any PC or Mac®, tablet or smart phone wherever there is broadband, whether in a different room in the house, or in a different country in the world.

In addition to instant-action gameplay, an OnLive Game Service account enables users to watch millions of gamers from around the world play live in the massive spectating Arena, voice chat with other players and spectators, capture Brag Clip videos of their best and worst gameplay and share their gaming exploits with friends on Facebook.

Exclusive to OnLive, users can now even spectate and chat with friends and teammates in OnLive's new MultiView mode while continuing to play their own game, adding an engaging new social dimension to OnLive gaming. With MultiView, gamers will not only be able to take co-operative tactics to all-new levels by virtually looking over their teammates' shoulders as they play, but also keep tabs on friends in any single player or multiplayer game in play on the service.

"LG Google TV's superior performance, coupled with OnLive's innovative games-on-demand service, unleashes powerful new entertainment possibilities for gaming enthusiasts," said Georg Rasinski, Director of Home Entertainment Brand Management, LG Electronics USA. "Cloud gaming complements the virtually limitless content options already available through our exciting G2 series TVs."

"It's always been our mission to make top-quality gaming accessible to everyone, everywhere," said Steve Perlman, Founder and CEO, OnLive. "OnLive adds no cost to LG Smart TVs, but delivers a full console-class experience. We're excited to make on-demand top-tier gaming an integral part of the living room entertainment system on LG's state-of-the-art TVs."

The LG G2 Series, which combines the power of the Google TV platform with the speed of LG's new L9 dual-core chipset and a user-friendly interface, is expected be the first LG Smart TV with Google TV model to make OnLive on-demand gameplay an integral part of the consumer experience. The first LG G2 TV, featuring Full HD 3D and the OnLive Game Service pre-installed, is anticipated in a future software update. To preview the experience firsthand, come by OnLive Booth #535, South Hall at the Electronic Entertainment Expo from June 5-7 in Los Angeles. To find out more about OnLive, visit www.onlive.com or www.onlive.co.uk.