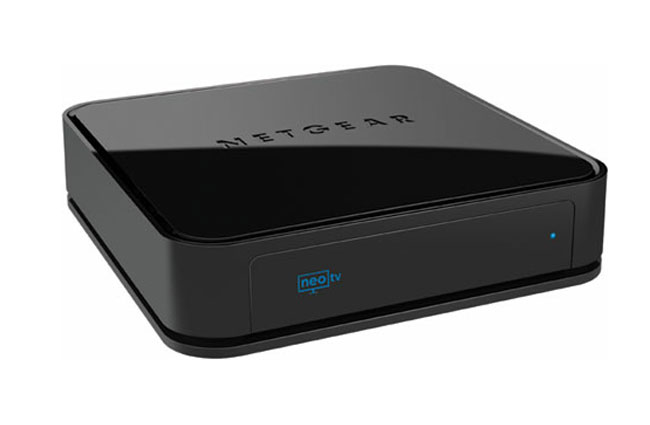 Netgear's NeoTV Pro features a significant enhancement over last year's NeoTV 200: Wireless Display (WiDi) connectivity. The Intel-developed technology allows WiDi-capable computers to interact with adapters on television, letting users display all their content at 1080p resolution on the larger screens. As such, WiDi claims to bring benefits to media streaming, gaming, and presentations.
The NeoTV Pro maintains the main features of the previous version, including a 300Mbps WiFi connection, optical and HDMI out, and an Ethernet socket. Netflix, Hulu, and Pandora are a few of the services included with the NeoTV Pro. Netgear also offers alternative networks exclusive to the NeoTV, such as Spiritclips, which features movies from the Hallmark® Hall of Fame collection.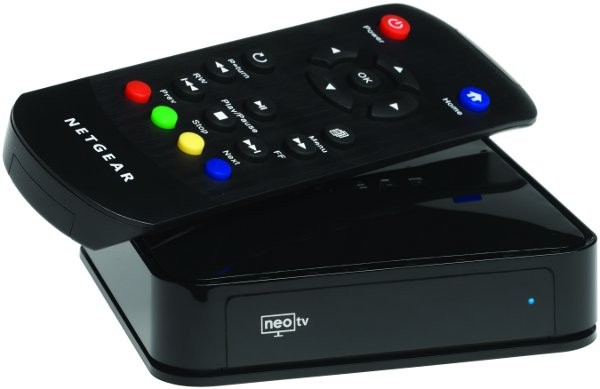 For more details on the Welxer NeoTV Pro, visit www.netgear.com/ntvpro. You can also refer to the press release below for more information.
NETGEAR LAUNCHES NEOTV PRO HD STREAMING PLAYER WITH WIRELESS DISPLAY

Wirelessly stream the London Olympics from your laptop to your TV using built in Intel Wireless Display (WiDi) or stream Netflix, Hulu Plus, Vudu, Pandora and hundreds of other online channels with the new NeoTV Pro

SAN JOSE, Calif. – June 7, 2012 – NETGEAR, Inc. (NASDAQGM: NTGR), a global networking company that delivers innovative products to consumers, businesses and service providers, today announced the NETGEAR NeoTV TM Pro HD Streaming Player (NTV200S), the latest addition to the NETGEAR NeoTV streaming player family of products. NeoTV Pro offers high quality streaming content from a wide variety of online channels and is the world's first streaming player to offer wireless display capability using Intel® Wireless Display (WiDi).

With the NeoTV Pro, users can choose from a large selection of streaming movies, TV shows and music from streaming services like Netflix, Hulu Plus, Vudu, YouTube, Pandora and many others, and instantly stream it to their TVs in up to full 1080p HD and surround sound from the comfort of their living room. And now, for customers that are not satisfied with hundreds of streaming channels but want the worldwide web on the big screen, the NeoTV Pro enables consumers to wirelessly display virtually any type of content from an Intel WiDi laptop to a TV, including sport broadcasts that are only online, movies, music, photos and any Internet site.

NETGEAR NeoTV Pro easily connects to the Internet via built-in high-speed 300 Mbps WiFi, which can deliver smooth streaming at 1080p HD video resolution, or wired through an Ethernet cable. Navigation is simple with the NeoTV Streaming Player remote control app, which turns an Apple® iPhone®, iPad®, iPod® Touch or Android® smartphone or tablet into a high-end touch screen remote control. Available free from Apple's App Store and Google® Play, the remote control app makes navigating movies, TV shows, songs and videos on NeoTV Pro simple and intuitive. For those without a smartphone, the NeoTV Pro Streaming Player comes with a regular remote control.

NETGEAR also announced the addition of four new streaming channels available on all NeoTV streaming players starting in June. One of the new channels, SpiritClips, provides NeoTV users with a library of wholesome and engaging Hallmark Hall of Fame® feature films, available on demand.

In addition to SpiritClips, examples of new content available through NeoTV include:


Fred – Fred Figglehorn is the biggest YouTube celebrity, reaching nearly a billion video
views.

And1 Basketball – And1 is an amazing alternative street basketball league that brings
everything from dunking contests to some of the most amazing basketball highlights ever
captured.

Formula Drift – Features some of the greatest races syndicated today. Formula Drift
specializes in "drifting" and will soon be syndicated on a national TV network.

"All 32 events of the upcoming summer Olympics in London will be streamed live on
nbcolympics.com. With the NeoTV Pro Streaming Player, and a laptop supporting Intel WiDi,
consumers can watch Michael Phelps swim or Usain Bolt sprint on a big screen TV, streamed directly from the Internet," said Damir Skripic, product line manager for connected entertainment at NETGEAR. "NeoTV Pro brings a richer Internet entertainment experience to TVs. With built-in Intel WiDi and their laptop, NeoTV Pro allows consumers to access the entire Internet on their TV."

Pricing and Availability
The NETGEAR NeoTV Pro Streaming Player (NTV200S) is available now in the United States
at $69.99 and can be purchased at major retailers and online stores.