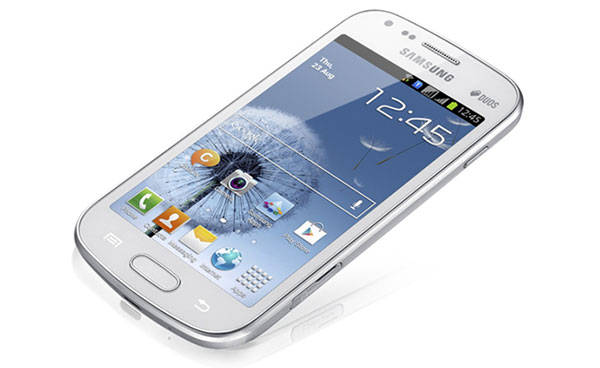 The Galaxy S Duos looks to be Samsung's latest flagship handset.  As the name suggests, it has space for two SIM cards.  The phone will be able to keep both SIMs running concurrently, with the ability to chat on Carrier A while fielding incoming calls on Carrier B.  Hardware-wise, it will sport a 1GHz processor, 1,500mAh battery, 4GB of built-in storage and a five-megapixel camera on the back. The screen measures in at 4-inches, with 480 x 800 TFT  resolution…. all housed within the 120g frame.  It will run Android 4.0, and due to launch in September in Europe, with  other countries to follow.
Check out the video and full press release…
Juggle work and play in style with Samsung GALAXY S DUOS

August 20, 2012 | 0 Comments | Tomorrow Works
Samsung Electronics introduced the Samsung GALAXY S DUOS, the latest addition to the GALAXY smartphone family designed for active young professionals. The GALAXY S DUOS will be available from September starting in Europe and rolled out across other territories.

Samsung's new Android 4.0-powered smartphone is ideal for users who balance fast-paced work and social lifestyles. The GALAXY S DUOS offers all the style and high-end performance users expect from GALAXY smartphones. It also affords the convenience of Dual SIM access, giving the smartphone added communication flexibility.

The Samsung GALAXY S DUOS combines high-end performance with total communication flexibility owing to its Dual SIM functionality, which allows users to manage two phone numbers from a single phone. Its unique 'Dual SIM Always on' feature allows you to receive calls on one SIM number while taking a call from the other, ensuring that you can manage both personal and work commitments without ever missing a call. You also have the flexibility of selecting different billing plans for either SIM, switching between them at your convenience.

The GALAXYS S DUOS doesn't compromise on style or performance. Its rounded edges and smooth ceramic-like finish give it a classy, sophisticated appearance. Its 1GHz processor and 1500mAh battery allow for breezy multi-tasking across the most demanding applications, while the 4GB of on-board storage provides ample space for your favourite images and videos. Its capabilities are boosted by the exciting new features of Android 4.0, which include stunning graphics and upgraded menu systems for easier browsing and navigation.

The GALAXY S DUOS's social and entertainment options are equally impressive. Its generous 4-inch display offers a comfortable viewing experience whether browsing online, reading emails or flicking through photos, and is perfect for watching video or enjoying images taken with the phone's 5MP camera. The preloaded Samsung's ChatON communication service, which connects all phone users into a single community, provides easy instant messaging, group chatting and content sharing in multiple formats-images, video, voice, contacts-to make mobile messaging incredibly simple and intuitive.