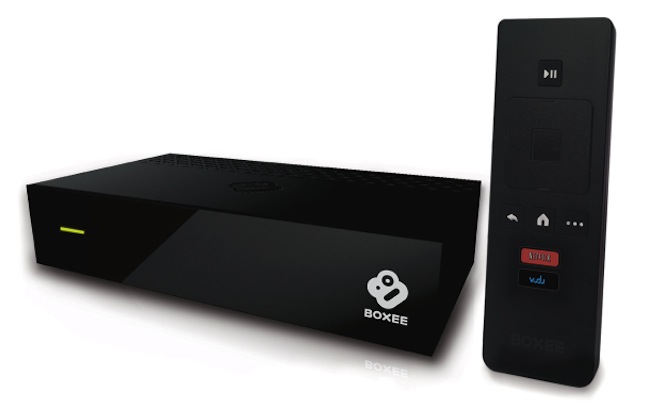 Boxee has ditched the cube and opted for a more traditional looking set top box.  Additionally, Boxee (and D-Link), have done away with the hundreds of apps, and instead plans to ship their initial units with just a few apps (Netflix, VUDU, YouTube and Vimeo).
The new Boxee TV has a DVR feature that can record unlimited shows.  Instead of utilizing a built-in hard drive to store content, the Boxee TV sends all shows directly to the cloud, which can be accessed via the web on a laptop, tablet, or smartphone.  Unfortunately, it's not Cable Card ready, so you'll only be able to record unencrypted shows.
Unlike the Boxee Box, the Boxee TV will include a much more simplified remote; no QWERTY keyboard.  As already mentioned the amount of apps is very limited, though you can probably expect that number to expand as time goes on – Pandora will also ship with it.  For now, the Boxee TV, which requires a $15 a month fee, will roll out to 8 markets- New York City, Los Angeles, Chicago, Dallas, Houston, Atlanta, Philadelphia and D.C.  Expect other areas to come online in 2013.
The Boxee TV ships this November for $99.