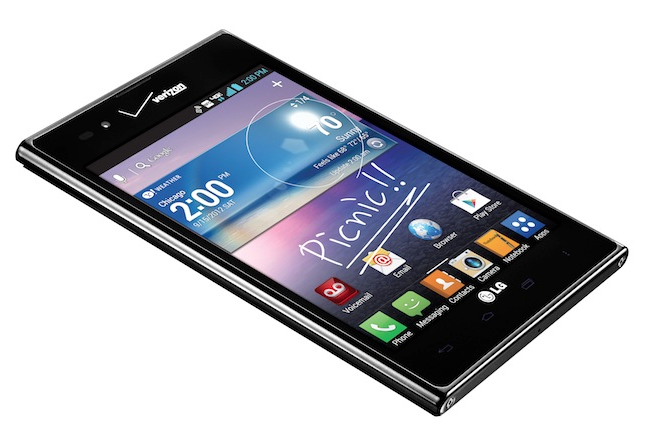 LG, for better or for worse is commonly recognized as 'the third wheel' when it comes to Android devices in the public conciousness. That said, it's most recent product releases coming to market hope to change that perception in the minds of consumers. It has a two-pronged strategy in regards to the flagship Optimus G which has aims of usurping some of the luster from competing models, as well as invading other markets such as the hybrid phone/tablet which is winning favor among tech consumers.
The new Intuition can be classed as a 'phablet' as it is both a mobile phone and tablet and with it's unconventional looks it stands as quite unique among the current Android offerings. The question of course with such devices is to what degree does it satisfy the thirst for multifaceted function? Make no mistake, many manufacturers have failed by delivering clunky, cumbersome devices heavy with features but light on useability. Indeed this is an area where only a skilled hand can win the alliegence of tech savvy consumers. Essentially at stake is whether or not LG's inventiveness is attractive and useful, or the next lesson in what not to do when designing a mobile device.
What Makes Sense
The LG has a far-reaching form that is unlike anything else out there. The display measures well when put up against competitor devices and the performance is sharp and impressive. Calls are handled as well as you would expect from any LG device.
Where it Leaves us Wanting
The design, as it is fairly cutting edge, may not quite be everyone's cup of tea. Additionally, as it makes an attempt to straddle both the phone and tablet areas it is at once impractical for viewing media and at the same time too large to have handy for telephoning and sending quick messages. Adroit use of the device with one hand is a non-starter.
Take It Out of the Box
Courtesy of phoneArena.com
When you take it out of the box you notice that for it's 'large-for-a-phone, small-for-a-tablet' design, it's rather light. It has an 8 megapixel camera and on the right there is a Verizon 4G LTE card slot. The speaker consists of two slits below the slot, and on top there is a 3.5mm headphone jack as well as a QuickClip key for the QuickMemo function and a Micro-USB port concealed behind a sliding panel and a sleep/power button.
Hands On
Courtesy of mobilemagazine.com
Though the device is a handful, it is lightweight and solid in your hand. For the most part however you will need two hands to operate it and the stylus cannot be stored in the phone. While it can fit in your pocket, it generally has a bulky feel to it and isn't the most comfortable device when held between your shoulder and face while making a call.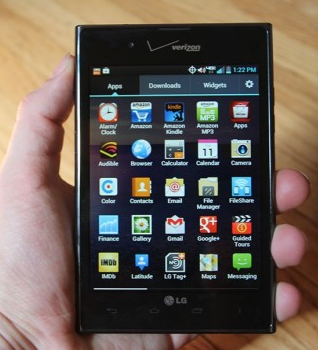 The device has a 5-inch IPS LCD display with 1024×768 resolution. The menu's are sleek, vibrant colors and sharp images illuminate the display. Videos should satisfy the demands of most consumers as it can be seen clearly when outside even in the sun, which is par for IPS displays.
The stylus works fine with the display and has a sturdy feel in your hand. As mentioned however it does not have a slot for storage on the device. The display is fine-tuned to the stylus and reacts sensitively, as well as picking up writing strokes fairly quickly. A very minor issue is that there was some slight lag when writing faster. Browsing on the web, with it's 4:3 aspect ratio is fairly comfortable and you will appreciate the extra space for websites with heavy content.
The Verdict
There will likely be little to no gray area among users of this device, but rather a wide gulf between those who find it wonderful and those who find no use for it. For the few who find some redeeming qualities it absolutely has it's points with a stunning display, strong performance and it integrates the Ice Cream Sandwich quite well. A primary drawback of course is it's useability as a phone leaving much to be desired, especially when you only have one hand available. As a tablet the stylus is somewhat ill-fitting as is the software.