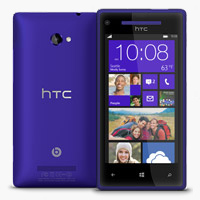 An absolutely gorgeous phone , HTC Windows Phone 8X was released from £400. At 10.6mm it is thicker than both an iPhone 5 and a Galaxy SIII. But the 8X has tapered edges giving it a good grip and making it feel as slim as both the Apple and Samsung flagships. The phone isn't especially light but it sits evenly in the hand and the polycarbonate makes the hard plastic finish of the SIII and HTC's own One X feel cheap and slippery by comparison.
Coupled with Windows Phone's Live Tiles, the 8X's 720 x 1280 pixel HD display is stunning. The pixel density (342 PPI) is higher than on the Nokia Lumia 920 and even the iPhone 5. Colours are rendered accurately and, even zoomed in, details are sharp and clear.
With Phone 8 development, Microsoft has gone down the Apple route opting to nip and tuck rather than radically overhaul the OS. It's a brave strategy given the disappointing sales for Phone 7. But it's the right decision – Windows Phone's live tiles are far enough removed from the static icons of iOS and the confusing widget farm that Android has become to put clear blue water between Microsoft and its competitors.