Semiconductor Energy Laboratory Co Ltd (SEL) developed a 6.05-inch LCD panel that can reduce the eye strain of a user who watches a display for long hours.
The panel was exhibited at FPD International 2012, which took place from Oct 31 to Nov 2, 2012, in Yokohama, Japan. Its pixel count and resolution are 768 x 1,024 and 212ppi, respectively.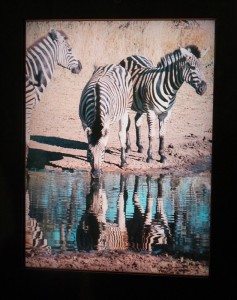 As driver elements, the panel uses oxide semiconductor TFTs having a structure called "CAAC (c-axis aligned crystal)," in which the crystal of an IGZO layer is grown in the c-axis direction. The off-leak current of a CAAC-IGZO TFT is lower than that of a normal amorphous silicon (Si) TFT, enabling to reduce the number of screen refreshes required to display a still image from 60 times per second to 1 time per second or less (See related article).
"Because the same image can be viewed for as long time as possible like a natural object or paper, it is possible to reduce eye strain," SEL said. "The new panel refreshes an image in every five seconds."
As its backlight source, the panel uses red, green and blue LEDs. The blue LED does not emit light whose wavelength is 420nm or less, which is said to be harmful to human eyes (so-called "blue light"). As a result, eye strain can be further reduced, SEL said.
The sub-pixel of the CAAC-IGZO TFT has an aperture ratio of 52.6%. And the TFT is made by using five photomasks.