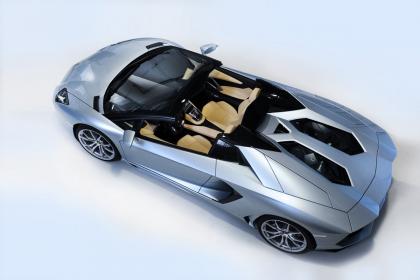 This is the Lamborghini Aventador LP700-4 Roadster, which the firm hopes will build on the success of the Aventador Coupe, of which more than 1,300 have been sold worldwide.
The Roadster is available to order at any Lamborghini dealership worldwide, for 300,000 Euro plus taxes. This means it costs around £288,000 in the UK at today's exchange rate – £34,800 more than the Coupe.
For that not inconsiderable sum, you get a two-piece carbon-fibre roof that Lamborghini promises gives "maximum aesthetic performance and stiffness."
The roof sections are light, too, at 6kg each, and can be stored in the Aventador's boot when the sun comes out. The firm also promises that the new roof is simple to attach, which is an improvement on the previous Murcielago Roadster's complicated canvas removable top.
As well as the new roof, Lamborghini has redesigned the car's B-pillars, which now include and automatic roll-over protection system. To highlight this fact, they're painted gloss black, contrasting with the new Azzuro Thetis blue paint introduced for the drop-top.
The pillars have also been reshaped to provide better ventilation to the car's mid-mounted V12 engine. There's a new bonnet, too, which gets a central spine running front to back over the engine, flanked by a pair of windows so you can see the powerplant underneath.
The engine is the same stop-start-equipped 700bhp 6.5-litre unit as the 2013 Aventador Coupe, which powers all four wheels via a seven-speed paddle-shift gearbox.
Extra strengthening in the body means that despite the lightweight roof and a set of new alloys (which shave 10kg off the kerbweight), the Roadster is heavier than the Coupe, so the 0-62mph time is 3.0 seconds instead of 2.9. The top speed remains the same, at 217mph.
Drivers can turn up the volume of the engine thanks to the addition of a rear window, which can be raised or lowered at the touch of a button. The interior also benefits from a new leather trim, called Sabbia Nefertem, which has been coloured to match the new exterior hue.